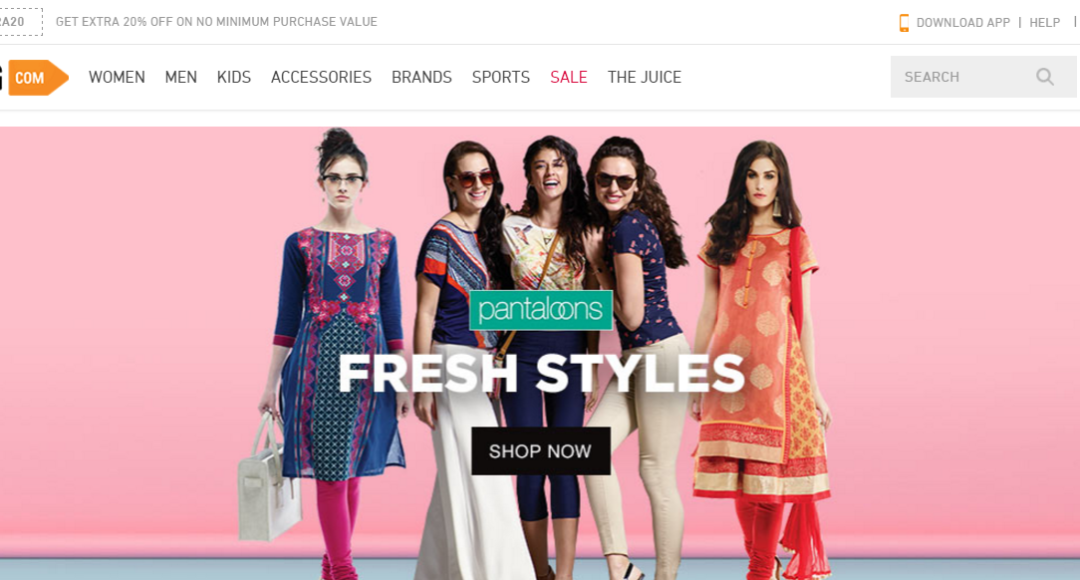 Online shopping after a stressful week is one of my favorite ways to unwind. I'd relax on my bed, grab a cup of coffee and cruise through my favorite shopping website (read Jabong) looking for any affordable fashion find I can get myself as a budget weekend treat.
Sure, I do love visiting the mall and local fashion boutiques for big brands and custom-made Indian ethnic kurtis, but some of my favorite summer fashion kurtis don't reside at big stores or boutiques. And if they do, the prices aren't lucrative.
No wonder, I always have a soft spot for online shopping and fashion shopping sites like Jabong. Not only do they have a wide variety of brands and options to choose from but with their daily deals and discount offers on big ethnic wear brands like Biba, W, Global Desi, Sangria and FabIndia they also make it easy to treat yourself without breaking your bank.
And seriously, it's not summers until you treat yourself with some cool fashion kurtis to enjoy your evening-outs with girlfriends or dinner with family. Here are six of my favorite summer kurtis, each costing less than INR 1000 to ring in this summer season looking sassy and trendy:
Ira Soleil Black Printed Kurti
Original Price:  INR 895
This product is not on discount
Forget fussing with an off-shoulder dress that constantly needs readjustment. Take on the trend this season with this black printed kurti that elegantly exposes your décolleté and shoulders with its see-through net fabric.
Ama Bella Off-white Printed Kurti –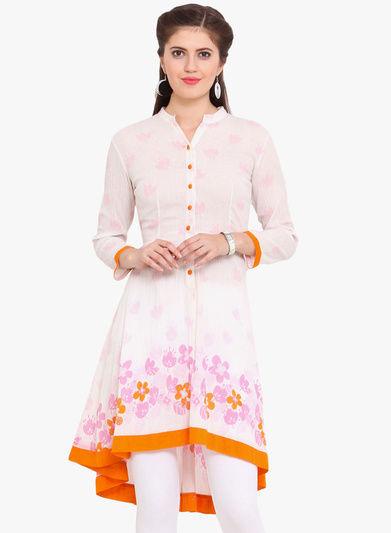 Original Price: INR 1249
Discounted Price:  INR 624 at Janong
The asymmetrical off-white kurti with floral hem-line is perfect pick for both spring and summer. It adds modern shape to any silhouette, making one look feminine and trendy at the same time. And at INR 624, it's a steal deal!
Kiosha Multicolored Printed Kurti
Original Price: INR 1299
Discounted Price: INR 599 at Jabong
Geometrical print gets an update this season with a spectrum of bright colors and inclusion in Indian ethnic wear. Brighten up your wardrobe and look classy with this stylish kurti from the house of Kiosha.
Mbe Pink Embroidered Kurti
Original Price: INR 2299
Discounted Price: INR 920 at Jabong
Anarkalis rock anytime. And if you want to know the reason why, click here. I just love the color and head turning detail of this kurti. Perfect pick to go festive for spring summer 2016.
Cottinfab Red Embroidered Kurta
Original Price: INR 1799
Discounted Price: INR 720 at Jabong
This is so old-school! I have worn this kurti (same red color and somewhat similar design) back in my maiden days. But there's something sartorial about this kurta that makes me come back to it again!
Sangria Sleeveless Navy Blue Tunic
Original Price:  INR 799
Discounted Price: INR 560 at Jabong
I love this aqua blue kurti with contrast trims. Fine cotton fabric and sleeveless design make this one look so cool, summer-ish and trendy.
Well, these are my love finds that I came across at Jabong website while looking for some affordable fashion kurtis for summer. What are your favorite picks for the season and where do you like to shop for Indian ethnic kurtis? Would love to know about your preferences and shopping finds for summer 2016.