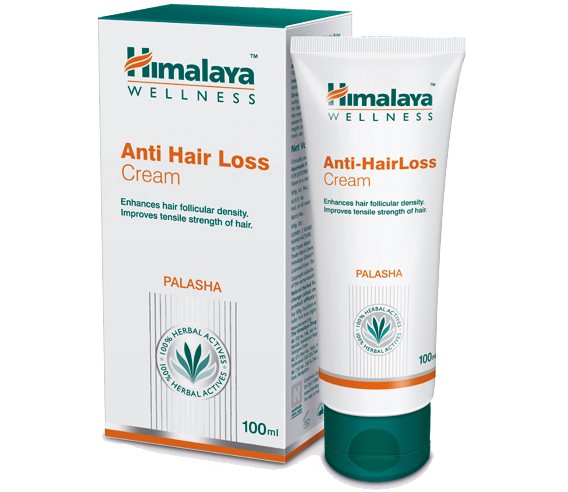 It requires no further mention here on the blog that one of the things I definitely wish for myself is a full head of thick, strong and lovely hair. My hair is one of the many banes of my life – thin, weak, and super frizzy – and the more I try to tame it with different styling products the more I start to shed. No wonder, I am always on the look-out for products that can control my hair loss and thicken my mane. So when I was given this tube of Himalaya Herbals anti hair loss cream for review, I got super excited to try.
Now how this anti hair loss cream from Himalaya fared with my weak, falling hair; read full review to discover.
Himalaya Herbals Anti Hair Loss Cream Review
Product Description
Himalaya Herbals anti hair loss cream is designed for individuals suffering from different kinds of hair loss, mainly Alopecia Areata and Diffuse Hair Loss. The cream contains botanicals such as "Butea Gum Tree and Climbing Butea, which prevent the apoptosis of hair follicles and promote hair regeneration. The herbs also induce quick multiplication of hair fiber cells, improve tensile strength and increase hair density.
However, the cream does not work in cases of Male Pattern Baldness (baldness due to genetic reasons)."
Price: INR 330 for 100 ml
Brand Claims:
"Himalaya's Anti Hair Loss Cream claims to promote hair growth and control hair fall by stimulating the active phase of the hair growth cycle. Visible effects can be seen within two weeks. A 40% hair regrowth can be seen in three months and prolonged use for up to six months brings about a 70% reduction in hair loss."
Usage Instructions:
"Gently massage Anti Hair Loss Cream into the scalp using your fingertips. Cover the entire scalp, part by part. For best results, leave overnight and rinse in the morning.
Use daily. Recommended twice daily in case of severe hair loss."
Packaging:
The cream comes in a white plastic tube with dark green flip-open cap. The tube is neatly packed in a white carton that carries all the detailed information about hair loss and how the cream works to stop  hair loss.
Color, Consistency, and Smell:
It's a caramel-beige colored cream with a very soft whipped-cream like texture that spreads easily and evenly on hair. The scent is strong and herbaceous. While, I find its intense smell pleasing to the senses, people with sensitive nose, may find the scent irksome.
My Experience:
I started using this cream during the monsoon season, when I was experiencing seasonal hair fall with severe hair breakage all over my scalp. I was looking for something to stop hair loss and strengthen my weak and fragile mane.
I started applying Himalaya herbals anti hair loss cream to my hair and scalp every night before going to bed. I would just slather the cream all over my roots and scalp, and then gently massage it in. The brand says, the cream reduces hair fall by 20% within first two weeks of consistent use.
But in my case, there was no drop in hair loss. I continued to leave behind the same amount of hair in the drain as before. To worsen the matters, the cream made my monsoon-greasy hair even greasier. Yet I carried on with my nightly routine of religiously applying the cream in the hope of regaining my thick mop.
It was only after the second month, when I was finished with more than half of the product in the tube, I began to notice that I've been losing a bit less hair. It's been four months now and I'm done with the entire cream in the tube.
While there hasn't been any new hair growth or noticeable thickening of each hair strand, I'm happy to state that this anti hair loss cream from Himalaya has completely stopped my hair loss. And this already means a lot to me at this time.
Pros:
Inexpensive and easily available
Stops hair loss from minor factors like seasonal change, stress etc.
Herbal ingredients
Does not cause any side effect or allergy
Spreads easily and absorbs quickly
Cons:
Does not promote any new hair growth
Not helpful in thickening thin strands
Makes hair greasy and sticky
May not be helpful in chronic and severe hair loss cases
R2B Rating: 3/5
Overall Take:
Bottom line? So while this doesn't seem that I'll ever wake up with a thick mop of long enviable tresses; it also means that while using anti hair loss cream, I'm also not going to morph into a female version of male pattern baldness anytime soon! Now isn't that a big relief?
Anyways that was my experience of using Himalaya Herbals anti hair loss cream for my hair fall issue. Have you also suffered from hair loss? If yes, what are your experiences with hair loss treatments? Please share your stories and experiences below. Would love to know about your views on hair loss and different hair loss treatment products in the market.
Hair loss update 2021: Here's a new hair loss cream I have tried this year and I have found this one to be way better than most other hair topicals I've used so far. It's Kiierr Derma Hair Restorative Cream, the first of its kind break-through proprietary, multi-ingredient formula that surpasses any hair growth serum, in terms of the number of key ingredients complexed in the formulation.
For more information on this product, you might want to check out this link: https://kiierr.com/product/kiierr-dermal-restorative-hair-growth-cream/