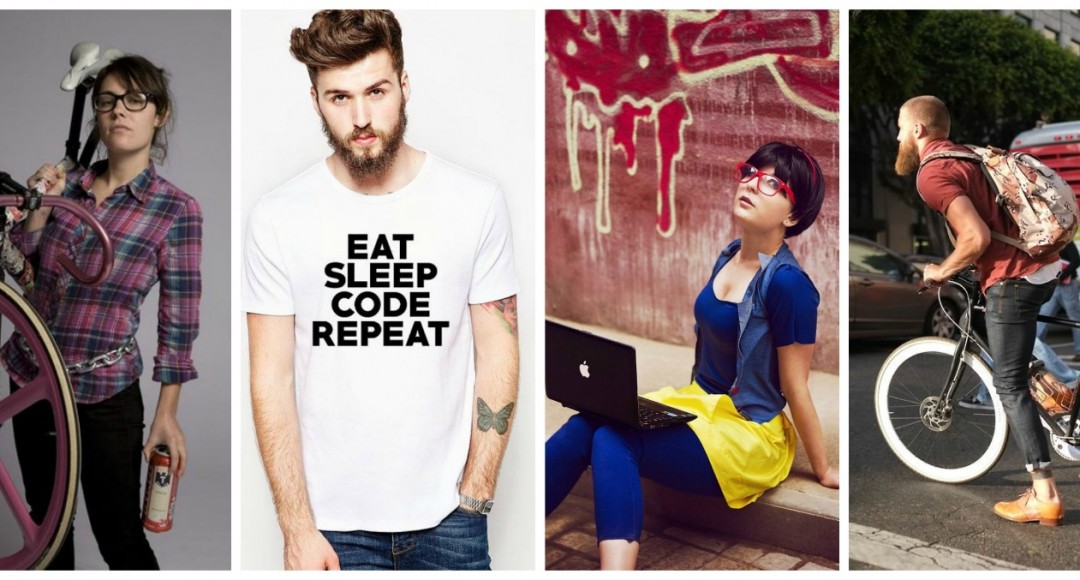 If you've been following fashion at all (or even just walked down the street, any street!), you must have noticed the Clark Kent vibe and the ever-charming nerdy look getting heavily present and hip, always associated with the IT industry. Apparently, being a part of the IT industry is no longer prestigious in terms of intellect only but aspiring in terms of fashion, too!
Apart from the lumbersexual trend (yep, you've guessed it – the chic-hipster-long-beard-plaid-shirt-a-fedora-and-a-pipe-look), the hot nerdy look has been major in the fashion world! Guys have gone even so far as to wear lenses-free glasses with thick frames only to reflect this pseudo-intellectual look. Fake it 'til you make it, right? I mean, why wouldn't they – it's super cute and awesome!
As a girl working in the IT industry and a part-time blogger, I can guarantee there are a few clothing tricks that are definitely it in the IT world.
After careful observation and styling over the past few years, I'd always recommend:
For les dames
Nurture your initial chic
Surrounded with guys for the most part of your days, you've probably adopted the boyish look by now. It's true – styles of those surrounding us tend to brush off of us, especially when we are in all-male company. In time, you start to feel like one of the boys and the girly girl vibe slowly fades.
Don't let that happen! Stay you – switch up hairstyles, fashion trends, wear skirts and dresses and keep it cool! The fact you are an IT girl, doesn't have to mean you need to go all baggy on your closet!
Throw in some color
Enjoy the colors and wear them as much as possible! While black & white works well for any business occasion, there is no reason you shouldn't inject your style with splashes of color! Color blocking, color on color, experimenting with patterns and materials should definitely find itself on your IT fashion map! If you want to stay within the IT vibe, try combining plaid shirts/pants with a one-color-anything. Throw in horn-rimmed glasses and you are ready to wow!
Don't miss the jewelry
So what if you are in a serious industry? A simple black jean with a black shirt will look amazing with a statement piece of jewelry! Even something as classic as a watch may look stunning and different. To stay IT casual wear a T-shirt with a crazy print, a black jacket over, black jeans and a laptop bag over your shoulder – impeccable!
For les messieurs
Unfortunately for guys, there aren't as many options as there are for the ladies but with the little they have, they can do wonders! My dear IT fellows… Let's begin.
Your much loved (plaid) shirt will look so much different if you tuck it in into your jeans/pants. Your frame and posture will get a completely new vibe, one oozing confidence and business attitude. A shirt out looks somewhat sloppy and that's not what you are after. Throw in a quality belt to match your shoes, don't forget the horn-rimmed glasses and you are good to go!
Jumpers and jackets are your friend
A man will look incredibly chick in a simple T-shirt and a jacket over. In colder days, an eggshell, beige, gray, black, navy or dark green jumper over the shirt will make you the king of hotness in your IT sector. For a more serious business look, splurge on a custom dress shirt that will fit like a glove! Throw a jacket over (custom-made if possible) and you'll nail any business deal!
Boys and their toys
Unlike girls, boys have a limited array of jewelry at their disposal. This doesn't mean you have no way of accessorizing. A cool laptop bag (maybe even with a print of your favorite superhero on), a stylish watch, a tattoo and/or a ring will turn you from an IT geek into an IT superstar!
Your haircut is your accessory, too – to channel the IT expert through your hairstyle – go for a James Dean hairdo. To move boundaries – don't shy away from a male bun, an undercut or simply a frizzy casual hairdo!
Boys and girls, as you'll gather – with these advice, days of somewhat boring IT fashion are over – aren't I right?