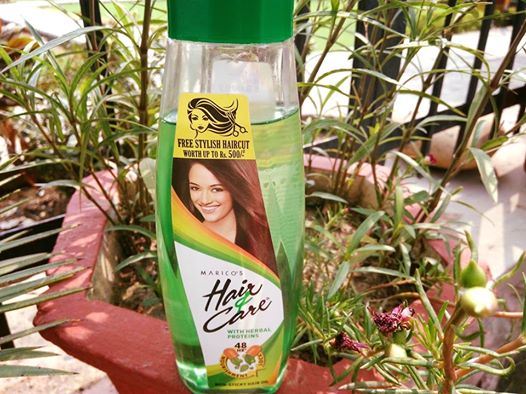 A couple of months back I was invited by Marico's to try one of their popular hair products – Hair & Care non sticky hair oil – and avail a free stylist hair cut from one of the renowned chain salons in India as part of the offer. Exciting, isn't it? Well, I felt the same and grabbed the offer. A while later, it occurred to me that I am in the process of growing my hair and a hair cut would be the last thing on my beauty service list! Holy Cow! But then, what are BFFs for? So I called up my BFF, Manisha Arora (also R2B's social media manger) and she happily agreed to take the hair cut.
Before I head on to the hair oil review, here's a bit about the free hair cut offer:
With every 300ml bottle of Hair & Care, consumers get one FREE haircut at a Jawed Habib/Enrich/ Local Equivalent salon.
What's great is that it is NOT a 'chance to win' offer but a 'sure shot' offer for EVERY consumer who buys the CO pack.
H&C pack will have a unique scratch code on back of pack. Consumers have to buy the CO pack, scratch the code, and register by giving a missed call on 7877733446 OR by logging on to

www.hairandcare.promoredemption.com

at the back of my pack and gave a missed call to the mentioned.
During the registration step, consumers will be asked to provide their preferred date, time, and salon location for haircut appointment. The call centre executive will take a couple of days to confirm the appointment with the salon, post which the consumer will get a confirmation call, email, and SMS.
Now as per the offer instructions, I scratched the code number and gave a missed call on the number mentioned above. Interestingly got a call back by the customer care almost immediately (remember it may take a few days for the customer care to call you, unless you get lucky like me). The team then asked about my location, salon preference, date and time for the hair cut appointment.
Since, Jawed Habib, Ludhiana is well known for their hair cut and hair styling services in the city, we opted to book our free hair cut appointment with them.
Location: The Salon is located in Kips Market, one of the most posh areas of the city.
Ambience: Scarlet! Bright! Playful – like a child in a cherry garden!
Experience: Although, Jawed Habib, Ludhiana is a busy salon, we didn't feel neglected. The Hair & Care customer care had already got in touch with the salon people and informed them about the free hair cut. We reached on time and were greeted cordially by the Salon team. Anupama, the lady-in-charge, then asked Manisha about the kind of cut she would like to have. She showed us an online catalogue of different hair styles to choose from. Since my friend didn't want to compromise on her length, she picked up one with front layers keeping the length intact.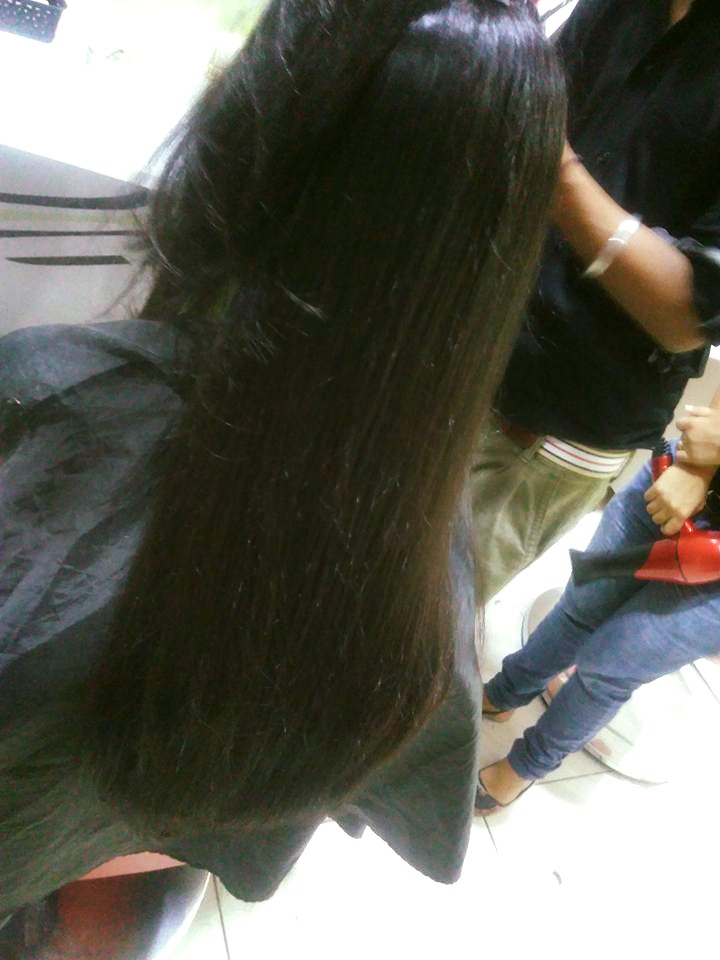 After picking the style, the stylist then started working on her hair.  While working with his scissors, he uttered the words that every girl hopes to hear from her stylist – "I like your length" – the line instantly flattered my friend and build her trust. He kept chatting with us the entire session without compromising on his focus. The session lasted for an hour or so. He gave my friend a full, sexy set of layers, transforming her shapeless hair with a face framing style!
Overall, it was a great, fun experience. We totally loved it. Thanks Hair & Care and Jawed Habib for an awesome go-through!
Here are her before and after pictures:
Marico's Hair & Care Non Sticky Hair Oil Review
Price: INR 135 for 300 ml
Now coming to the Hair & Care non sticky oil review, well, oil my hair and call me grease!
Yes, that's true. No matter how infrequently and how less oil I apply to my head, my oily scalp fries it up in no time. Result – slick hair and frying pan of a face!
No wonder, I always prefer light weight hair serums over super rich emollient hair oils. I had already heard about Hair & Care hair oil and how this non sticky hair oil can also be used as a serum but somehow never happened to give it a try. Now when I received this product for review with the brand claim – "Gives non-oily look to the head and face when oiled" – that was like music to my ears!
The brand says to apply the oil along the length of hair from the roots to the tips and massage it gently on the scalp with fingers. But since the idea of bathing my hair in oil freaks me out, I decided to use it as a serum to moisturize my dry tresses. And girls, the hair oil is actually lighter than I expected it to be. I squeezed a few drops in my palms, rubbed them together and worked the oil through my damp, limp tresses.
Should I say I'm impressed with the results?
Yes, definitely. Typically, the day I wash my hair, they remain dry and frizzy. But on using Hair and care non sticky hair oil as a serum after washing my hair, it made them look soft and moisturized on the very first day itself. Talk about hair serum making hair limp; well, this is absolutely not the case with Hair and care non sticky oil. Since it contains vegetable oil, it actually adds shine and a bit of volume to the hair.
So while the results are pretty impressive for the price it comes, there is a little flip-side to it. Hair & Care non sticky hair oil by Marico contains mineral oil and silicones, both of which are not good to use for the long run. It's okay if you use the hair oil as a serum for your dry strands. But I would definitely not recommend this oil to be used on the scalp as an emollient or nourishing treatment for the hair and scalp.
Talking about its claims of reducing hair fall, well, the oil does help in controlling hair fall to an extent. But as per my experience, it does so not as a nourishing treatment for the hair roots but as a moisturizing serum for the strands. By moisturizing and softening dry, frizzy hair, the non sticky hair oil prevents hair breakage and hair fall due to dryness and tangles.
R2B Rating: 3.5/5
Overall Take:
So overall, Marico's hair & care non sticky hair oil is an impressive, reasonably priced non sticky hair oil that comes out fair on most of its claims. If you are looking for non-sticky hair oil that makes hair soft and shiny, do gives this one a try. And the free stylist hair cut is like the icing on the cake!