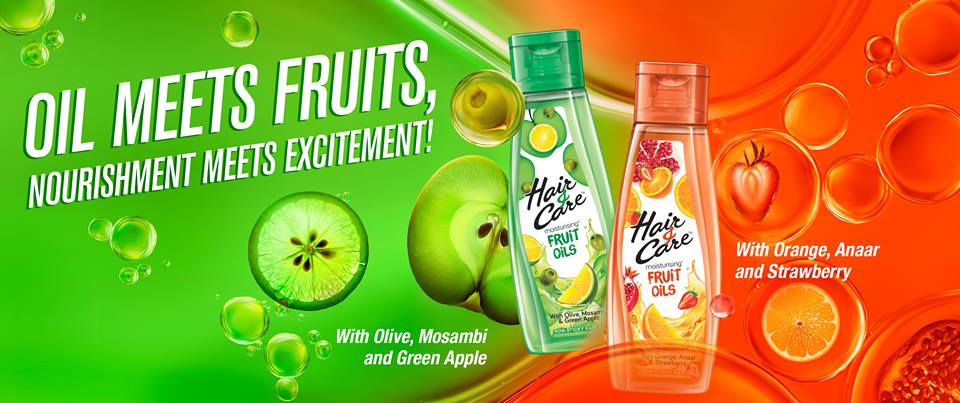 New in market – Hair and care fruit oil!
A box just arrived at my address about a couple of months ago. I unboxed it, only to find two little non-sticky hair oil bottles that I was already thinking of buying for my little one, who has just started growing her hair. *Joy*. The box also contained a beautiful tiara and some placards listing the benefits of fruits for hair. *Double joy*.
I looked at the box and the world seemed better. How a nicely wrapped box can brighten up my day is one of the perks of being a beauty blogger. Using the oils on and off for the past two months, here comes the verdict:
What is it?
'Moisturizing fruit oil'. Basically non-sticky hair oil with fruit vitamins in the mix. Comes in two variants:
Orange one with Orange, Anaar & Strawberry
Green one with Olive, Mosambi & Green apple
Describe the brand in three words?
Contemporary, youthful, affordable.
Who is it for?
Teenagers, young college and office going girls, also men, women and children who prefer to use non-sticky hair oils after wash to manage their hair.
Suitable for all hair types: fine to thick.
What's in it?
Mineral oil (65% v/v), Vegetable oil (26% v/v), Cyclomethicone, Fragrance, and oils of orange, pomegranate & strawberry in orange variant and oils of olive, sweet lime, & green apple in green variant, TBHQ, CI47000, CI61565.
Possibly allergy or damage causing any ingredient?
Too many! Silicones, mineral oil, artificial fragrance, and chemicals.
How does it smell?
Strong fruity, artificial scent that may smell overpowering to many noses. While green variant has citrus scent, the orange variant smells sweet & fruity.
How do you use it?
Apply to hair after wash as serum to manage frizz.
Best for winter or summer?
Neither. Personally, I found it best for rainy months, when my hair tend to break and get frizzy.
How much does it cost?
Both variants cost INR 60 for 100 ml.
What's good about Marico's Hair and Care Fruit oil?
A lovely, light, non-sticky hair oil that doubles up as serum or leave-in treatment for soft, silky, manageable hair. Highly affordable and easily available, Hair and Care has been a beauty staple for many girls for various purposes.
As a leave-in treatment/serum gives shine to hair, prevents breakage.
As a hair oil for massage does not make hair greasy and sticky, gets off easily in shower, improves blood circulation.
Better than some purely silicone and mineral oil based leave-in treatments. This one does contain at least, some goodness of vegetable oil and fruit vitamins (even though bare minimum!)
Also better than some heavy hair oils that leave you looking like an oil slick, so you can avail the benefit of massage minus the grease of thick oils.
What's not so good about this hair oil?
Presence of mineral oil, silicones and chemicals.
Overpowering scent.
Do you need it?
If you have dry hair but don't like thick, greasy massage oils, do give Marico's hair and care fruit oil a try.
Similar products?
Garnier Fructis Good Bye Damage Hair Oil, Parachute Advanced Jasmine hair oil, Marico's hair and care non sticky hair oil, Himalaya herbals revitalizing hair oil, Bajaj Almond drops hair oil, Dove elixir hair oil etc.
R2B Rating?
3.5/5
Overall, the results are pretty good for the price it is retailed at. So a three star rating to hair and care fruit oil from my side!