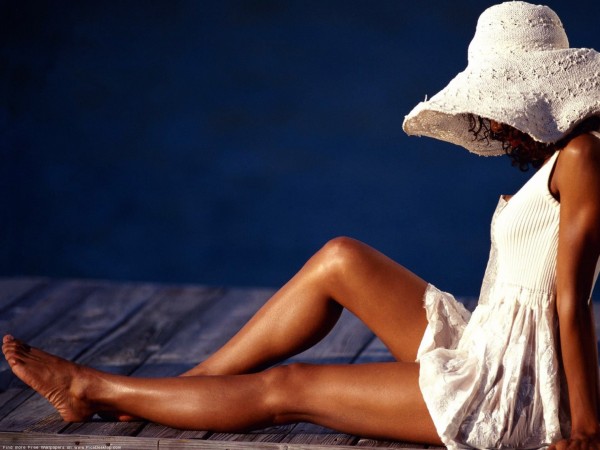 The road to a beautiful skin doesn't have to be difficult. But if you are recently back from a trip to the beach, flawless skin may seem like a distant dream. Although, catching waves at the beach means a lot of fun, it also means a great deal of tanning and irritating sun burns.
Tan is sexy, no doubt. I loved the glorious bronze look of my arms, legs, face and neck after I returned home from a lovely holiday in Thailand. But the penetrating sun rays also soak in the moisture from your skin, making it dry and frail. Within a week your beautiful bronze look is turned into ugly darkening and uneven skin tone.


After 10 days from the trip, I was not just battling with uneven tan lines but also deeply dehydrated and dull skin. While letting a tan fade by itself is the easiest method to get rid of it, it is not always easy to let Mother Nature take control.  I had a wedding party to attend on the weekend and I looked dark and parched!
Control Your Urge to Bleach
I needed a quick-fix. I wanted to reach for my all time savior, 'Fem Gold Bleach' to make me fair and beautiful in no time. But fortunately, I recalled, how I once turned my face into a coal mine in an attempt to turn into a gold mine a few years ago.  I did not want to land up in the same mess.
It is not uncommon. Many people in an attempt to find a quick-fix resort to harsh methods like bleaching their skin. But by doing so, they cause dryness, burning and further darkening of the skin. Bleaching also reduces the smoothness of your skin to a large extent.
No Overnight Solution
So I knew, there is nothing that can remove a tan overnight. But there are ways I can speed up the natural fading process and get rid of it in a few days.  If you too are struggling with a bad tan, here are a few tricks to help it fade quickly:
Use SPF Daily:
Tanning at the beach is inevitable, whether you wear SPF or not. However, wearing sunscreen helps in controlling the damage to a great deal. I only got two shades darker, where I would have turned 10 shades darker had I not applied my sunscreen.

Now since you are back from vacation, doesn't mean, you no longer need SPF. Rather, wear your sunscreen daily to prevent further darkening of the skin. This will also support your tan removal efforts.
Milk and Sugar Solution:
This is one of the simplest, effective and gentlest remedy. Mix two table spoons of sugar in a cup of milk. Dip a cotton ball in the solution and dab it all over the tanned areas. Let it stay for 15-20 minutes. Rinse with warm water. The lactic acid in milk and glycolic acid in sugar will gradually exfoliate your skin, lightening the tan effectively.
Lemon Juice:
Another great way to remove tan naturally and effectively is to rub lemon juice all over the affected areas. Ascorbic acid in lemon juice will not only lighten your tan but also brighten and tone your overall complexion. However, lemon juice can be harsh for sensitive skin. In such a case, you can try mixing lemon juice with glycerin, honey, or milk cream.
Baking Soda:
Use baking soda onto your damp skin in the shower. Using gentle, circular movements, allow the baking soda to scrub away dead skin cells and the tan with it. Rinse thoroughly with water to remove the baking soda.
Gram floor, Turmeric, and Curd:
This is one of the oldest yet most effective remedy to any kind of tanning or skin darkening. Simply make a paste by mixing together gram floor (besan), a pinch of turmeric and curd from your kitchen cabinet. Rub this mixture all over your face and body. This will not only fade your tan effectively but also add a wonderful glow to your skin.
Use Dove Soap:
I have used and experimented with hundreds of soaps, body washes, shower gels and bath gels to come to this conclusion. Dove bathing bar is the single best soap in all aspects. Compared to any other soap or bath gel, I have found Dove to have a better cleansing action. Along with removing dirt, dust, grim and dead cells from the body effectively, it also moisturizes the skin.

Don't believe me? Take your seven day test. So if you are trying to get rid of tan or looking to brighten your body skin, I would strongly suggest switching your soap with Dove.
Use AHA/BHA Cleanser:
Whatever cleanser or face wash you are using, I would recommend you to change your cleanser to a product that contains alpha hydroxy acid to exfoliate and eliminate blotches. Apply this product to the face and neck.
Vitamin C:
Vitamin C is an ultimate natural brightener. For healthy, bright skin supplement your diet with 500 mg vitamin C or take drink one glass of orange juice daily in the morning for best results. You can also crush a few vitamin C tablets and mix it your face pack for a fabulous golden glow.
Moisturize Well:
Last but not the least; moisturize your skin really well. Slather baby oil on your legs and arms and let it soak into your skin for 30 minutes before rinsing or use a deeply hydrating body lotion like Dove or Vaseline Cocoa Glow.

I personally used milk-sugar solution, AHA face wash, Dove Soap, Vaseline Cocoa glow and vitamin C tablets to get rid of my bad beach tan. Would love to know what remedies you used for removing your tanning. Please share the remedies and solutions for tan removal that worked for you in Comments below.