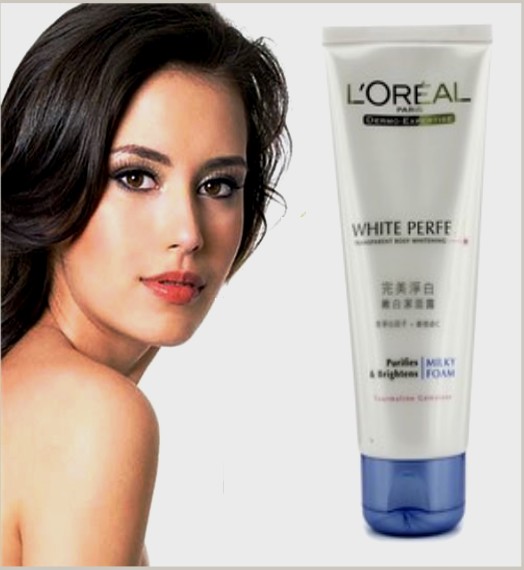 It's no secret that I'm a beauty blogger who is also a mom.
Again it's no secret, your world changes upside down once you become a mom.
When I quit my day job to be a full time blogger, I believed the morning struggle to get ready to work is going to end. But what I didn't anticipate as a mom at the time was that the daily struggle is not going to end but just going to change!
And there are countless moments when my life as a blogger happens to overlap with my duties as a stay at home mom. Today has been one such moment. My son who is down with sore throat and fever is home; fairly claiming all my time and attention. So girls without further ado, I'd like to go straight to today's product review –
Review of L'Oreal Paris White Perfect Purifying & Brightening Milky Foam – a face wash that I'm using and loving lately.
Review of L'Oreal Paris White Perfect Milky Foam
Price:  INR 240 for 50 ml
Packaging:
L'Oreal Paris white perfect face wash comes in a pearly white plastic tube with cadet blue flip-open cap. The packaging is pleasing, convenient and travel-friendly.
Brand Claims:
"Formulated with 2 powerful ingredients: TOURMALINE GEMSTONE AND VITAMIN CG this purifying and brightening milky foam from L'Oreal Paris has a proven counter action on melanin synthesis. It brightens skin complexion by clearing all sorts of impurities, makeup, excess sebum, dirt due to pollution and removing excess dead cells at skin surface."
Use:
To cleanse skin and remove skin impurities (pollution, dirt, oil and grime)
To remove makeup
To brighten skin and get rid of dullness and uneven skin-tone
Suitable for:
Dull, pigmented, and uneven skin
Oily to normal skin
 Texture & Scent:
It has a rich, creamy texture and I find it to be the best feature of this cleanser. Only a pea-sized amount builds into an intense, cushiony foam that feels comforting on your skin. I also like the mild powdery scent of the cleanser.
My Experience with L'Oreal Paris White Perfect Purifying & Brightening Milky Foam
Foaming face washes are notorious for their tendency to draw away moisture from the skin. But don't let that scare you, especially when it comes to L'Oreal Paris White Perfect Purifying and Brightening Milky Foam.
True, the cleanser is a foaming face wash for normal to oily skin but unlike mostponds L'Oreal white perfect milky foam doesn't dry out the skin after wash.  And this is what I like the most about this face wash – it cleanses skin, brightens complexion without drying the skin.
But despite all its pros, I cannot give this foaming face wash five star rating. First, the product contains chemicals. And second, the cleanser only brightens complexion superficially and does not help in fading dark spots or correcting uneven skin tone.
Pros:
Travel-friendly, attractive tube packaging
Rich creamy texture
Lathers easily and luxuriously
Effective in removing dirt, dead cells, grease, grime and pollution from the skin
Brightens complexion
Refreshes dull, dark, tired skin
Does not dry out the skin
Suits most skin types
Pleasing scent
Cons:
Contains chemicals
Heavy on pocket
Not effective in removing dark spots and correcting uneven skin tone
R2B Take: 3.5/5
Final Take:
Overall, L'Oreal White Perfect Purifying & Brightening Milky Foam is a great cleanser for refreshing dull skin and brightening complexion. It's a solid performer that does its job well. But given the price it comes for, I wouldn't recommend this cleanser to anyone on budget looking for a good foaming cleanser for normal to oily skin.
There are plenty of drugstore options that also perform well at half its price. Here's a list of ten best face washes in India that you can choose from to pick the most suitable for your budget and skin type.
P.S. – Not so effective in removing makeup as per claims. Takes a double wash to completely remove all makeup stains from face especially kajal and eyeliner. But double face wash means dry skin!