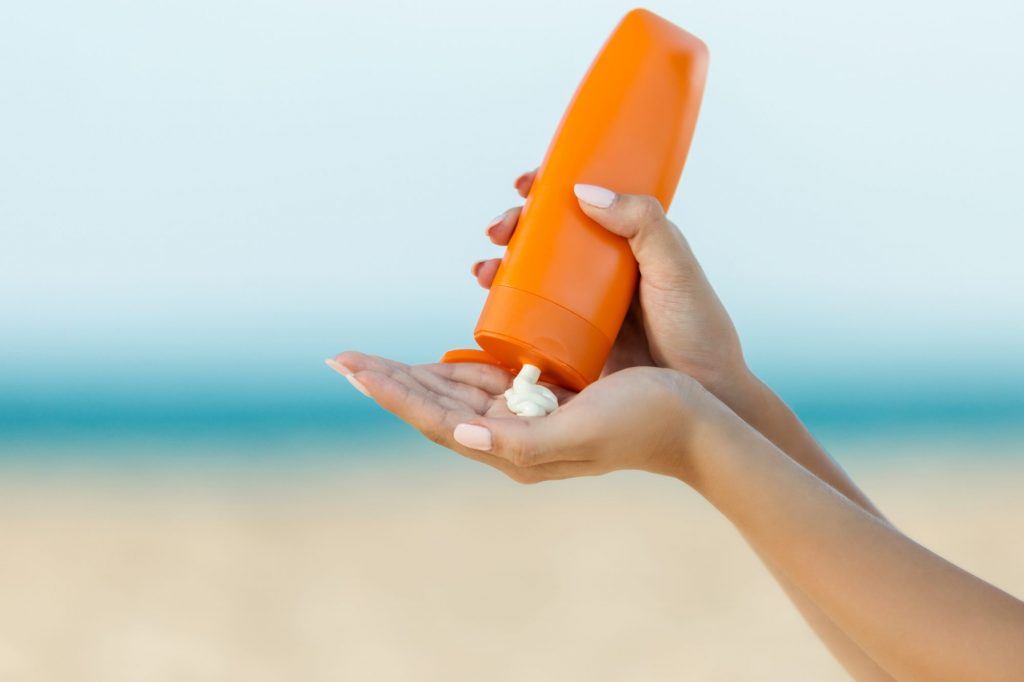 Hello my lovely ladies, while you're sheltered-in-place donning masks and sanitizing, I hope you're not forgetting to wear your sunscreen. Because this post is all about why you should wear sunscreen, how to find the best anti-ageing sunscreen and a review of VLCC De-Tan SPF 50 PA +++ Sunscreen Gel Creme.
Why should you wear sunscreen?
Because sun protection is a must. And if you're a 30 + gal like me dealing with those pesky signs of early ageing, sunblock is always a must (rain or shine, outdoors or indoors). By wearing sunscreen every single day of the year, you'll be protecting your skin from a lot of damage caused by UV light
In fact, sunscreen is the single best anti-ageing, dark-spot correcting, skin-brightening, wrinkle erasing and skin tightening product you can use. Even if your skincare routine lacks specially formulated anti-ageing products but includes a good daily broad-spectrum sunscreen, you're doing a decent job.
Don't believe me?
Well, here's a study involving 32 participants that shows how by using sunscreen regularly for one year, all the subjects improved their skin clarity and texture by 40-52% from baseline. And this was achieved by using sunscreen alone. Isn't this interesting?
To a lazy lass like me, this is a relief.
All you need to do is apply sunscreen.
But this doesn't mean you go and apply any sunscreen. For an anti-ageing routine to work, you need to find a good anti-ageing sunscreen. Before you get confused in the ocean of sun creams and sunscreens, consider these four simple tips for choosing the best anti-ageing sunscreen for your skin.
Tips on choosing the best anti-ageing sunscreen
Broad-spectrum
For starters, the easiest tip for picking a good anti-ageing sunscreen is to look for a label that reads "broad spectrum" which means the sunscreen protects against UVA and UVB rays. When it comes to ageing skin, it is the UVA rays that are more damaging.
And UVA rays are present all day long, year-round and unlike the UVB rays that cause skin burns, you can't see or feel the damage caused by UVA rays until a few years down the line you suddenly find yourself dealing with irksome spots, unwanted wrinkles and loose sagging skin.
Now that you know you need to find a sunscreen with good UVA protection, comes the tricky part as most sunscreens available today label themselves to be broad spectrum. So, determining exactly how much UVA protection a sunscreen offers is the key to finding an effective anti-ageing sunscreen.
One estimation system is the Boots star rating system developed by the Boots Company in Nottingham, UK. The system is based on the original work by Brian Diffey at Newcastle University in 1992 and is still widely used today.
Ranging from 0 to 5, The Boots Star system gives sunscreens 3-5 stars indicating how much protection the sunscreen offers in the UVA spectrum. The more stars the better UVA protection.
Another gauging system used by Asian brands mainly the Japanese ones is the PA system. According to the Japan Cosmetic Industry Association, PA+ corresponds to a UVA protection factor between two and four, PA++ between four and eight, and PA+++ more than eight.
This system was revised in 2013 to include PA++++ which corresponds to a PPD rating of sixteen or above. So, the more the +, the higher the protection.
High SPF
The next thing to look for is high SPF. Most dermatologists recommend using a sun protection factor (SPF) of at least 30. "Any SPF less than 30 really doesn't afford you the level of sun protection that you need," says Deanne Mraz Robinson, MD, and president and co-founder of Modern Dermatology.
Mineral vs chemical sunscreen
Sunscreens are either mineral or chemical-based. Mineral sunscreens typically contain physical barriers like zinc oxide or titanium dioxide that sit on top of the skin and deflect UV rays. Chemical sunscreens on the other hand contain chemicals that penetrate deep into the skin layers to absorb UV rays.
However, according to some recent findings many of the common chemical ingredients are absorbed into the body's bloodstream where they can mimic and disrupt the hormones in the body. So given the uncertainties of chemical sunscreens, dermatologists all over the world recommend using an organic or mineral sunscreen to be on the safer side.
Comfortable formula
Once you've got the checks for mineral formula, high SPF, strong UVA index, you need to find a sunscreen you're comfortable with. Because even if a product is highly recommended by experts if you don't like it, you're not going to use it. After all, if it ends up making you look like a ghost or makes you break out like crazy, why would you use it?
Sunscreens come in a variety of formulations—creams, gels, lotions—so pick one that you really like and enjoy wearing every day —even when you aren't spending hours outside.
A sunscreen I have tried this year and particularly loved is this High SPF gel crème formula from VLCC. The gel formula suits my dull combination skin perfectly making it look radiant and fantastic. You can check out this product here. For those who'd like to dig in deeper, here's a detailed review of the sunscreen.
VLCC De-Tan SPF 50 PA+++ Sunscreen Gel Crème Review
What is it?
A mild chemical and mineral-based sunscreen that provides UV protection while being soothing and nourishing to the skin.
Protection Factor:
Labeled: SPF 50+ PA +++
Filters:
Uvinul MC80 (ethylhexyl methoxycinnamate), Titanium dioxide
Best Suited for:
All skin types looking for UVA/UVB protection for everyday use.
Price:
INR 415 for 100 g
Scent:
A very mild floral powdery fragrance that fades after applying.
Texture:
Soft gel cream-like texture that spreads and blends easily on the skin.
Finish:
Almost invisible satin finish. The finish will be dewier if you're wearing a hydrating formula underneath, whereas a mattifying moisturizer will give you more of a velvet finish. No white cast and no pilling.
How I use it:
In the mornings it is the final step of my skincare routine. Reapply in the afternoon around lunchtime after simply splashing my face with plain water.
My Experience:
Just as I mentioned above comfort is one of the most factors for picking a sunscreen. A sunscreen is only good if you'll actually apply it and apply it enough. And VLCC De-Tan sunscreen makes that a breeze. It feels very light on the skin. I just love the subtle natural radiance it gives to my face.
Additionally, it is enriched with Carrot & Cucumber extracts, which delivers a powerful de-tanning action while protecting your skin from the sun's harmful UVA & UVB Rays. The brand claims that this VLCC De-Tan sunscreen "effectively fades tan revealing brighter skin tone, helps fade dark patches leaving skin looking even, radiant & moisturised."
I have used this sunscreen for almost one month and haven't noticed any of those de-tan effects yet. My skin looks still the same as it was before using this sunscreen. For effective brightening, you do need specialised products.
The good about this product is that it feels light on the skin and doesn't leave a white cast. I generally prefer sunscreens with a high SPF and this one has 50 with PA +++. I also love the fact that it has more natural ingredients and is totally free from parabens and other harmful chemicals. So you can wear it daily and reapply without second thoughts.
What I like about it:
Comfortable texture
High SPF
No white cast or stickiness
Presence of nourishing natural ingredients like carrot, cucumber, aloe vera, olive oil and saxifrage extracts
Free from parabens and other harmful chemicals
Affordable
What I didn't like about it:
Presence of chemical UV filter even though mild and harmless. Could have also been done without it with purely mineral filters like Titanium dioxide and zinc oxide.
Things to note:
It's alcohol-free but does contain fragrance. Also contains Glyceryl Monostearate, Cetearyl Alcohol, Olea Europea (olive) oil, Talc and Dimethicone which are potentially comedogenic. Avoid only if you know one of these ingredients causes breakouts.
R2B Rating: 4/5
Final Verdict:
So girls I hope now you know why sun protection is so important and how you can find the best anti-ageing sunscreen for your skin. As for VLCC De-Tan SPF 50 PA +++ sunscreen agreed it's not the best antiaging sunscreen but it's definitely one of the best anti ageing sun creams in the market today.
It checks off pretty much everything I need in a good everyday sunscreen. It is broad-spectrum, has high SPF and is comfortable to wear daily. However, for outdoorsy folks and those with extremely sensitive skin you'll want another sunscreen that is purely mineral-based and ideally water-resistant.