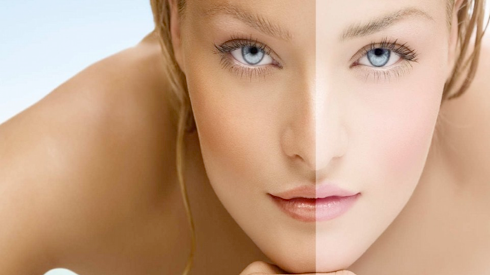 If you think dark spots and uneven skin tone are affecting your appearance and pulling down your spirits, you aren't alone. Given the climate and environment we live in, it is not uncommon for even the healthiest of skin to be beaten with sun tan, dust, and pollution.
While, home remedies are the best way to treat darkened skin, they are not always effective; especially in cases of chronic and severe hyper-pigmentation. Our skin color is determined by the amount of melanin present in skin cells called melanocytes. Hyper-pigmentation occurs when melanocytes increase their pigment production leading to dark patches and blotchy complexion.
You can read more about hyper-pigmentation and different causes of darkened complexion here.
But the good news is, the condition is not incurable. And you can easily get rid of dark spots, patches and blemishes with plenty of commercial ointments and treatments. The most common are OTC fairness creams and bleach-based lightening creams. Chemical peels are also a great option for those looking towards a quick way to lighten skin.
Coming to skin lightening and whitening creams in India, here is my list of ten best fairness and skin lightening creams that really work to give you a brighter complexion:
10.  Olay Natural White All in One Fairness Night Cream
Price: INR 340 for 50 g
This reasonably priced fairness night cream from Olay is comprised of well known whitening actives such as Vitamin B3, Pro Vitamin B5 and Vitamin E to brighten skin. Read full review of Olay natural white night cream to know more.
9.  Lakme Youth Infinity Skin Firming Serum
Price: INR 899 for 30 ML
This anti aging serum from Lakme is also a wonderful skin brightener with its potent skin lightening ingredients such as luminizing pearl and antioxidants. Regular use helps to reduce dark spots, blemishes, and patchy skin.
8.  Olay White Radiance Advanced Whitening Intensive Fairness Skin Lotion SPF24 PA++
Price: INR 1199 for 75 ML
Comprising of Vitamin B3, Pro Vitamin B5 and Hesperidin as active whitening ingredients, this fairness skin lotion from Olay white radiance improves skin tone by increasing cell renewal, reducing melanin production and enhancing moisture barrier of the skin. Best suited for dry skin.
7.  L'Oreal Paris White Perfect Transparent Rosy Whitening Day Cream
Price: INR 675 for 50 ML
Awesome skin whitening day cream from L'Oreal Paris. I have used this day cream in last winters and trust me; have found it to be best fairness day cream for dry to normal skin. Read full review to know more.
6.  Neutrogena Fine Fairness Serum
Price: INR 699 for 30 ML
Containing a wonderful combination of Retinol and Vitamin C, both of which are well known skin brighteners, the serum works like a charm on your dull complexion. The product also works to reduce fine lines and wrinkles. All at a price of INR 699, this fine fairness serum from Neutrogena is a deal.
5.  Kaya Skin Clinic Fairness Nourishing Night Cream with Antioxidants
Price: INR 990 for 50 ML
If you are a regular reader of my beauty blog, you must be familiar with this fairness night cream. It is one of my favorite products from Kaya Skin Clinic and I can't help singing about its praises. Read full night cream review to know more about this cream.
4.  L'Oreal Paris White Perfect Laser Overnight Treatment Cream
Price: INR 1049 for 50 ML
L'Oreal Paris white perfect overnight treatment cream comes with a combination of Pro-Vanish 3tm Ex Technology and Bio-Peeling ex that together work to neutralize melanin production and remove dead skin cells to give you even toned, younger looking, and fairer skin.
While, the cream does work to reduce pigmentation and dark spots, you need to be patient with the formula to show visible skin lightening results overtime with consistent use.
3.  Kaya Skin Clinic Pigmentation Reducing Complex
Price: INR 1190 for 30 ML
Composed of Azelaic acid and Phytic acid Kaya pigmentation reducing complex is a wonder product to fade dark spots and remove blemishes from the skin. Apply on cleansed skin over affected areas for bright, blemish-free skin.
2.  Kaya Skin Clinic Intense Clarify HD Brightening Serum
Price: INR 1490 for 30 ML
With powerful whitening actives such as Ferulic Acid, Waltheria Indica Extracts, Peptides and Vitamin C, this HD brightening serum from Kaya Skin Clinic is an amazing skin brightener. Both Ferulic Acid and Waltheria Indica extracts are well-known for their potent melanin regulating properties. The result is clear, glowing skin.
1.  Vichy Ideal White Meta Whitening Essence
Price: INR 2500 for 50 ML
Indeed heavy on pocket given its whopping price but results ensure it's actually worth every penny. Composed of strong whitening formula containing Ellagic Acid, LHA and Adenosin, Vichy Ideal White essence provides visible effects on dark spots, dullness, and uneven skin-tone. Ideal for immediate and long term skin whitening.