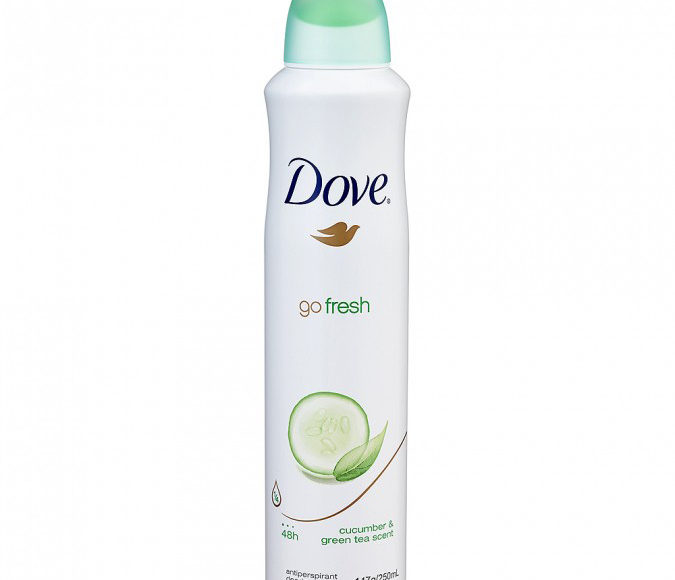 I'm not much a deodorant person. May be, because I don't perspire much, I prefer to use perfumes on special occasions rather than using deodorants or anti-perspirants everyday. But ever since I started studying the femininity secrets and introduced the same on my blog, I am overcome with the idea of smelling nice everyday to look my feminine and attractive best each day.
Though, perfumes smell heavenly, it's difficult to carry strong fragrances for everyday wear. So I went to the market to buy a suitable deodorant for myself for everyday wear. At the personal care counter, I sniffed fragrances from different brands but finally decided on Dove Go Fresh Anti-perspirant deodorant with cucumber and green tea scent.
I love Dove Products and had already used the Go Fresh Cucumber and Green Tea body-wash and body lotion and so this Dove Go Fresh Cucumber and Green Tea Deodorant came as a natural choice. I knew I would really like the fragrance even after leaving the shopping counter. And as expected, it turned out to be a nice fresh 'spring-time' scent that smelled beautifully refreshing. Excited to know more? Read full review:
Price: 190/-
Quantity: 150 ml
My Experience with Dove Go Fresh Deodorant with Cucumber and Green Tea Scent
I am a sucker for fresh clean scents and Dove Go Fresh deodorant definitely has it. With cucumber and green tea extracts it certainly smells clean and light. The fragrance is lingering, making one feel fresh for long even after bath. And since I don't perspire, this deodorant seems to last for like ages on my skin.
It is not a strong scent and has sweet notes added to it. Hence, Dove Go Fresh deodorant is not an empowering or overpowering fragrance but smells soothing, refreshing, and flowing. It has no alcohol and claims to keep you fresh for 48 hours, which I found to be true on me.
Another plus point of using a Dove deodorant is that Dove deodorants come with ¼ moisturizing cream, which can improve the look and feel of your underarm skin overtime. Just like its name "cucumber and green tea" Dove Go Fresh feels absolutely cool and soft on the skin. And guess what, even if you apply it over your clothes, it does not leave any nasty marks on them.
I also love its sleek and slender travel-friendly packaging. The apple green and white spray bottle looks absolutely lovely and fresh. As the fragrance is both soothing and energizing, you can carry it in your purse and whenever you feel a little tired, you can spray this to refresh your senses.
However, since I do not sweat, I can't comment on the anti-perspirant factor of this deodorant. So if you have dampness issues you need to take your own call for using this Dove deodorant as anti-perspirant.
Pros:
Nice refreshing citrus fragrance
Attractive travel-friendly packaging
Fragrance lingers on for long
Makes you feel and keep fresh for long
Reasonably priced and easily available
Does not contain alcohol
Moisturizing to the skin
Does not leave marks on clothes
Cons:
Beauties with a preference for strong and floral fragrances may not like this subtle citrus scent
Anti-perspirant factor is to be checked for girls with excessive perspiration
R2B Rating: 4/5
Will I Repurchase: Yes, but would like try another Dove deodorant or variant of the same brand.
Overall Take:
Overall Dove Go Fresh deodorant and anti-perspirant in cucumber and green tea scent is a wonderful product that lives up to its claims. It comes in perfect packaging, is reasonably priced and its simple subtle fragrance is ideal for everyday use. I highly recommend this Dove deodorant to all the girls who use deodorants daily and also for those who like light and fresh fragrances.
Have you used Dove Go fresh Cucumber and Green Tea deodorant or any Dove deodorant before? If yes, which one and how did you like it? Also which is your favorite scent and why? Please share your thoughts in comments below.