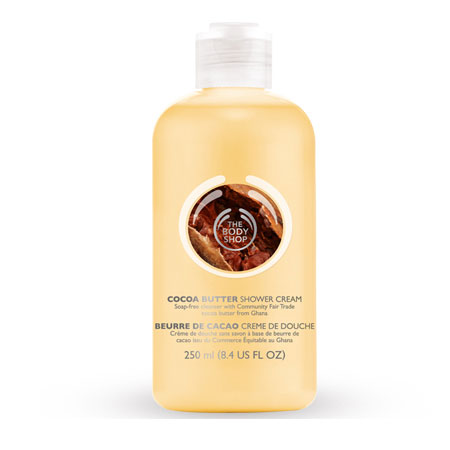 It's December and Mother Nature has begun to chill. If your skin is like mine that dries out as soon as we enter Fall, you probably need all the moisturizing help you can get. And to save myself of those super dry scaly skin days this winter, I have bought this bottle of The Body Shop Cocoa Butter Shower Cream. Yes, it's a shower CREAM, not a gel or a wash!I have heard some really great reviews about its moisturizing properties and now it's time to test the claims. So here comes the review of The Body Shop Cocoa Butter Shower Cream.
Price: INR 425
Quantity: 250 ml
Products Description and Best Suited For:
"A cleansing ingredient made from Community Trade cocoa butter acts as a detergent that creates foaming, cleansing bubbles.  Community Trade organic soy oil is very rich in essential fatty acids that help to restore skin's natural moisture barrier, so skin is softer and smoother."
 "Indulge your skin and senses in a moisture-rich, ultra-creamy body wash that creates a decadent chocolate-scented lather. Best for very dry skin."
Packaging:
The cocoa butter shower cream comes in a standard TBS shower gel or cream packaging, i.e. in a sturdy see through plastic bottle with a tight white flip open cap. The bottle is handy and convenient to use.
Texture & Fragrance:
TBS cocoa butter shower cream looks and feels creamy and rich. The scent is a strange mix of mild musk and flowers.  To me it smells more like a shampoo than cocoa butter shower cream. While I found this scent weird, I loved the sweet caramel color of the shower cream that looks YUM.
Performance:
Being a shower cream, it's a low-lathering wash, so don't expect big foaming bubbles. It forms very fine foam that rinses clean without any residue.
My Experience with The Body Shop Cocoa Butter Shower Cream
Even though, it felt like washing my skin with cream, it made my skin look clean and fresh. Toweling off, I felt a major difference in the softness and suppleness of my skin. I could clearly see my skin didn't look as ashy and scaly as before. It rather looked soft and radiant.
And while I'm not abandoning my go-to Dove soap, for the time being (read chilly months) TBS Cocoa butter shower cream rules my shower roost.  I'm using it as a moisturizing body wash, as exfoliating shower cream with a loofah sponge, and as shaving cream for my legs!
Pros:
Contains rich emollients and moisturizing ingredients
Can also be used as a shaving gel/cream
Best hydrating body wash for dry skin and winter weather
Leaves skin soft and supple
Sturdy packaging
Creamy texture
Cons:
Expensive
Not suitable for oily skin and hot weather
Does not lathers much
Does not smells like cocoa butter
R2B Rating: 3.5/5
Overall Take
Overall, TBS has packed this shower cream with emollient cocoa butter and other hydrating ingredients. No wonder, TBS tops the chart, when it comes to bath and body products.  So even though, this cocoa butter shower cream is pricey, it is worth every penny!
But girls before you splurge, one warning: go for it only if you have very dry skin like alligator! Otherwise, there are some fantastic drugstore deals to give you benefits at almost half the price. I'm soon going to do a post about them too. So stay tuned.