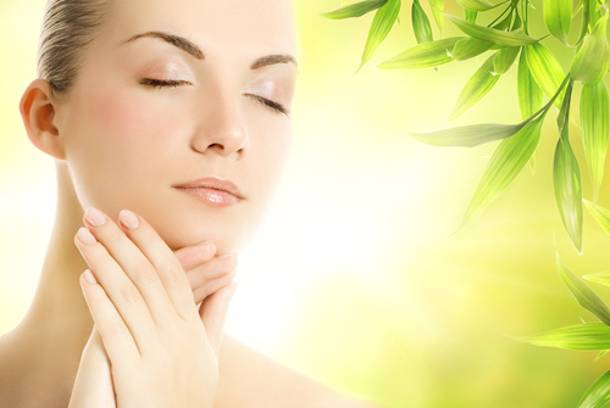 The list of beauty products containing purely natural ingredients is growing each passing day as we are becoming increasingly aware of the harmful effects of the harsh chemicals present in most skincare products. A number of new Ayurvedic and herbal skincare formulations have come up claiming to provide anti aging benefits sans the chemicals.
Great, but do these herbal anti aging creams really reduce wrinkles?
Well, read the complete review post to discover for yourself.
Review of Yauvanya Anti Aging Cream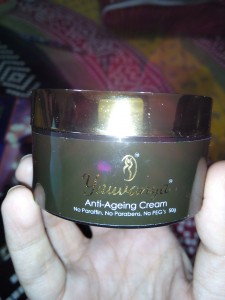 During my last visit to my neighborhood beauty salon, my esthetician introduced me to another herbal skincare products brand – 'Yauvanya' by Drishti Herbals.  Isn't the title sounds young and pretty?
Imagining the range to be equally young and pretty, I wanted to try the entire range! But ultimately my thrifty mindset prevailed and I settled with buying their anti aging cream first. It's been almost a month I am using Yauvanya anti aging cream daily in the night and verdict is out for you all:
Price: INR 315 for 50 g
You can buy it on Flipkart and Amazon.
Packaging:
I think the olive tub packaging with shiny gold lid looks classy and plush.
Texture & Scent:
Yauvanya anti aging cream smells really good to me with its herbaceous floral scent. Though the texture is thick, it's soft and velvety to touch and sinks in easily without leaving any greasy residue.
Performance:
The natural herbal formula is enriched with extracts of Argan, Avocado, Saffron, Jojoba, Orange and Pomegranate, which penetrate into the skin quickly to instantly nourish and moisturize the skin. I massage it all over my face and neck daily in the night before going to bed. While it feels a little sticky on my combination skin, the effect morning after is pretty impressive.
My face glows and looks supple after using this rich herbal cream in the night. So even though I'm convinced that my skin looks radiant and plumper than it did a month ago, it's not the same as saying that the cream has reduced my fine lines and wrinkles.
I have frown lines on my forehead due to my tendency to frown a lot and I'm sorry to say the cream hasn't made much of a difference to them.  But even without wrinkles improvement, I still like this anti aging cream from Yauvanya.
It's an amazing moisturizer and I often struggle with rich moisturizers that do not cause breakouts. The cream is free from any harmful chemicals like parabens, paraffins or PEGS. And for that alone I give this anti aging cream big plus.
Moreover, to be fair, one month really isn't a lot of time to determine the effectiveness of a natural product. Unlike quick acting chemical formulas, natural ingredients take long to show results. Due to its thick texture, very little quantity is required to effectively moisturize your complete face and neck.
More than half of the product is still lying in the tub, so I will continue to use the product for at least another couple of months and keep you posted with the results. If in any case, the wrinkle-fading magic happens, will surely let you know.
Pros:
Free from harmful chemicals like parabens, paraffins, and PEGs
Contains purely natural ingredients
Nourishes skin well with extracts of Argan, Avocado, Saffron, Jojoba, Orange and Pomegranate
Excellent moisturizer
Very little quantity is required to effectively moisturize skin
Protects against environmental damage
Reasonably priced
Attractive packaging
Velvety texture that sinks easily into the skin
Strong floral fragrance
Cons
Does not remove wrinkles
Can make skin sticky in summers
Availability
R2B Rating: 4/5
Overall Take:
Overall, Yauvanya anti aging cream is a luxuriously rich moisturizer that leaves skin super soft, silky and well-nourished. As for the anti aging claims, I have used herbal products in the past also but somehow they never worked for me. May be after exposing my skin to an acid rain of different chemicals, natural products have stopped working for me.
Whatever the case is, I am happy with the fact that this cream moisturizes and nourishes my skin effectively. If you are also on the look-out for a rich chemical free moisturizer for your skin, you can give this anti aging cream a try.
Image credit: http://freenology.com/images/91444289179skin-care-thumb-large.jpg