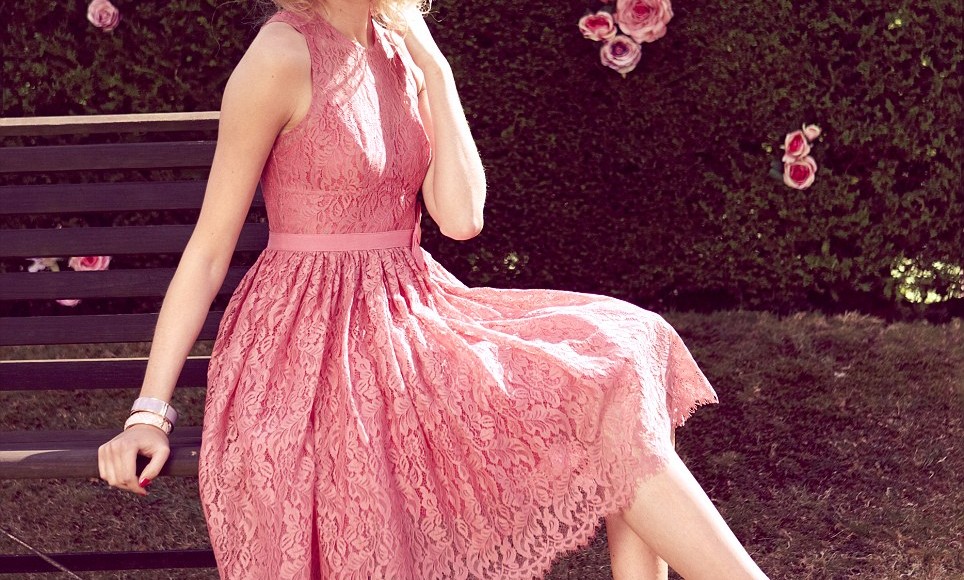 Happy Valentine's Day Lovelies!
Call me traditional or call me crazy but every Valentine's Day, I fall in love with the color Pink. There's something about 'Pink' that just feels *right*for the day.
And why not? After all, "Men want women to be pink, helpless and do a lot of deep breathing. If a girl has curviness, exciting lips and certain breathlessness, it also helps. And it won't do a bit of harm if she has a kittenish, soft cuddly quality" ~ Jayne Mansfield.
So girls, whether you want to spend the day with your man, go out with your girl-friends, or just pamper yourself, here's a perfect pink plan to celebrate Valentine's Day the feminine way:
Dress up Sexy
This morning, to get myself in the Valentine's spirit, I started cruising the internet for ideas and inspiration. And guess where I found? On Jabong – In the form of tons of pink, chiffon, and lace dresses.
Yes, there's no better way to capture a man's attention than by dressing up in an eye-catching outfit.  And looking at this soft pink dress in lace got me thinking about the beautiful pink roses my hubby brought to me on my birthday. You too can check out this dress here.
Seriously, nothing looks more romantic than pretty lace in pink or soft satin in red and off-white combination. So girls, forget corporate blazers and sport colorful dresses in soft fabrics like silk, chiffon, and cashmere.
Wear Pink Lipstick
I have a fondness for pink lips 365 days a year but on Valentine's Day, they are showered with extra love and attention. And that's because I spend more time trying to figure out which particular pink to wear out to dinner with my husband than I'd usually care about speculating what to gift him.
And if you too have a tendency to get lost in a pool of options, here is ''Pink Passion'' from Lakme Absolute Gloss Addict Lipstick that is just what you need to look glamorous and feel sexy. I love how easy it is to apply and it lasts long as well. You can buy this lip color here.
Walk in Heels
If you want to walk impressive to your V-Date, consider walking in heels. Men love women in high heels. And there's ton of research on the planet to support this. So think sexy, strappy, sparkly and high and you are bound to have your man at your feet.
But wearing high heels is an art and if you feel unsteady in skyscrapers, you need to read this, before you slip on those jaw-dropping stilettoes.
Smell Wonderful
For me, the scent of Valentine's Day always smells Roses. Rose scent from D&G is one of my go to fragrance whenever I want to feel pampered and romantic. Research shows that men are particularly attracted to women who smell fresh and floral with a hint of spice.
Using fragrance can be empowering to your persona if you only know which perfume to use when. You can also try a new perfumed body cream and put all over your body in unexpected places to leave your man feeling drawn and tantalized.
Accessorize
Nothing attracts attention quite like a hat. But it needs guts to wear one. So if you feel intimidated with something drastic, consider working on your more feminine look with soft and light accessories such as a silken scarf, pretty pearl ear-rings, tiara or a cute headband, and some thin bracelets.
So this Valentine's Day paint the town pink with all your feminine glory and be the girl you always wanted to be. Even if you don't have a lover, you would surely find one with these tips.
Have a great V-Day!