I have dry, wavy hairs that tend to get all the more dry and unruly in hot, humid weather. So quite rationally, I always use some sort of leave-in hair oil or conditioner on my ends to keep them throwing any wild fits. But still no matter how well they behave indoors, when the temperature soars outside and humidity proliferates, they turn into feral vampires.
I had been using L'Oreal Professional Liss Unlimited leave in cream to keep my hair looking calm and smooth. But this was back when I was using flat iron every other day to straighten my hair and it left me with super dry, frizzy hair. And while it did help me bring my mop back to the brink, it's been weighing my hair down of-late, maybe since I have now embraced my natural waves and chilled out of heat styling.
I was on the look-out for a new styling cream or leave-in treatment for my naturally wavy and somewhat dry hair, when I received this Climate Control Anti-Frizz Leave-In cream from BBlunt. The line is specially created for Indian hair and for all hair types. It is designed to protect the hair from extreme climate conditions and from heat styling.
Price: INR 450
Quantity: 150 ml
My Experience with BBlunt Climate Control Anti-Frizz Leave-In Cream
It's been two weeks I am using BBlunt anti-frizz cream and let me tell you girls, this leave-in treatment is a total LOVE! It's been rightly titled – 'Senei of Smooth' because it leaves hair super smooth and shiny without weighing them down or leaving any greasy residue.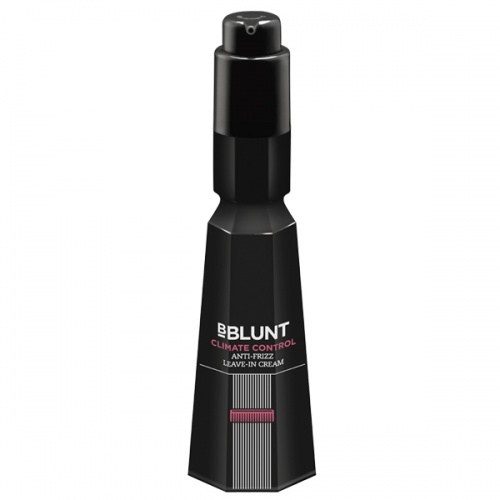 Packaging:
BBlunt climate control cream comes in a sleek plastic bottle with a black pump dispenser cap. The pump dispenser plastic bottle not only makes the product easy to use but also ensures that you take out just the right amount of the product needed to smoothen and style your hair appropriately.
Consistency:
Unlike other leave-in creams or hair styling creams, which are quite heavier in texture, the consistency of this cream is quite thin. The light-weight formula gets easily absorbed by the hair without leaving any sign of oiliness or greasy residue.
Efficacy:
I apply a dime-sized amount of product on to my towel-dried hair and the result is super soft and smooth hair in an instant. Frizz is easily managed and controlled even after hours of using the product.
As for the heat styling aspect, I cannot comment much because I have still not styled my hair or used this cream to blow dry my hair.
So far I have used this cream only as an anti-frizz and moisturizing treatment for natural wavy but dry hair. And as a smoothing cream, it has already become my HG leave-in treatment. Not only it makes my hair feel super soft and smooth, but it also gives them a little bit of lift with some added volume.
I highly recommend this leave-in anti-frizz hair cream to everyone as I honestly feel this climate control leave-in hair cream from BBlunt will work for all hair types.
Pros:
• Sleek and convenient packaging
• Light-weight texture that gets absorbed easily
• Specially formulated for Indian hair and extreme weather conditions
• Contains Hydrolyzed Keratin, Quinoa, and Pro-vitamin B5 to smoothen and nourish hair
• Leaves hair super soft and smooth
• Effectively controls frizz even after hours of using the product
• Sufficiently hydrates dry and damaged hair
• Works for all types of hair
Cons:
• Does not makes my hair as shiny as I expect it to make
R2B Rating: 4.5/5
Overall Take:
Okay, so maybe this hair cream is not going to make me metamorphose into a styling queen but this product really rocks as it has turned my 'vampire hair' into 'vacation hair' – touchable, cooperative with a bit of hold and definition.
So on the whole, I would say, BBlunt Sensei of Smooth or Climate Control Anti-Frizz Leave-In cream is great for everyday use as well as for heat styling. It works for all hair types and in all weather conditions.