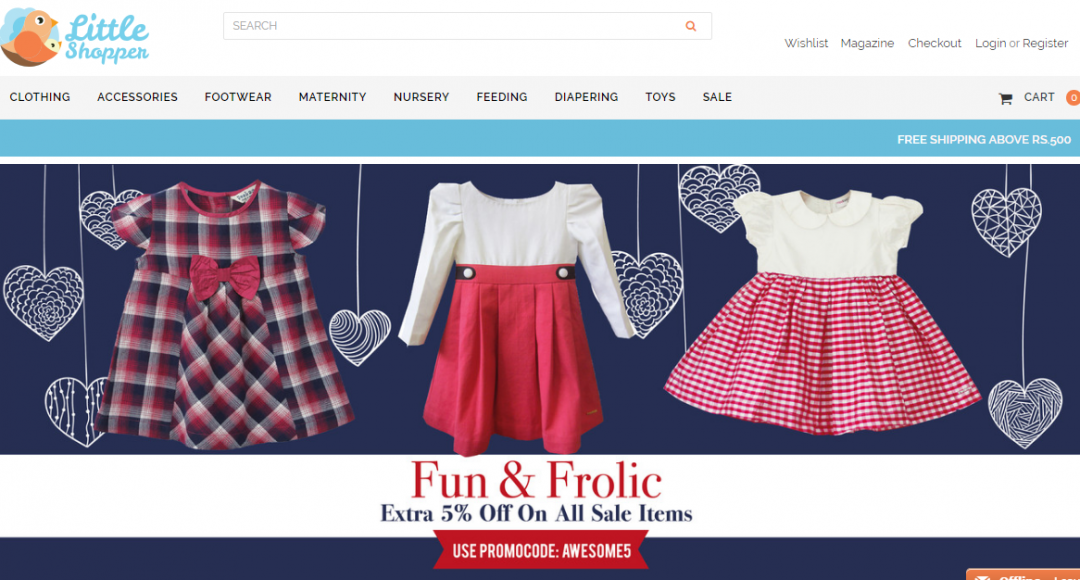 Being aware of my craze for shopping and desire to have a baby girl, all my well-meaning friends and family members started advising me against buying too many baby clothes and outfits, the moment my baby daughter was born.
And it made sense also. After all, no matter how beautiful a baby dress you buy, it's finally going to end up in shit and spit on it! Then clothes and toys are something that you already receive as gifts from friends and relatives.
So with all good intentions to save money and be a wise mom, I started surfing the net for baby essentials like diapers, wipes, and bibs – stuff that you usually don't receive as gifts. But spotting, there was a sale going on at The Little Shopper, I just couldn't control the urge.
For those who don't know about this online shopping website, here's a brief:
"The Little Shopper is a content driven curated marketplace specializing in sales of best Indian and international baby, kids and maternity brands. Only high quality handpicked brands for moms, babies and kids are sold on the website. The online portal also has a blog to provide moms to be and mothers with credible information vetted by experts on all issues surrounding pregnancy and parenting. By providing moms all they need to have and all they need to know under one roof, The Little Shopper is a one-stop solution to every woman throughout her journey in motherhood."
Now when it comes to shopping, little girls are most fun to shop for. Don't you agree?
So I spent a happy couple of hours at the website picking stuff for my little one. The website had everything I wanted to buy for my newborn daughter, from rompers, baby-suits, mittens, socks and caps to t-shirts, frocks, skirts and dresses. I also found some really cute accessories for little girls.
Knowing it was all going to look great on her, I filled my shopping cart with all sorts of goodies. Just before I was all set to hit the final 'place order' button, I realized I had thousands of rupees worth merchandize in my shopping cart!
After a small silent debate, good sense prevailed and I contented myself with buying just one party dress and a pair of cute little bow clips with sequins for her first birthday (And if she cooperates, maybe she stars in future outfit of the day posts for Road2beauty!!) Take a look at the red & black baby girl party dress and matching clips I bought for her: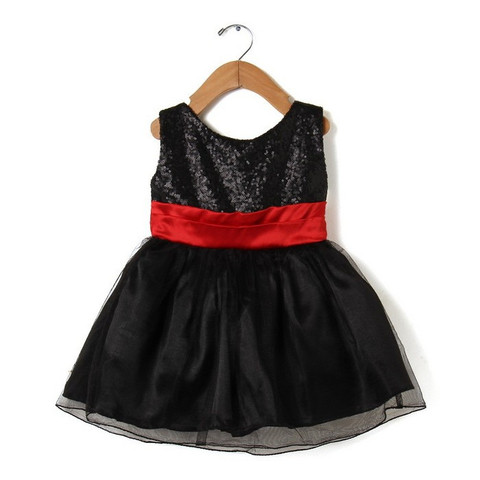 But until that time I want her to look and be like an actual baby. So only rompers, mittens, and caps until that time.
So overall, it was a happy shopping experience finding all my favorite international kids and baby brands like Dave & Bella, Andy & Evan, Zeezeezoo, Magic Fairy, Tiny Toddler, Farlin, Morisons Baby Dreams etc. Only one little thing: Nothing was for me!!
Moms, new moms, and moms to be do check out The Little Shopper website for all your kids' and baby's needs. They are running a special offer for May alone to celebrate mother's day, where every body who signs up with the website receives Rs 3000 worth free cash vouchers that they can use for shopping on the website.
It has already become my favorite online shopping website for buying children's clothes online. What are your favorite places to buy kids clothes. Do share your thoughts in the comments below.