After careful observations of fashion trends through years, I have come to a conclusion that most fashion trends recycle, yet their freshness always manages to surprise us.
The fashion choices of today's fashionistas are anything but boring. It's all about freshness, risk, mixing and matching and sometimes even stepping into waters of bad taste spinning it so well that it becomes the latest trend.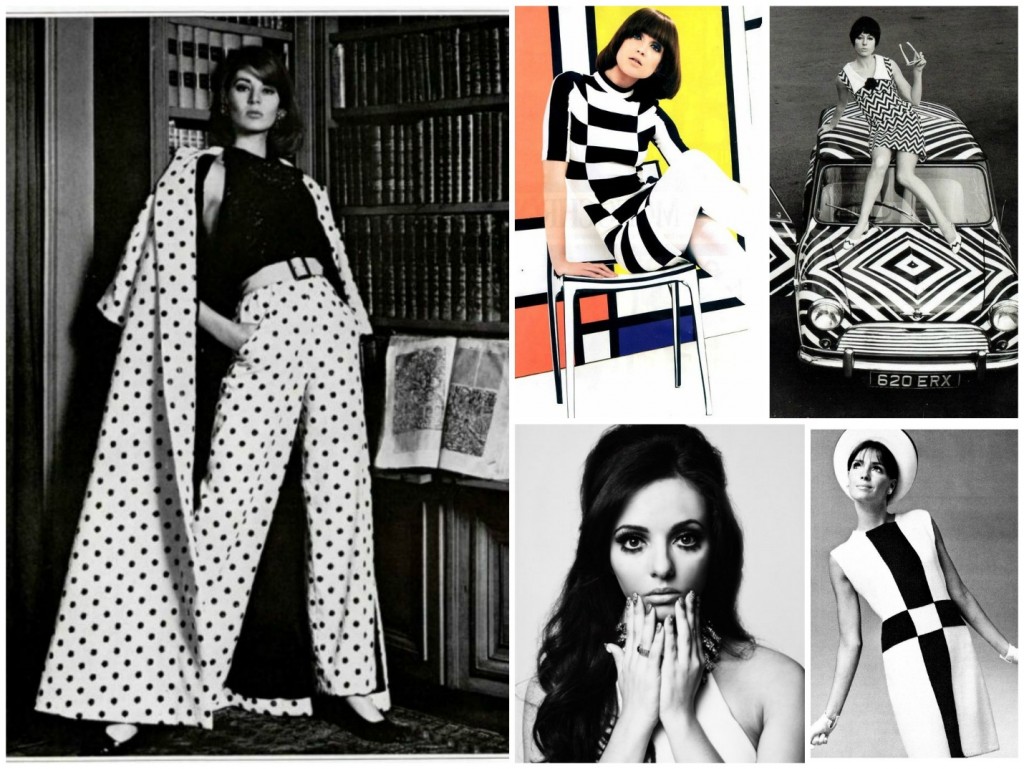 Speaking of recycling of fashion trends, it doesn't really come as a surprise that we all gone completely crazy over the latest black and white trend! And honestly, there is rarely anything in the fashion world that's as stylish, chic and glamorous as black and white combinations. And, whenever it comes back as a trend, it takes the whole fashion scene by storm.

In fact, black and white was the definition of the '60s period. The '60s were time for rebellion in all aspects of life, fashion being one of them. The explosion of colors so typical for the period stood in contrast with black and white geometric prints and dots that again were a form of rebellion in itself.
Black and white combinations so quickly became representations of style and class, with white high-waisted pencil skirts, black blouses, round necklines and black shoes being the ultimate fashion combo.
Year 2014 re-popularized black and white combinations, with fashion designers like Celine, Alexander Wang, Rodarte, Victoria Beckham, Balmain, Marc Jacobs and alike embracing black and white mania. They all experimented with patterns, fabrics and texture, emphasizing the importance and beauty of this particular fashion practice.
If you are at all crafty, you can even try knitting yourself. There are various ideas on the Internet, as well as online yarn stores  that offer an extensive selection of essential tools, patterns and materials.

From minimal black dresses, form fitting one-pieces and sleeveless mini and maxi dresses to jumpsuits, fashion trends from 2014 on, saw expansion of interesting and surprisingly chic black and white combinations with such exciting surprises like angular lines, dots or complementary jewelry and accessories that make for an amazing fashion statement.
It was both fashion models and celebrities that were happy to embrace to again blooming black and white trend. From the likes of Nicole Richie, Blake Lively, Victoria Beckham, Gisele Bündchen, Kate Moss to plenty others, there virtually isn't a person under the fashion sky who isn't going crazy over the trend.
Black and white combinations are an excellent choice for casual wear as the trend now embraces such chick combinations with bold colors like reds, yellows and blues.
Here are some ideas for you to embrace B&W mania and look like your favorite fashion icons:
Two-toned trousers
The next time you go out, take a fashion risk and throw on a pair of black and white striped pants. Combined with a red blazer, a simple black T, and red ballerina shoes your outfit will look fierce – and  you, will turn heads!
A show-stopper skirt
An interesting skirt will always take a white tee to the next level.
Choose one with bold patterns to add surprise to your overall outfit.
Black and white stripes
If you are not a fan of thin stripes, opt for a blouse with wider ones and put together a gorgeous color-blocking combo. Then, pair your favourite PVC skirt or shorts with it. You can always go for the timeless skinny jeans and black stripy blouse combination, styled up with a pair of black pumps.
Graphic bliss
Graphic prints will take a skirt, dress or a pair of pants on a whole different level, making it look polished and chic.
Accessorize
Sleek black and white shades are a great match for any classic color combo.
Throw in some amazing earring, bracelet, ring options and you are set!