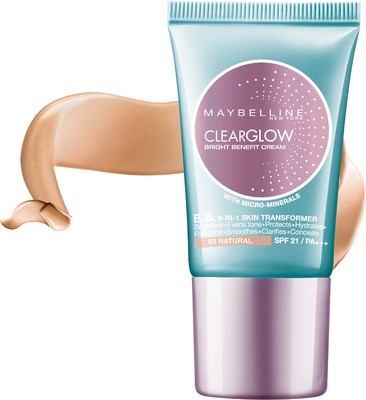 I always love the idea of makeup with skincare powers and for that matter BB creams have been around for years. My love affair with Blemish balms or BB creams as they are so called started, when Maybelline launched the very first BB cream in India – Maybelline Clear Glow Bright Benefit Cream in 2012.
There's no turning back since then and while I keep experimenting with different makeup products and BB creams; there's something about Maybelline clear glow bright benefit cream that I keep turning back to it, time and again. Want to know the reason why? Well, read full review to discover.
About Maybelline BB Cream:
Instead of a Blemish Balm, Maybelline has named its bb cream as Bright Benefit cream mainly because the cream provides 8 benefits to the skin as claimed by the brand:
Instantly brightens : Brightens skin to one tone lighter.
Protects with SPF 21/ PA+++ : Has a smooth, light & non-greasy texture.
Evens tone : Hides imperfections & corrects uneven skin tone.
Hydrates : Moisturises all day(8 hours).
Conceals : Perfectly conceals flaws, blemishes & redness.
Smoothes : Instantly makes skin softer & smoother.
Mattifies : Controls shine all day.
Freshens : Resists sweat & sebum for 5 hours.
Price: INR 250
Quantity: 18 ml
Packaging:
The Maybelline clear glow bb cream comes in teal green plastic tube packaging with metallic cap in pinkish silver tint. The packaging looks cute and is travel-friendly. The small and sleek tube can be easily carried in a handbag or even a wallet.
Shades:
The Maybelline clear glow bb cream is available in 3 shades:
01 Nude
02 Radiance
03 Natural

It's difficult to pick the right shade and you really need to experiment with these different shades to select the perfect one for you. I have fair skin and shades 02 Radiance and 03 Natural suit me just fine. Since I had already used Radiance shade last time, I picked up the Natural variant this time around and found it to be better than the former one for my skin tone.
Shade 01 Nude is the darkest of all the three shades and is best suited for dusky to medium toned girls. Wheatish and fair
Texture:
Maybelline clear glow cream has a lotion like consistency that is neither too thick and nor too runny. It is tinted like a foundation but absorbs and blends quickly into the skin like a moisturizer. It has a mild fruity-floral fragrance that evaporates soon after applying.
Coverage:
Light to medium – covers minor imperfections like redness, evens out complexion, and brightens under eye area.
But if you're looking to cover deep blemishes or darker scars, you may have to supplement with a foundation or better look for a full coverage product.
Best suited for:
Normal to dry or combination skin. Especially those girls with low maintenance skin, who don't feel the need for a lot of coverage but want something to even out complexion or smooth out pores without the heaviness of makeup.
Performance:
Since Radiance shade made my skin look a bit darker and shinier for my natural complexion, I picked up the 03 Natural shade for experimentation. And boy! The Natural shade blended into my skin like nothing. It instantly brightened and mattified my complexion, while making me look as if I am wearing nothing on my face.
Such seamless and natural coverage! While, I do have oily to combination skin, after using Aviance hydra balance moisture serum, I feel my skin looks and responds better with some moisturizer underneath than without.
I wear this cream over my regular moisture serum, so only a pea-sized amount of this cream covers my entire face perfectly while hiding any minor imperfections and completely brightening my under eye area – which is most prone to dullness and showing signs of tiredness.
Pros:
Instantly brightens skin
Evens out complexion
Covers minor imperfections
Makes pores look smaller and mattifies complexion to an extent
Contains good enough spf 21
Does not makes skin greasy or oily even after hours of application
Does not cause beak-outs
Brightens under eye area like a concealer
Cute, travel-friendly packaging
Reasonably priced and easily available
Cons:
Limited availability of shades
Too small quantity packed in the tube (18 ml tube finishes very quickly if you wear it daily like a moisturizer or spf)
Not suitable for oily skinned girls especially during summer months
R2B Rating: 4/5
Overall Take:
All in all, Maybelline clear glow bb cream is a lightweight, water based cream that feels practically weightless on the skin and provides a total natural finish. It does evens out complexion and conceals minor imperfections. Do go for it, if you have normal to dry or combination skin and like medium coverage for your complexion.
However, oily skinned girls, you may have to check out this cream with caution.