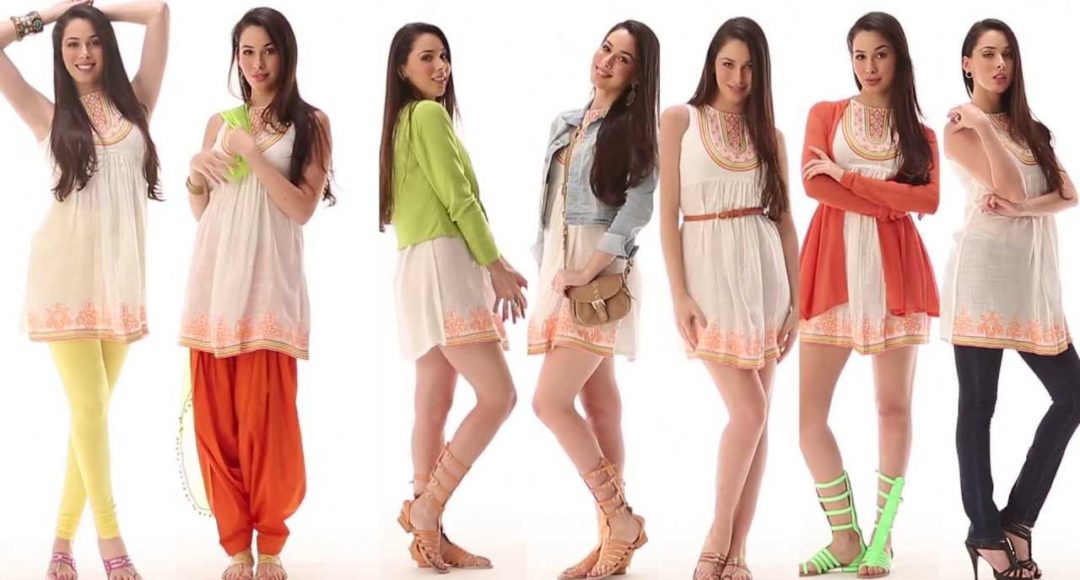 Tunics could be your go-to clothes, especially during the warmer months. They are very versatile, fit well with almost every body type, and are perfect for that effortless chic style that's been so popular lately. There are various fits, styles and lengths available, so here's a little guide on how to wear tunics for the ultimate, flattering look.
Get the right tunic
Tunics are made of light fabric, and designed to be loose. They should be flowy, not stick to the body. If a tunic is too snug and heavy, better look for something else. A good tunic should be nicely fitted around the neck and chest so that it doesn't look completely shapeless. Probably the best choice of tunic would be a V-neck one, because it draws attention to your upper body, neck and face.
Shape it up
Some tunics flow straight and don't have a lot of shape, while others have a defined waistline. If you have a tunic that's straight, think about getting a nice little belt to accentuate your waist. Opt for a braided belt and put it around your waist, not on your hips. If you want to really accentuate this part of your body, get a wider belt that also has a slimming effect.
Pair it with some appropriate shoes
Trainers are to be avoided with tunic by all cost. They never go well with this style. Opt for heels if you want to elongate your legs and add some extra centimeters, or pair it with some flats for a more casual look. Tunics have that power to make you looks shorter, so elongating your legs seems like a good idea. If you're already tall, you don't have to worry, but most of us could use some help from those heels. If you can, try to match your shoes with your belt for a more sophisticated look.
Make a balance with slim pants
Tunics are often oversized, long and flowy, so you can balance that out with some tight and slimming bottoms. Here, you really have a wide variety of choices. You can go with skinny jeans, leggings, cropped pants and anything that has that slimming effect. As long as you don't wear track pants or extra baggy jeans, you'll be fine.
Embrace the style
Usually, tunics have that bohemian, relaxed vibe and if you don't play your cards right, it can easily clash with the rest of your look. Better embrace that hippie vibe throughout your entire look. You can even go with some flair jeans, as long as they are slimming and balanced. This look is absolutely perfect for summer music festivals and casual brunches with your friends.
For both petite and tall girls
Tunics are usually long, and they can seem even longer if you're a petite girl. If that's your body frame, better find some shorter tunics. Avoid puffy sleeves and empire waists, as they can easily make you look like a little girl. Check out the tunics at Sivana Spirit that are shorter and more sophisticated, and will fit you perfectly. Also, you can wear a long tunic as a dress! You can pair it with a belt, but it's not mandatory. On the other hand, if you're a tall girl, your tunic of choice should be the one that reaches your mid-thighs.
There you have it, a quick little guide through the world of tunics. Make sure to follow these tunic wearing tips and soon, you will not be able to get enough of this versatile and comfy piece of clothing!