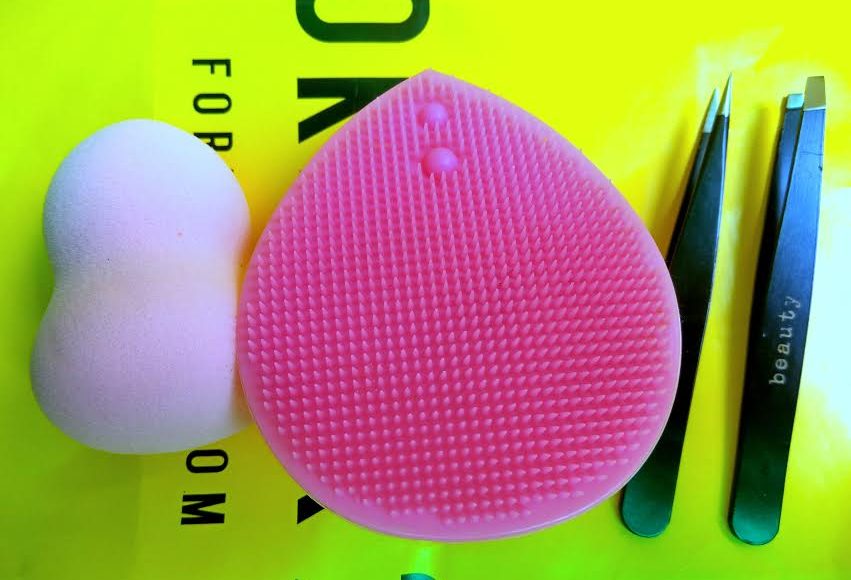 Hello my beautiful friends,
Well today, I am not going to talk about any skin care or make up product or DIY. Today I am going to talk about some make up and skincare accessories, which everybody should be using or already have them in their vanity right now.
I got these daily use make up and skincare accessories from forever 21. Well I must say they have got some really good make up and skin care tools and I am feel like collecting them all! I started taking care of my skin few years back and since then, I have been experimenting with a lot of products and tools in both skincare as well as makeup, and I have realized that things which you use in your daily routine, while taking care of your skin or applying makeup really do make a difference.
Today, I am going to review three products from Forever 21. These are: Tweezer duo, Facial cleansing pad and Makeup sponge.
Forever 21 Make up and Skincare Accessories 
Forever 21 Tweezers duo
First I am going to talk about tweezers. My sister got this. It comes in a set of 2. There are two types of tweezers in it, one is the point tip Tweezers and the other one is slant tip Tweezers.
Both these tweezers are housed in rectangle shaped sturdy plastic box. Well, one more important thing all these accessories come under the name of Love & Beauty by Forever 21.
Tweezers really do a great job in maintaining the shape of your eyebrows. Because sometimes you want to remove few ingrown hair from your brows which are disrupting your eye brow shape and you don't want to pay a visit to your salon for such a small thing. This tiny little thing has made my life so much easier; tweezers are no less than superheroes in need!
The point tip tweezers work really great, when you have to pluck your ingrown hair or very fine hair. It grabs the hairs very tightly and plucks them out without much pain. I use my 5 x mirror to zoom in my skin, which shows my ingrown hair very clearly and with the help of this Tweezers I make sure to remove my small hair within minutes.
The tip is quite sharp, so always be careful, while using it otherwise you can hurt yourself.
The second one is slant tip Tweezer. This Tweezer is really good for removing fully grown hair and it plucks them out quite easily. I hardly use the slant tip one. It can hold a couple of hairs at one time, so always make sure to don't pluck out the wrong hair. And the pointed tip works great for removing small hair and plucking one hair at a time for more precision.
Price of Forever 21 Tweezers Duo: INR 179
Forever 21 Facial Cleansing Pad
I recently got this cleansing pad. I was searching for something like this from a very long time and when I saw this in store I cannot resist myself from buying this. This is really good.
This facial cleansing pad comes in a plastic packaging, which cannot be resealed, so you have to throw it away after opening it. The color of this cleansing pad is bright pink, so it will easily catch your eyes if you are looking for it in the store.
It has a suction cup at the back so you can easily stick it to your bathroom wall or mirror. It also has a loop hole where you can put your fingers for convenience of use.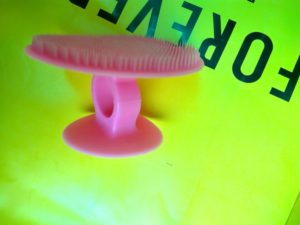 The bristles are very soft, although, they look like they can tear your skin apart but don't go on the looks ladies. It is very soft and gentle on skin. I use it 3 or 4 times a week. I use it especially at night. I take my regular cleanser in it and massage my skin gently for 30 seconds. Do not use it under eye region. I use it sometimes with my face wash.
It cleanses the face very effectively, taking out all the dirt accumulated deep inside the pores. And it is also very helpful in removing face make up. Just take good amount of your make up remover and start rotating it in circular motion, instantly all your make up will be out.
It deep cleanses your skin. It is easy to wash, just put it under running water and it will be clean. The bristles increase blood flow, which makes your skin look bright. It can be little drying because it literally takes out all the sebum from face while cleansing.
But a normal moisturizer is enough to replace lost moisture. I use this cleansing pad to remove my face masks also. As mud face packs (multani mitti) have a tendency to get into the pores, this facial cleansing pad by brushing off deep inside the pores helps clear all the left over face mask or pack along with massaging the skin.
Price of Forever 21 Facial Cleansing Pad: INR 129
Forever 21 Make up Sponge
One piece of advice, if you happen to like something at forever 21, don't think much and do buy it at once. I am telling this from my personal experience. I took so long in deciding to buy this makeup sponge that I had to visit their store at least thrice before buying it. The first time I spotted it, I thought I will buy it next time, and next time when I visited to buy, the sponge was not there!
Now coming to the makeup sponge, well this one is a dupe for a branded beauty blend. I already have a long wish list and buying an original beauty blender is at the bottom of the list. And so the dupe to save both time and money!
The sponge is light pink in color and comes in a flimsy plastic package. You can keep the packet or throw it – your wish! But the plastic package can be sealed again. So you can keep the makeup sponge after use.
The sponge is very soft even when it's dry. After keeping it under flowing water for a minute, it increases in size. Squeeze it properly to remove the excess water. The size increases around 2 to 3 cm of the original size both in length and breadth.
It makes application of foundation very easy.
A very little amount of foundation covers the whole face. And it spreads evenly. The sponge helps to mix the foundation very beautifully. It does not look like too much make up. I use it to apply my concealer too. It helps me to avoid creasing under my eyes. You can set your powder also with the help of this sponge. Actually you can apply most of your make with this sponge.
Cleansing this sponge is very important, otherwise it can attract bacteria, which can break out your skin or can cause other skin problems. I use a super easy home DIY to clean this sponge. I take a tea spoon of regular shampoo and 1 tea spoon olive oil mix them well and then dip the sponge in it. And start wetting it under water before squeezing and rubbing the sponge.
Gradually all the makeup collected in your sponge will come out. After this use your hand sanitizer and apply it on your sponge. Now it's ready to use again.
Price of Forever 21 Make up sponge: INR 269