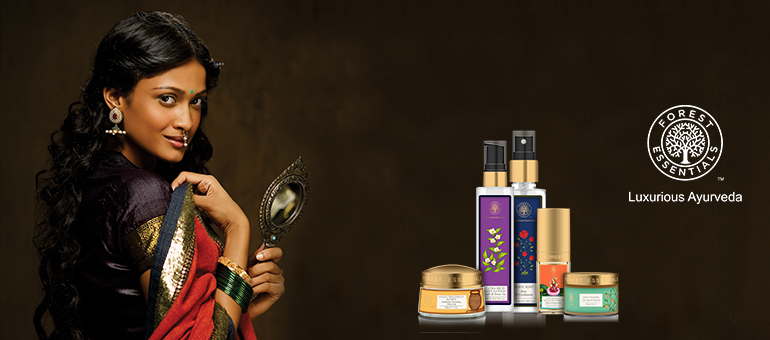 [kkstarratings]I don't have many regrets in life. However, one big regret that had been troubling my mind ever since the start of this year is that I couldn't get to try the much famed
Luxurious Ayurveda
– Forest Essentials brand yet!
Now, call it Law of Attraction or Mind Reading Spouse, my DH surprised me with a Forest Essentials gift box on my birthday. True to its name, the brand creates the most sumptuous skincare gift boxes. My gift box – Noor Pure Indulgence Festive gift box, inspired from the grand Mughal culture came lavishly wrapped in a plush fragrant tissue.
The neatly tied gift box in peacock green ribbon left me feeling just like a b'day girl must feel on her special day – "purely pampered and totally spoilt for choice"! Noor Pure Indulgence Festive gift box contained a delicate facial cleanser (50 ml), sunscreen lotion (50 ml), facial nourishing cream (15 g), lip balm (5 g), and an organic Kashmiri walnut face scrub (15 g).
Now coming to the product for today's review – Forest Essentials Mashobra Honey Rosewater Delicate Facial Cleanser, well I must say that besides the sugared rose lip balm in the box, this is one product I always wanted to try from the brand. So you see girls, Law of Attraction actually works!
How this product faired with me and my expectations from the brand, read full Forest Essentials delicate facial cleanser review to discover:
Forest Essentials Mashobra Honey Lemon Rosewater Facial Cleanser Review
Several skincare lines make gentle organic facial cleansers but Forest Essentials is one brand where you can actually sense and feel the products to be purely natural. The Forest Essentials Mashobra honey lemon rosewater cleanser comes packed in a luxe looking plastic bottle with golden cap.
The cleanser actually looks and feels like honey with gel-like consistency that smells of fresh blooming roses mixed with refreshing citrus scent.
Ingredients:
Steam distilled rosewater, lemon juice, organic honey, royal jelly, nagekesar, anantmool, and kumud.
Product description;
Forest Essentials Delicate Facial Cleanser cleanses your face to remove dirt, surface toxins, while gently exfoliating dead skin cells to make your facial skin look clean and fresh.
Product benefits (from the brand's website):
"Pure raw Honey, containing vitamin B and C along with active enzymes, hydrates and softens the skin.
Natural Rosewater tones the skin while balancing lemon oil cleanses and purifies it.
Nutritious Royal Jelly and Bee Pollen nourish the skin and add a vibrant glow."
My experience:
Of late my face has been behaving a bit wired – it's flaky, dry, and peeling like a serpent. Even skincare products I've loved and known for years have started giving me grief. So when my regular face wash started leaving my cheeks dry and tight, I decided it's time to open the box and put this much acclaimed Forest Essentials delicate facial cleanser to test.
Just like I imagined and true to its claims, the product feels ultra-soft and gentle on the skin. As soon as I slather the cleanser on my face, my skin just laps it up. The blooming rose fragrance mixed with citrus feels lifting for the mood and the senses –it's like getting a mini spa experience in the comfort of your bathroom.
Rinsing and patting the face dry, a moisturizing layer of the product gets left behind on the skin making the skin feel refreshed and silky-smooth afterwards. I've been using it for a few weeks and really love the results so far. My facial skin has started behaving –it's no more peeling like before and looks much smoother and softer to touch.
My skin was tired of all the chemicals and active ingredients from different skincare and cosmetic products. It needed to breathe and Forest Essentials delicate facial cleanser along with Sandalwood nourishing cream and Aloe vera sunscreen provided that much needed breath of fresh air and nature's soothing touch.
The best part about this product is it works equally well for both dry and oily skin. It's as effective in removing all the oil, dirt, grime and dead cells from the skin as it takes care to ensure skin remains soft, supple and moisturized after use.
Pros:
100% natural and highly gentle on skin
Soothing and nourishing for the skin
Ideal for sensitive skin and suitable for all skin types
Works equally well for both oily and dry skin conditions
Amazing rose-citrus scent that feels uplifting for the senses
Does not cause break-outs
Does not dry out the skin
Skin feels soft and supple after use
Does not contain chemicals
Cons:
R2B Rating: 4.8/5
Overall Take:
On the whole, it's one of the best facial cleanser's I have come across so far. It's also one of the most expensive facial cleansers in the market but given its high quality and performance, the cleanser is worth every penny.
It has done everything it promised for my skin. If you feel your skin is behaving weird or need to take a break from all sorts of chemicals, do give this cleanser a try.