Hello my beautiful angels,
I hope you all are doing well. Talking about Delhi weather, Oh my god, the heat is killing me! In case you are planning to visit Delhi, I wish you cancel your plans! I don't want, you people get burned in this rock melting summers.
Anyways, coming to today's product review, well I am going to add couple of DIY's with it, so it's like 'double dhamaka'. Today, I am going to review Aroma Treasures Aloe vera gel. I hardly know anyone who does not like aloe vera gel.
This amazing natural gel moisturizer works wonders for anyone and everyone. Aloe vera gel by Aroma treasures is an awesome product, it got numerous benefits one can imagine and it works out for every skin type, when used accordingly.
Let's get started, as I am also going to share a few quick DIYs with you, which worked out for me and I hope they'll work out for you too.
Product Description:
Aloe vera gel is suitable for all skin types, body and hair. Highly recommended for following uses:
Face: Acne scars, pimples, before make up, dry and chapped skin, razor cuts, after shaving, aging skin.
Hair: Scalp disorders, improves hair quality, styling, prevents dandruff.
How to Use:
Apply 2-3 times a day for better results.
Kindly do a patch test for sensitive skin.
Ingredients:           
DM water, aloe vera juice, glycerin , carbomer, polysorbate 20, hydrogenated castor oil, vertivert oil, geranium oil, lavender oil, chamomile oil, phenoxyethenol, caprylyl glycol, sodium benzoate, sodium hydroxide, potassium sorbate, Ethylhexylglycerin, color.
Price and Quantity:
INR 96 for 125 gm.
Shelf Life: 
2 years
Packaging: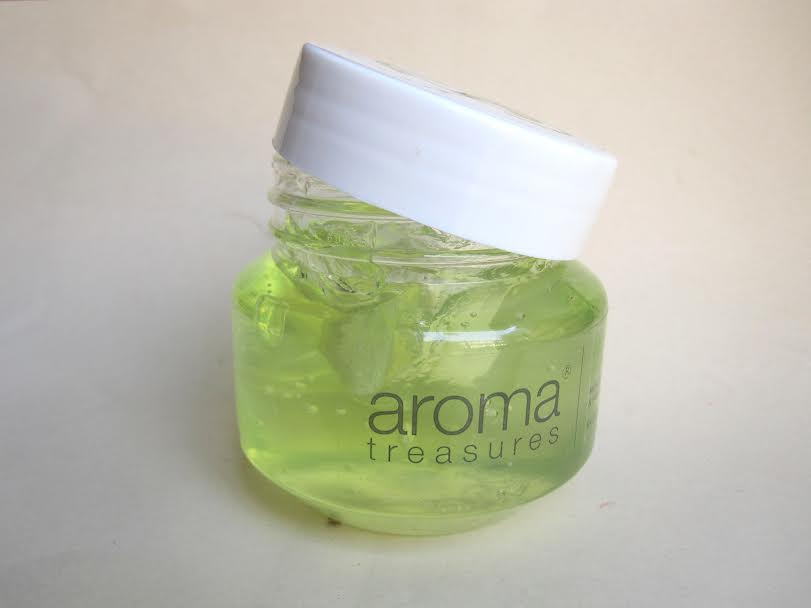 The product comes in a small transparent tub, so you can easily keep a check on how much product is left. The tub has a white screw cap, which seals the bottle and prevents leakage. I like the packaging is kept quite simple. However, there's one drawback, every time I have to dip my fingers inside the jar to get hold of the product, the gel gets contaminated.
Consistency, color and scent:
The consistency is like gel, well no rocket science, because it says aloe vera gel. It is thick and it spreads easily.
The color is light green when looked from outside the jar but once taken out from the tub, the gel looks almost clear.
The smell is somewhat strong for aloe vera gel even though it fades away quickly after after applying. I usually don't mind scents but this product got little strong smell and its weird too.
Performance:
Well, aloe vera gel got endless benefits, so I will share my experience as well as few quick face packs using this aloe vera gel, which really worked out for me. I started using aloe vera gel a few years ago.
Only last year, I got my hands on Aroma Treasures aloe vera gel and I really liked it. The gel spreads easily on face and it easily gets absorbed into the skin within a minute and does not leave any residue behind. It does not make skin oily or dry in my case. It's really a great moisturizer, if you have oily or combination skin.
It actually works during monsoons because humidity makes skin oily and acne prone and that time aloe vera gel works well as it does not makes skin oily and keeps it moisturized and prevents acne too.
I sometimes use it in place of primer, as primers are mainly silicon based and they make skin oily in summer skin specially you are spending the whole day under sun, so it comes handy, as it helps to keep the makeup on place and makes it long lasting
Well, it actually soothes burns and treats acne and it works to reduce hyper pigmentation and acne marks if used regularly.
I have never tried it on hair so I cannot say anything about it, that how it works for improving hair quality or for styling the hair.
It is fairly priced and very easily available in market and online, so you don't have to struggle to find this product.
Now, the DIY part. I love DIY's and today I am going to share my DIY secrets using Aroma Treasures aloe vera gel. The DIY are mainly focused for oily, combination and normal skin.
Aloe vera gel and activated charcoal– Yes, I wanted to share this deep cleansing DIY mask with you and finally I got a chance. I recently started using this DIY and I really love it. The detoxifying properties of activated charcoal just work awesome with aloe vera gel. Activated charcoal helps reduce marks and cleanses the skin and aloe overa gel helps to bind the charcoal mask in one place, while helping to soothe and moisturize the skin along the process.
Aloe vera gel and honey– Take one tea spoon each of honey and aloe vera gel. Mix them together and slather on face. It's deep moisturizing mask that helps to nourish and hydrate skin. The antibacterial properties of honey also help soothe acne prone skin. Leave the mask for 15-20 minutes before washing with normal water.
Bentonite clay and aloe vera gel– Take one spoon each of bentonite clay and aloe vera gel. Mix them properly. Add few drops of rose water or normal water to make a smooth paste for easy application. The bentonite clay helps to tighten the pores and removes all the dirt and impurities and aloe vera gels keeps the skin moisturized and soft.
Pros: 
– It is very light product, gets absorbed in skin easily.
– It got multiple uses and benefits, so actually it can be used one way or another.
–  It is easily available in market and online.
–  It keeps skin moisturized without making it oily.
–  It can be used as make up base.
– It does not contain paraben.
– It got essential oils in it.
– It soothes sunburns and help to fight acne and marks.
– It feels very light on skin.
– The product is travel friendly.
Cons:
-The tub packaging looks very unhygienic.
– The fragrance is a bit strong for being an aloe vera gel product.
R2B Rating: 4/5
Final Verdict:
So on the whole, Aroma Treasures aloe vera gel is a decent product that works wonders no matter what your skin type is. The product is fairly priced and it is easily available as well. This product has worked beautifully well with me and trust me, I keep aloe vera gel stocked with me all the time now. The product can be used anytime as make up primer and can be included in daily skin care routine. It helps to keep the skin moisturized without making it oily. It brightens up the face and adds a natural glow to face. So yes, I highly recommend keeping aloe vera gel in your vanity.