Some call it Kermit green, but this is simply one and only – Greenery. This colour will be a perfect refreshment for us this year, and we'll be able to see it everywhere – from our home décor, over accessories all the way to our clothes. It reminds us of first days of spring and nature that's slowly waking up. This beautiful hue symbolizes the connection between humans and nature, and it is super pleasant for the eye. Here are some tips on how to incorporate Pantone color of 2017 into your life.
Home
Just to be clear on one thing here – no one said that you should paint your entire house green or something like that. Some discreet details in this color will be more than enough, and will refresh your home completely.
Kitchen and dining room
When it comes to your kitchen you could add some dishcloths, appliances or even some cups, pots or decorative art pieces in this color.
The only thing you should avoid when it comes to styling your kitchen is overcrowding it with unnecessary items – keep it organized and simple.
Also, you can "green up" your dining room with simple details like tablecloths, chair covers and vases, or candle holders. If you are into art, you can display some canvas art whit Greenery as a dominant color.
Living room
There are so many different accessories you can add to your living room, and here are suggestions for only some of them:
RUGS – if your living room is white, a carpet in this green shade would be a perfect accessory. Every floor looks 10 times better when there's a fancy rug on it. Also, rugs can come in handy if your floor is damaged in any way. Keep in mind that wall to wall carpets are a thing of the past – refresh your home with an area rug – it will give you that interior design magazine vibe.
PILLOWS – first, they can make everything seem a lot more elegant, and second, they will give your couch that extra comfort, and your room a much cosier feeling. Avoid standard sized ones and opt for fluffy big ones instead, because the larger they are – the better impression they make.
WALLPAPERS – since the color green signifies growth and balance, and is generally a peaceful colour, it is good for your health and mind to have at least one green wall in your home. There are many different wallpaper patterns in this color that can match any interior.
Bedroom
Just like the living room, you can revive your bedroom with some green rugs, pillows and wallpapers.
Clothing, Shoes and Accessories
When it comes to clothing, a whole new world opens up. There are many different ways to incorporate this vivid tone into your everyday style.
Greenery from head to toe
The best way to promote this color is to dress from head to toe in it. After all, is there a bigger appreciation sign than going monochrome? The trend of playsuits in Australia has been all the rage, and you can easily combine it with a pair of pumps and a cute blazer.
Go tropical
If you really want to get that Hawaiian vibe, opt for garments with a floral design where the green of Greenery will pop out best, combined with other vibrant colors.
Just a touch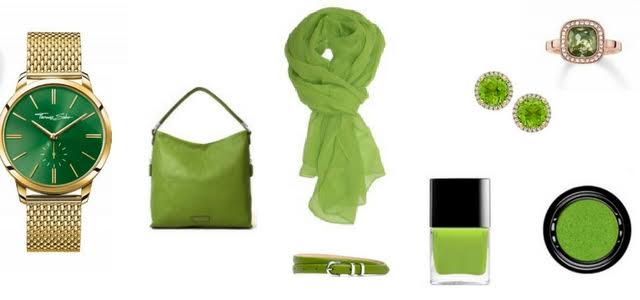 You can incorporate this color in your outfit by adding just a tiny touch of it through accessories. This means that shoes, scarves, glasses and bags can all be in this hue. Also, if you are a jewellery fan, you can opt for semi-precious gemstones in similar shade. Something like a statement necklace, ring or earrings is also a great choice.
This colour is truly a great choice for any nature-lover out there. So don't hesitate to go Greenery.
Author BIO:
Sophia Smith is Australian based beauty and fashion blogger. She is very passionate about latest fashion trends, DIY projects and organic beauty products. Sophia writes mostly in beauty and fashion related topics, mainly through blogs and articles. She is regular contributor at High Style Life.
You can find out more about her writing following her on: Facebook  Twitter  Google +