With its newly launched sunscreen compact, Lakme Sun Expert Ultra Matte Compact SPF 40 stands for "Sublime Protection Factor". So all you makeup addicts, you can now up your makeup game without compromising on skincare!
When it comes to skincare, sun protection is a must. But sweltering summer months can be tough for makeup lovers. Not all of us are ready to slaughter our pore-less, powdered faces for that gooey sunscreen glow.
Thanks to Lakme Sun Expert for combining makeup with sun protection and presenting us with an awesome on-the-go summer beauty essential in one convenient package. Whether you're a makeup addict or a skincare fan like me, Lakme Sun Expert Ultra Matte Compact SPF 40 is something you'll definitely want in your hand bag.
Describe the brand in three words
'Good Quality'. Indian
What is it?
A sunscreen in a revolutionary powder compact formula designed to provide matte, non-sticky broad-spectrum sun protection.
Who is it for?
All skin types. Comes in a universal shade that claims to suit all Indian skin tones. I have fair skin tone and this fits me just well, giving a totally matte, nude look sans any shine or white cast.
What the product claims to do?
"Lakme Sun Expert Compact claims to contain SPF 40 PA+++  minerals that protects the skin from the damaging effects of the sun. The product spreads effortlessly on your skin and gives your skin an ultra-matte finish."
How's the packaging?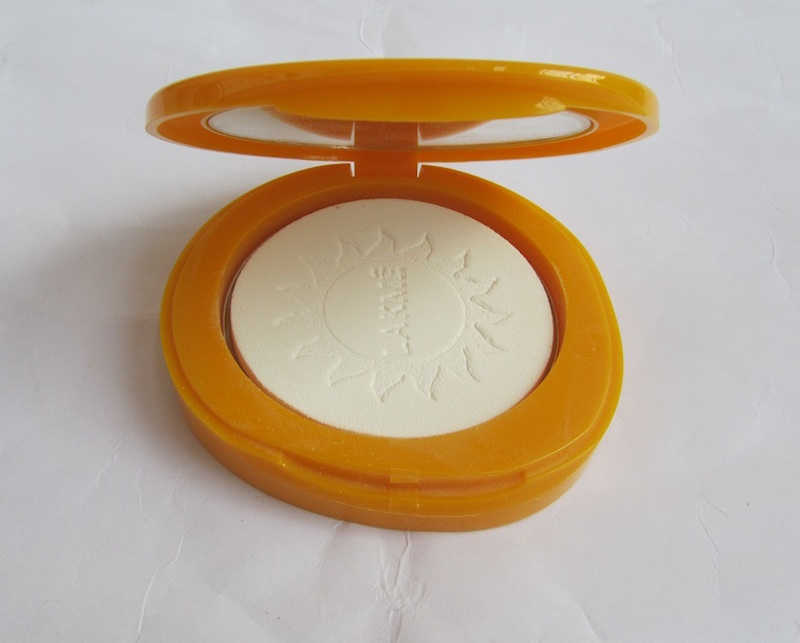 The product comes packaged with a cute, white sponge applicator in a compact, bright yellow flip open case. The packaging is handy and travel-friendly for on-the-go use.
How's the texture?
A very fine powder that feels soft and delicate on the skin. Sits well to form a protective layer on the skin.
How do you use it?
The description on the package instructs to gently blend the powder onto face and neck with applicator 20 minutes before sun exposure. Re-apply every 3-4 hours for maximum protection.
Where does it sit in my routine?
Since, I'm a skincare maniac who would not easily part with her faithful sunscreen, this compact sunscreen by Lakme sits in my daily routine as a setting or mattifying powder that I use on top of my sunscreen to finish my daily AM beauty routine.
If you are a makeup fan or oily skinned gal who hates using cream or lotion sunscreens, this revolutionary powder sunscreen would definitely be a boon for you. Simply dab on the powder over your toned/moisturized skin and you are good to go!
What's good about it?
I'm really enjoying this compact sunscreen. It's easy to blend, convenient to carry, simple to use and contains high SPF 40 with PA +++ for impressive sun protection. Gives a clean, bright, smooth finish doubling as a setting or makeup powder over your makeup or skincare routine.
Lakme Sun Expert Ultra Matte Compact SPF 40 has become my constant companion. I carry it in my purse for on-the-go touch ups as and when I need. My favorite thing about this sunscreen? Well, it's so easy to carry and use and that too sans any greasy or sticky feel of thick lotions.
What's not so good about it?
While there's little I would like to change about this product, I do wish it provided a little more coverage. Its coverage is too sheer to cover any dark spots, deep scars, or blemishes. And I wish it was a bit moisturizing too. But then it's powder formula and expecting a powder formula to be nourishing and hydrating is definitely asking for the stars and the moon!
R2B Rating:
3.5/5
Would I Repurchase/Recommend Lakme Sun Expert Ultra Matte Compact SPF 40?
Yes.