If there is one skincare product I have not switched over years is Olay Natural White All in One Fairness Day Cream. I was first prompted to try this product after watching Katrina in the commercial. The way she demonstrated the triple nutrient formula of Olay Natural White Day Cream for healthy fairness, it made me excited to try this cream.

I am never a fan of those fairness creams that tend to leave a white cast behind. Before trying Olay Natural White day cream, I had been experimenting with a lot of day creams with no satisfactory results. Some would make my face look ashy, while others would leave my skin craving for moisture. Plus I always prefer a fairness day cream which has SPF in it. Who doesn't want to skip an extra layer if possible?
I have oil/combination skin and with Olay having a reputation of a brand for mature and dry skin, let me confess, I was a little skeptical to try this Natural White day cream from Olay. So I bought the small 20 g tube packaging to check if this day cream caters to my needs or not. And from then there was no stopping! I have emptied many tubs and tubes of this fairness day cream. Indeed, I found it to be one of the best fairness creams in India.
I was so overwhelmed with the antioxidant rich formula that even asked hubby to get complete Olay Natural White skincare kit for me during one of his trips to Dubai. It contained a day cream, night cream and a face wash. What impressed me so much about this cream and why Olay natural white is my HG day cream, read review to discover.

Price & Quantity of Olay Natural White Day Cream:
Tube: 20 g for 99/-
Tub: 50 g for 325/-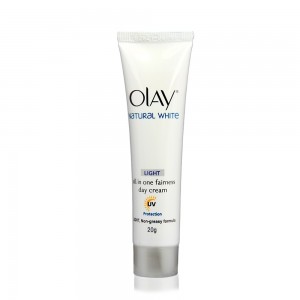 My Experience with Olay Natural White All in One Fairness Day Cream
The cream comes in both tube and tub packaging. The small and sleek 20 g tube is great for travel purposes, while the 50 g tub is best suited for home use. It has an off-white color and a very gentle and mild fragrance. The fragrance vanishes as soon as you apply the cream. The texture is light and feathery with a creamy consistency.
Only a pea size amount is enough to cover entire face. It blends well and gets absorbed perfectly into the skin. I love the way it makes my skin feel nourished, hydrated and glowing. It may feel oily initially but within a few days, you can find your skin adapted to this cream.
Despite having an oily skin, this Olay Natural White day cream has never caused any break-outs on my skin. The cream contains a powerful triple nutrient formula with Vitamin B3, Pro vitamin B5, and Vitamin E that nourish and moisturize the skin from deep within. It also contains SPF of 24, which is great for daily wear in Indian weather.

Overtime, this antioxidant rich cream has definitely improved the texture and tone of my skin. In the sense, that my skin looks soft, supple, hydrated and does not tan easily. What I like the most about this fairness day cream is that unlike most fairness creams in the market, it does not cause an instant superficial whitening but actually brings about a healthy glow by nourishing the skin from inside.
Pros:
Nourishes skin from deep within, improving skin tone
Contains powerful antioxidants that prevent skin damage and darkening
Hydrates well
Contains SPF, prevents from sun damage
Provides healthy fairness that looks natural
Easily available
Affordable
Blends easily and absorbs well
Cons:
Not suitable for very oily skin
Does not cause whitening
Does not fade dark spots (only cause slight lightening over a long long time!)
R2B Rating: 4.5/5

Will I Repurchase: Yes, it is my HG day cream! Until, I find an even better one, will continue to use Olay Natural White day cream.
Overall Take: Overall, Olay Natural White All in One Fairness Day cream is one of best fairness creams in India. It actually nourishes and hydrates skin for natural, healthy fairness. The antioxidant rich day cream protects skin from damage, darkening and premature aging.
The antioxidant rich, hydrating, nourishing formula is perfect for normal, dry and combination skin types. However, if you are expecting an instant whitening effect or expecting the cream to make you fair and white, this fairness day cream isn't for you. Even though, it is one of the best fairness creams in the market, it is not a miracle product!