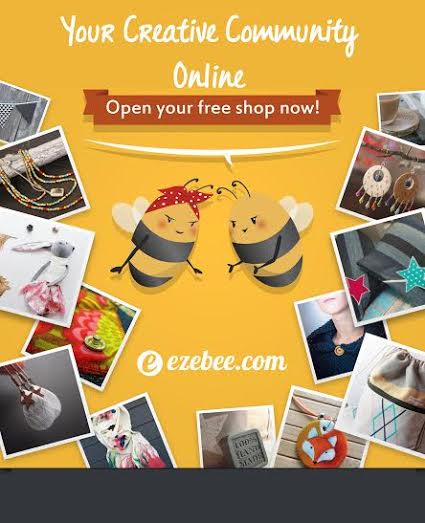 How's it going my lovely readers?
It's Monday again but I'm taking it easy and blogging to you from my bed in the afternoon. So I thought I'd skip the morning keynote and share with you something that I have discovered lately – something that would interest all of you, whether you're looking to make money online or just browse the internet for unique ideas and products.
Intrigued? Well, it's about ezebee.com – a new online selling site, where you can buy or sell your products, services and even second hand items to an all open, large international audience. It was fun going through the site and the experience left me feeling inspired and excited.
Want to know more about ezebee.com? Take a look at ezebee You Tube Channel and read full website review below:
My Experience and Review of Ezebee.com
Ezebee.com is basically a free online marketplace for small businesses, entrepreneurs, and local artisans, where they can create their free online shop to showcase and sell their products online. The service is completely free and ezebee website does not take any commissions on sales, making it a win-win for both, the buyers and the sellers.
Here are six things about ezebee.com that makes it unique and special from all other e-commerce websites on the internet:
It's not about them, it's about YOU
Founded by Ossian Vogal and Frank de Vries in the midst of the economic crisis, Ezebee is not about them or for them to sell their stuff online but it's about you. Whether you are a small business who wants to sell online or a professional who needs to offer services, ezebee.com is the place to be – to get your business online or make your services visible to the world in no time. And as mentioned earlier, it's completely free!
Artisans get platform and you can shop local
By adding new city pages, ezebee.com has not only provided support and platform to local sellers and artisans but also benefited local buyers, who can save on the shipping costs by buying local. The other plus point is you can discover shops and users in your area that you never knew existed, thus expanding your reach.
Anyone can sell online and be an entrepreneur
If you've been thinking of how to make money online, lately, well there's good news! Stop thinking and get started with ezebee.zom. Just a few clicks and you create your free online shop and start selling.
So no matter what you do, where you are from or how much money you have, with ezebee.com you can easily get your business online and make your dream of becoming an entrepreneur come true.
Create free Facebook shop
If you already have a Facebook account or blog page for your product or service, ezebee.com makes it all the more easy for you to sell your stuff or service online. All you need to do is just add ezebee.com widget to your Facebook or blog page and start selling and making money online.
Make money selling your used products
Even if you don't have a unique product or service to sell, you can still make money online by selling your used or second hand items online at Ezebee's classified ad section.
Connect and network with like-minded individuals
Another thing that makes ezebee.com unique from other ecommerce websites is ezebee is not just a buying or selling website. Ezebee.com also acts as a great social networking platform, where like-minded creative people/businesses can connect, network, form ideas, contacts and even friends with others in the field.
So whether you want to discover, or get discovered, inspire or get inspired and make money online while doing so, ezebee.com is the place to go. If you haven't been to ezebee.com yet, you better be!