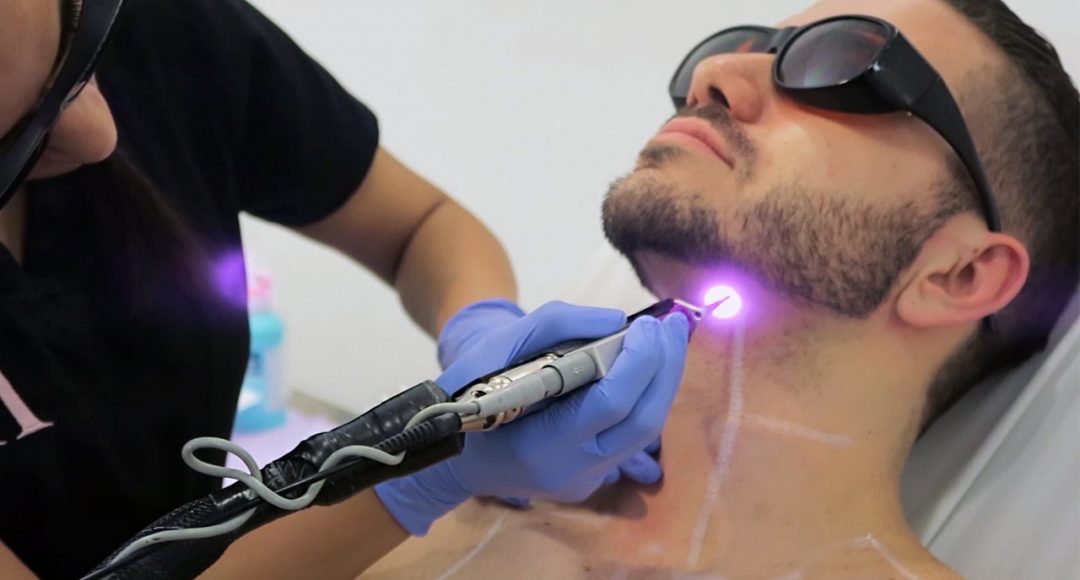 Laser hair removal for men has increased in popularity over the past several years. Laser hair removal is both aesthetically pleasing, as well as reducing aggravation in dealing with unsightly body hair. In addition, laser hair removal is considered one of the safest and most effective hair removal systems available.

Practitioners skilled in laser hair removal for men are available in all major Canadian cities and are now more affordable than ever. Do not hesitate to contact one today.

Popular Laser Hair Removal Areas
Popular laser hair removal for men is often performed on a variety of areas, including the chest, stomach, back, neck, arms, legs, and face. In addition, laser hair removal can also be done for sensitive areas, such as the buttocks and scrotum.

Types of Lasers
Various types of lasers for laser hair removal are available.

The Ruby Laser – The Ruby laser is the oldest type of laser on the market. It is best used on individuals with fair skin, with minimal hair removal needs.
The Alexandrite Laser – The Alexandrite laser is considered the fastest laser on the market, allowing it to cover the most surface area, in the shortest amount of time. This makes it best suited for large areas, such as the back and legs. It uses longer wavelengths and is best suited for light or olive skin tones.
The Nd: YAG Laser – The Nd: YAG laser uses longer wavelengths that can penetrate deeply, without causing discolouration. It is best suited for individuals with darker skin tones and is not very effective on fine or lighter-coloured hair.
The Diode Laser – The Diode is the newest type of laser and emits both long and short wavelengths. This lowers the risk of damaging surrounding tissues and is best used on light to medium skin tones.
Intense Pulsed Light (IPL) Laser – Unlike regular lasers, which use one wavelength to destroy unwanted hair, the IPL uses a spectrum of light and wavelengths. It is best suited for men with fair skin and darker hair.

Laser Hair Removal Treatment Procedure
Laser hair removal for men is performed in 30-minute sessions. 2 to 6 treatments are needed on average. At times, up to 8 treatments are needed.
After the initial 6-8 required sessions, annual or biannual touchups may be needed in some cases.

Before treatment, it is recommended to shave, as some establishments may charge a $25 CAD shaving fee. However, waxing, plucking, and depilation is to be avoided. In addition, avoid makeup, perfume, deodorant, and moisturizers.

During the process, a concentrated light beam emits light that is absorbed by the pigment in the hair follicle. This destroys the hair at the root.
The sensation is best described as a "snapping" sensation, akin to a rubber band.

After the procedure, one may be given ice or a steroid cream to apply to the area. However, treatments are often relatively pain-free and require little downtime.
It is recommended to stay out of the sun and avoid using tanning beds for 6 weeks after procedures. Use of a broad-spectrum UVA/UVB sunscreen is recommended daily.
In addition, tight clothing should be avoided as well, as they can irritate the area. Finally, it is advised to avoid waxing and tweezing between treatments, as this may stimulate hair growth.

Cost of Laser Hair Removal
Pay per session is most common for laser hair removal.
Costs begin from $60 CAD for extra small areas, including the areola, anus, front or back of the neck, chin, sideburns, linea or upper lip.

Small areas are approximately $70 CAD per session and include feet, upper lip and chin, jawline and chin, hands, sternum, bikini line area, and underarms.

Medium areas are approximately $80 CAD per session and include the abdomen, chest, buttocks, entire neck, half of the face, lower arms, lower back, lower legs, shoulders, and full bikini, minus the scrotum.

Large areas are approximately $110 CAD per session and include the upper back, upper legs, buttocks and anal area, full bikini and anal area, upper arms, and chest.

Extra-Large areas are $130 CAD and include full back and shoulders, full legs and feet and toes, chest and abdomen, and full arms and hands and fingers.

However, many businesses offer monthly and unlimited treatment options for laser hair removal. It often takes 6-8 sessions to obtain the desired results. Treatments should be spaced 4-8 weeks apart. Unlimited packages are often recommended for men with hormonal imbalances.

Extra small area sessions of up to 6 treatments are approximately $300 CAD.
Small area sessions are approximately $350 CAD.
Medium area sessions cost approximately $450 CAD.
Large area sessions are $550 CAD, while Extra-large areas are $645 CAD.
Laser hair removal for men can be found in many Canadian cities. Many technicians offer free consultations as well.