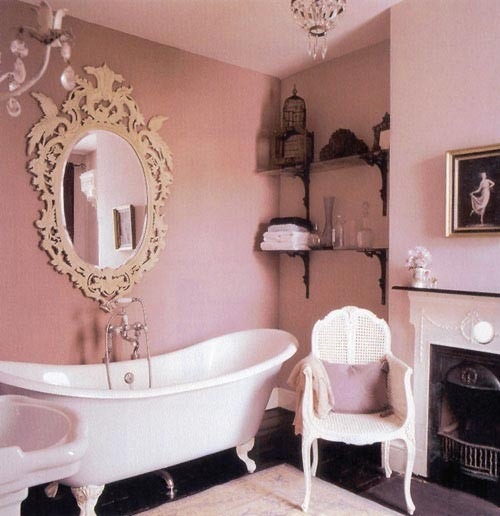 Just when I finished my last sip of morning coffee and climbed out of bed to reach for my laptop, my five month old woke up! Without blinking her twinkling eyes, baby beauty continued to stare until I plopped her in my lap with the first order of business – 15 minutes of smothering and coochy-cooing!
So here I am trying to type "goid mhorning  beayties" with my drooling bundle of joy draped all over my forearms.
For the record, not easy to do!
So all I want to do today  is take it easy, surf the net, watch some  videos, and then take a relaxing shower, once baby beauty goes back to sleep.Talking of shower, I've been thinking of renovating my bathroom ever since baby beauty has arrived in my life. I want my girl to grow up in all vanities like a princess. And for a Cleopatra in making, a tastefully decorated bath is like her haven – where she can relax or shower as she pleases!
I'm wondering how a Victorian inspired bathroom would look like…
Pink pastel walls with Victorian style mirrors, black chandeliers, shower head, towel racks….
….a luxurious bathtub with gold faucets, candle stand, and a vintage vase!
OMG! I'm already there – away from the hustle and bustle of routine life – relaxing in my bathtub full of petals and scented oils – soft comforting light from the candles gently kissing and caressing my damp skin…Ah – I'm in bliss!
But before I become too full of myself, I reminded myself of what is important. I have a small space to work with and I can't afford to buy anything useless. So I started googling for ideas to keep it simple yet gorgeous.
And girls, here's what I found – a dearth of amazing bathroom design ideas.
I'm not saying I want all of the stuff in the pics below, they are just for inspiration. If you too are renovating your old home, redoing your bathroom, or setting up your new house, the following bathroom design pics will help you give an idea of what you can do with your space, budget, and a little bit of creativity.
Hotel Inspired Bathroom:
This one is for ultimate luxury and functionality. Everything is in place where it should be. The very subtle and creative lighting serves both functional and decorative purposes.
2. Romantic Style Classy Bathroom:
This one is for those who love romance and royalty in all their styles. Red and white color scheme inspire romance and beauty. The plush chair serves the purpose of ultimate luxury when doing your makeup.
3. Nature Inspired Rustic Style Bathroom:
Country style bathroom are very much in these days. They look decent, are easy to maintain, and best part are easy on the pocket too!
4. Moderm Minimalist Bathroom:
Wonderfully elegant! I like the neat look and functionality of this bathroom.
5. Luxurious Whimsical Bathroom:
The ultimate, most glamorous, whimsical bathroom. I love the luxury of space, acessories, and whimsical design of this bathroom.
6. Victorian Inspired Bathroom:
This Victorian Victorian inspired modernized bathroom is something less girly but yet very much classy and elegant. A motley of bright flowers add a colorful touch to the overall white scheme of this bathroom.
7. Spa Inspired Bathroom:
Away from the cacophony of city life, this wellness bathroom provides a feeling of total calm and serenity. Wood work, candles, and minimal furnishing create a theme of wellness and rejuvenation.
8. Mediterranean Style Bathroom:
This Greek inspired Mediterrean bathroom will bring a hint of travel into your home. I love the majestic look of the walls. Best part is you don't need any large space or expensive accessories. All you need is wall paper to get creative with walls!
So girls these are the pictures, I have picked from my research to redesign my bathroom. I don't know about you but whenever I check into a hotel, the first thing I do is inspect the bathroom.  Subconsciously, I judge every place I visit by its bathroom. 
I know, it's funny but we all ladies have an obsession about it even though the total time we spend there is 40 minutes each day! 

As for me, I love the idea of a wellness inspired bathroom for relaxing spa experience in the comfort of your home.
What's your idea for a perfect beauty bathroom? How would you like to decorate or design your bathroom? Please add your views in the comments below. Would love to see this list grow.