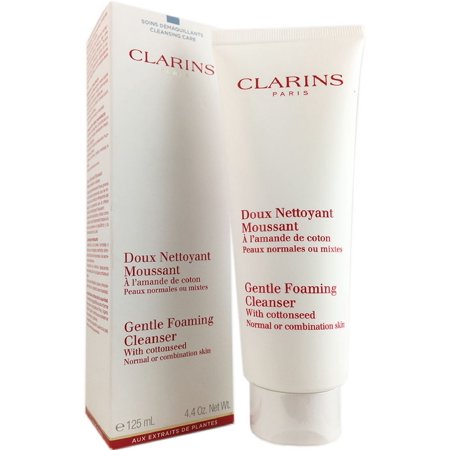 Three blankets at night, heating pads being charged non-stop, hot cafe lattes doubling as hand defrosters…it's still cold here in the North of the country! For the record – it feels so good. But this isn't the subject for today's blog post.
What I'm going to write about is not the gorgeous weather we are having but the fabulous foaming face wash I'm using currently. Its Clarins Gentle Foaming Cleanser with Cottonseed for Normal to Combination skin and it's the best foaming face wash I've used so far. Want to know why? Read on.
I have normal to combination skin that gets oily in summers and dry in winters. No wonder, I am too picky, when it comes to cleansers. Some I find too foamy, they suck out all moisture from my skin and some just don't foam enough to give me that real cleansing feel.
But this foaming cleanser from Clarins feels just right.
I mean, seriously this is HG stuff – lush creamy cleanser from a luxe brand that gives awesome results for most skin types. Here's the detailed review for the same:
Describe the brand in three words:
French. Luxe. Effective.
What it is?
Non-drying, creamy foaming cleanser with cottonseed extract to gently cleanse, soften and smooth the skin.
Who is it for?
The brand describes the cleanser for Normal to Combination but as per my experience the cleanser would suit most skin types: Nomal, combination, sensitive, and even dry and oily skin.
What's in it?
AQUA/WATER/EAU, GLYCERIN, STEARIC ACID, MYRISTIC ACID, POTASSIUM HYDROXIDE, DIMETHICONE, LAURIC ACID, SODIUM LAUROYL SARCOSINATE, TIPA-LAURETH SULFATE, GLYCOL DISTEARATE, GLYCERYL BEHENATE, OZOKERITE, PARFUM/FRAGRANCE, PROPYLENE GLYCOL, ALPHA-GLUCAN OLIGOSACCHARIDE, TETRASODIUM EDTA, GOSSYPIUM HERBACEUM (COTTON) SEED EXTRACT, GYPSOPHILA PANICULATA ROOT EXTRACT, POTASSIUM SORBATE, METHYLCHLOROISOTHIAZOLINONE, METHYLISOTHIAZOLINONE, BHT, BENZYL SALICYLATE, BUTYLPHENYL METHYLPROPIONAL, LIMONENE, LINALOOL, CI 77891/TITANIUM DIOXIDE, [C1110D]
What's not in it?
Parabens, mineral oil.
Possibly allergy or acne causing any ingredient?
Dimethicone, linalool.
Suitable for pregnancy?
Yes.
How does it smell?
'French'- would probably be the best word to describe its fragrance. Yet for the sake of description: It's very lightly fragrant. A mild mix of soft herbaceous and citrus scents, which I find very lovely and pleasing.
How do you use it?
I use it just like any other foaming cleanser or the way brand describes:
Apply a dime-size amount to damp face and neck. Work into a lather, avoiding eye area.
Gently massage over skin using circular motions.
Rinse with cool water.
Best for winter or summer?
Both. If you have normal to combination skin, you can use it year round.
Does it help in removing makeup?
Yes. But if you have stubborn waterproof eye makeup in mind, it works fine but only as a second cleanse after your regular makeup remover/wipe.
How long did I test it for?
It's been a few months now that I've been using this cleanser.
Works well for AM/PM Cleanse?
Both. But I personally use it for my PM cleanse to remove all traces of makeup, dirt, debris and grime from my face. This gives a perfectly clean canvas for my night creams to work their magic.
I sometimes use it in my AM routine as well, especially when I'm looking for a gentler approach but want a clean canvas.
How much does it costs?
125 ml bottle of this cleanser costs a whopping $36 in US and INR 1800 in India. But a little goes a long way. Even a small 30 ml tube of this cleanser should last you a few months.
What's good about it?
Clarins Gentle Foaming Cleanser with Cottonseed is lush stuff. It starts as a cream but once squeezed out and mixed with water, it turns into soft, milky foam. The thick, creamy foam rinses away easily and quickly without leaving any film or residue behind. There's none of the tight or dry feeling either.
My skin feels soft both during and after the wash. My face looks squeaky clean, supple and radiant, just like baby's bottom! I find the cleanser quite hydrating and soothing, which is good for both colder and hotter months.
It removes all makeup, spf, grime and dirt, while feeling luxurious all the way long. Also, you need only a little to get the job done. So it will last a long time; far more than most of your favorite drugstore cleansers.
How I wish, I should have known this fact earlier. As by default, I squeezed out a dollop-sized product on to my palm, just like I would with other face washes and happened to waste a lot a of this precious product during my first wash!
Lesson learnt: "Whenever you try on a new product, always start out small and slow"!
Now I only use a small pea-sized amount on my face and neck daily.
What's bad about it?
Practically, nothing other than the fact it's way too pricey for a cleanser.
R2B Rating:
4.8/5
Hope you found my review useful. If are planning to use Clarins Gentle Foaming Cleanser with Cottonseed or any other cream foaming cleanser for the matter, feel free to let me know. I'd be happy to hear from you and help/recommend wherever I can.