My first ever November 2013 Vellvette bag/box arrived today. I simply can't hold my excitement! And so I logged in to share my pleasure! So far, I had only read reviews of vellvette box products on other people's blogs. Today, I got my own!! Its's a cute satin pouch, hot pink in color with black polka dots. Loved the color combo with pink being my favorite color. Small size and satiny texture make this perfect to carry around as your travel make-up kit. Cheers to Vellvette!
Now about the contents. Theme of this month's vellvette bag is 'Band Baja Beauty'. Though, the contents are no where near the theme except for the Eye Shadow palette, I found them to be okay, neither great nor bad.  Without holding on more to your curiosity, here is a list of all what I got in this November 2013 Velvette Bag:
#INMYVELLVETTEBAG
Eye Shadow Palette by Beauty UK:
Both size-wise and packaging wise, this eye shadow palette looks decent. Although, the baked browns and goldens are shades I would personally never pick, I feel this is the whole beauty of the concept. You get to come out of your conventional zone to try something different. Haven't tested them yet but expecting them to perform well. Priced 513/-, this one is a bargain!
Votre Pore Shrink Toner: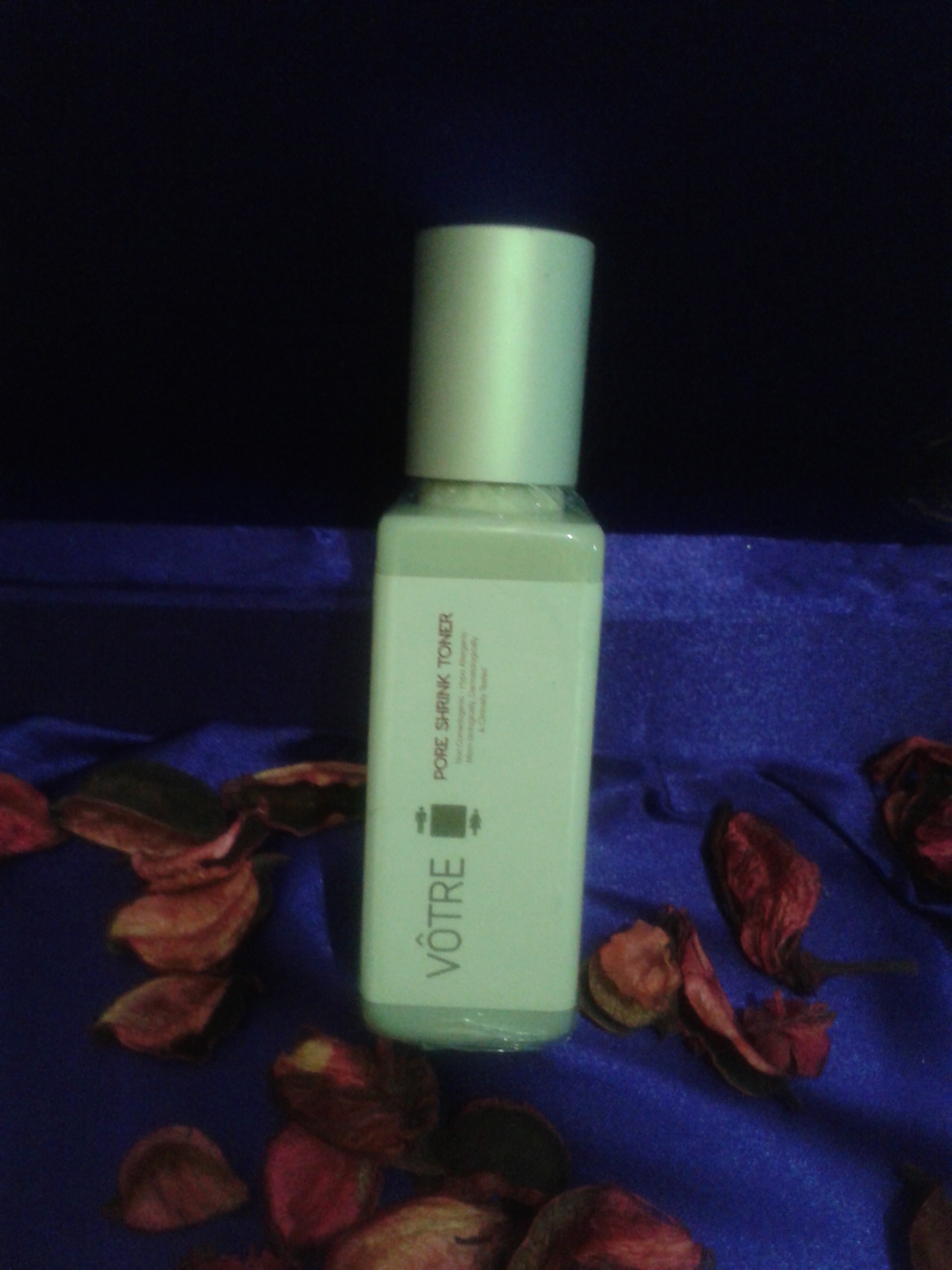 Its a small size 50 ml toner from Votre. Have never heard of this brand before and have still not opened it yet to comment. The card says the product is made from botanical extracts and is totally free from animal testing and parabens. The toner is suitable for oily skinned girls with large pores. The full 100 ml size of the product costs 360/- bucks. The one I got is for 250/-, yippeee!
I Love…Raspberry And Blackberry Shower gel: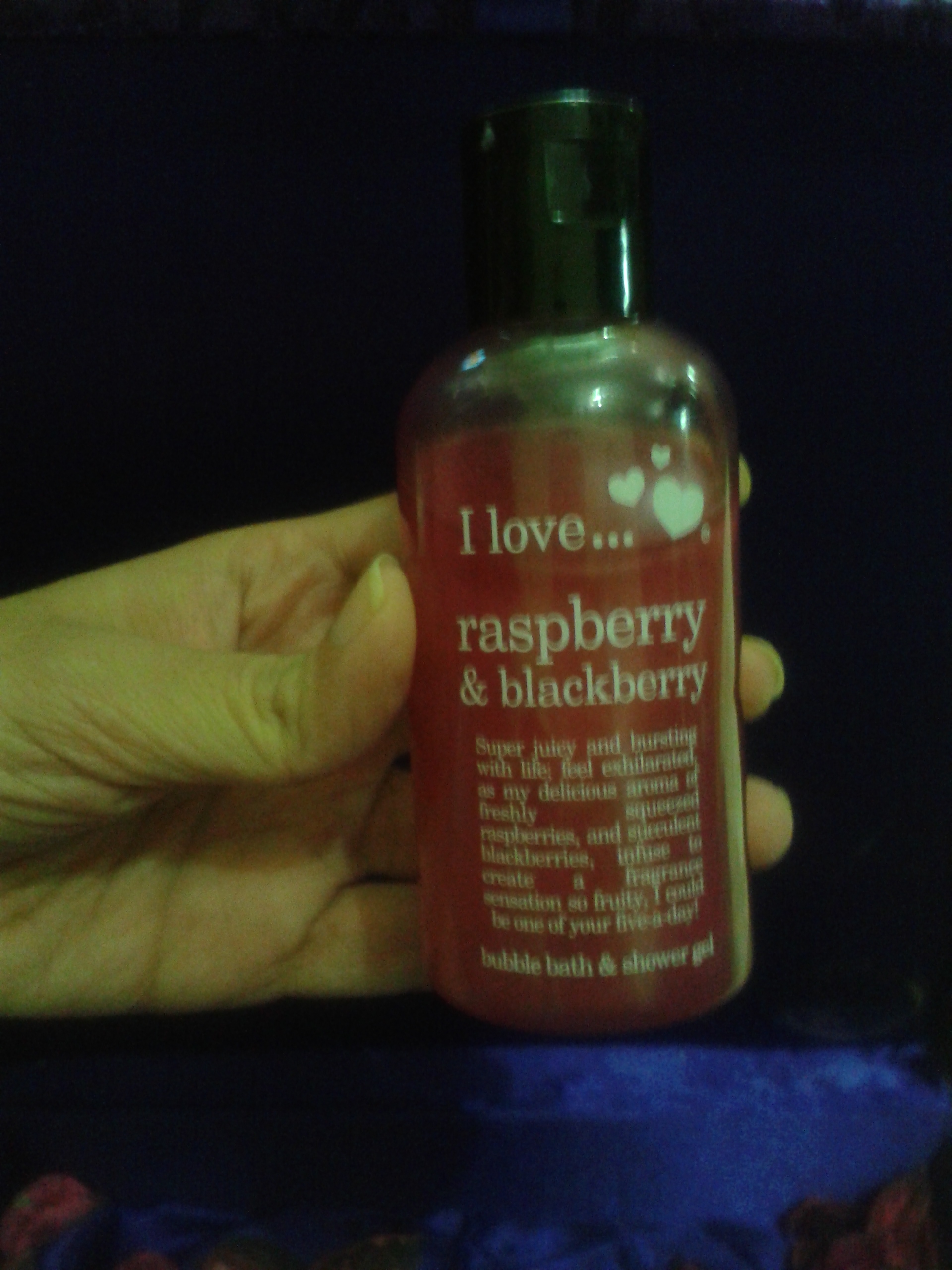 I found this one to be the cutest of all; only packaging wise! Comes in a small transparent plastic bottle and is hot pink in color. Has a strong fruity fragrance that sometimes feel medicinal! When I first had a whiff of it, I was like Ahem! coming straight out from my cough cyrup!!
Two Sachets of DNA Beauty cream and Lifting Serum from Remy Laure: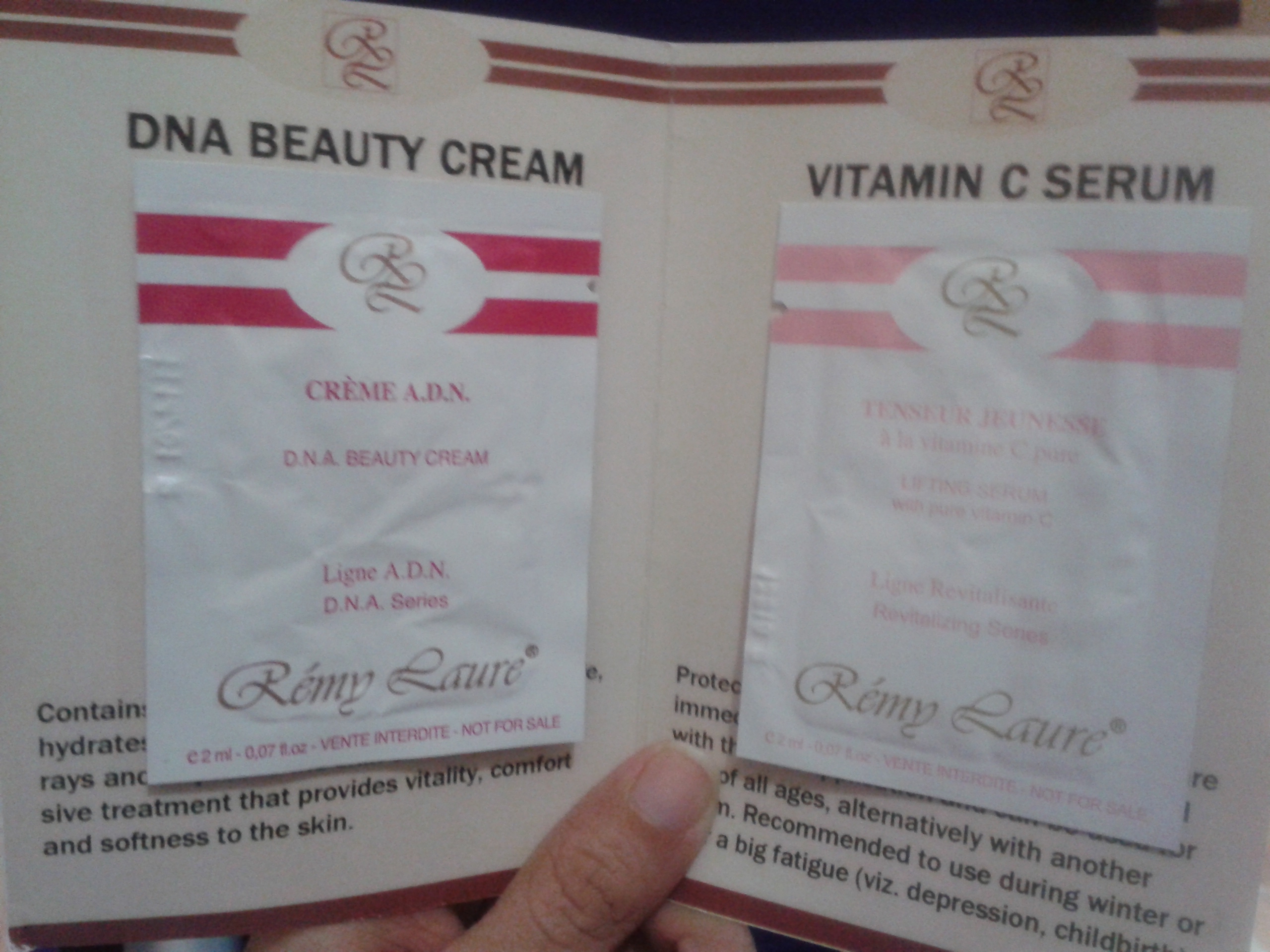 Again a brand I have never heard before. Each sachet contains 2 ml amount of the product. DNA beauty cream seem to be an anti aging cream that claims to boost cellular life and repair UV damage. The other sachet of Lifting serum contains pure vitamin C for multiple beauty benefits.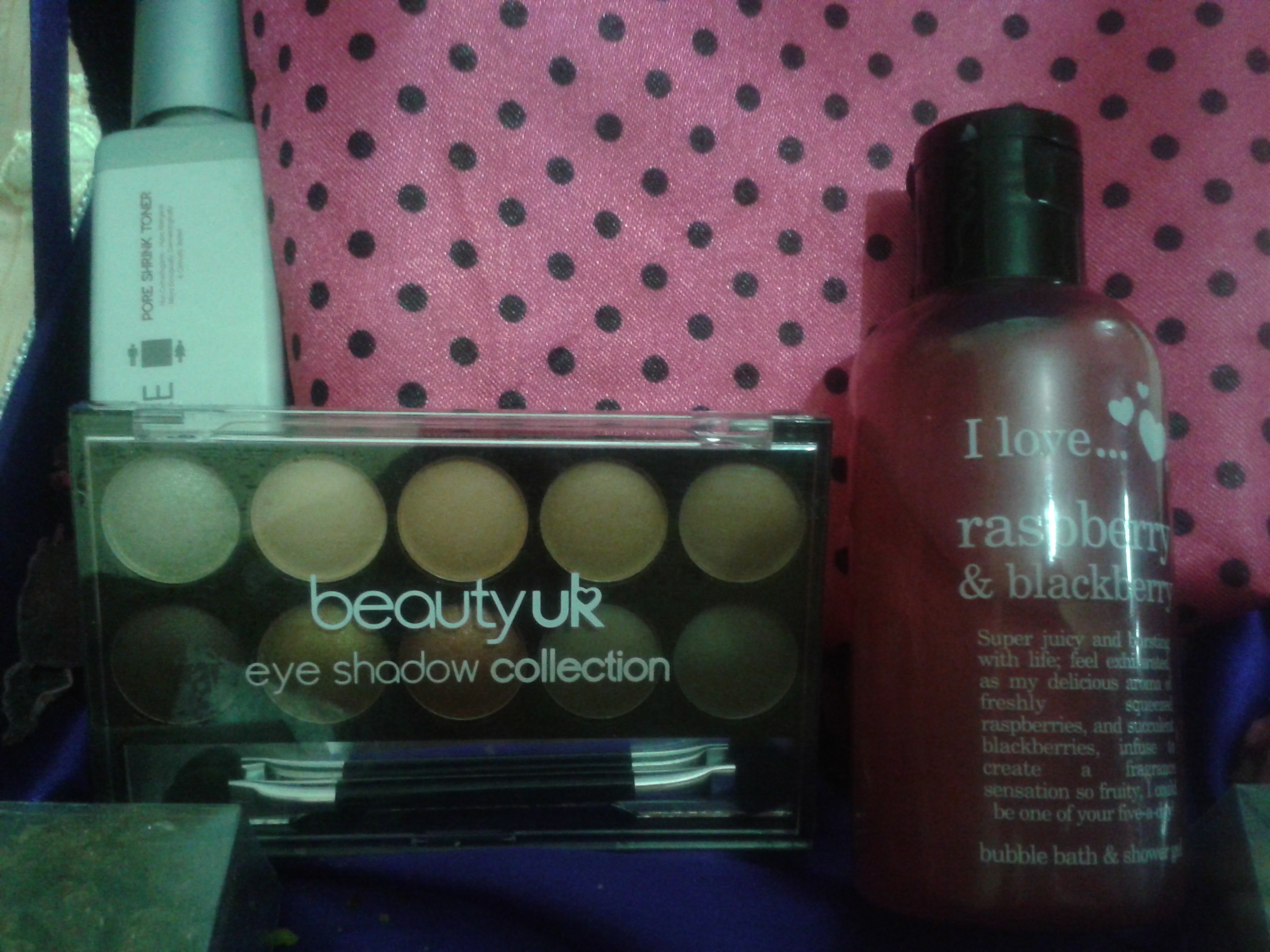 What I Liked about the Bag:
Pink Polka dot Pouch
Raspberry Shower Gel
Size and price of Eye Shadow Palette (hehe!)
What I Didn't Like about the Bag:
Shades of the Eye Shadow palette (Personally, I am not into bronze and browns, you might like them)
Fragrance oops smell of the shower gel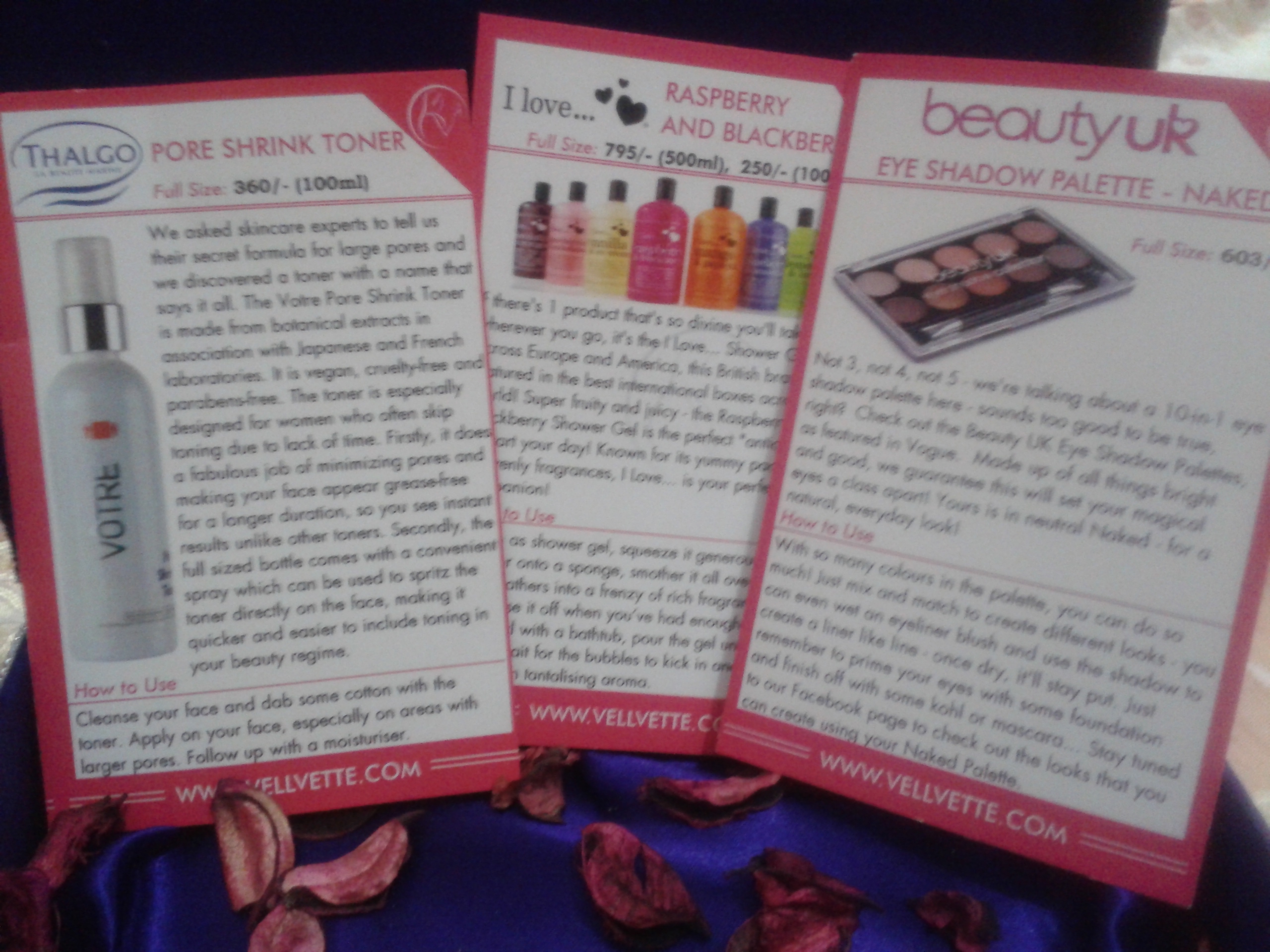 My Overall Experience:
On the whole, this is my first bag from Vellvette and I am really thrilled about the whole experience. So mixed experience. Still very early to comment as I have not yet tried the products. Drop in again for full reviews of the contents.