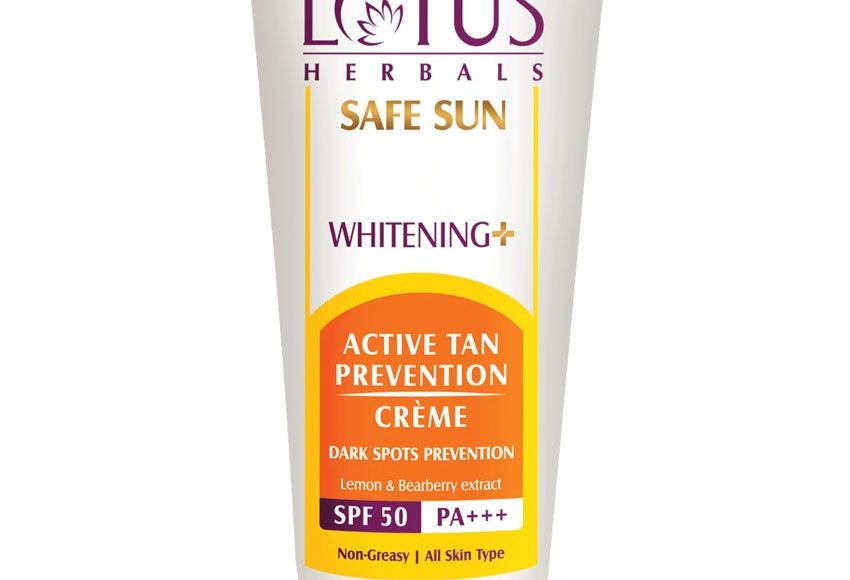 Rise and shine girls!
Here's to a wonderful Wednesday morning – *Raises cup of tea*
This morning I'd like to start with a quick look at Lotus Herbals Safe Sun Whitening+ Active Tan Prevention Crème SPF 50 PA +++. Since I had such a good experience with their UV Screen Matte Gel  SPF 50 and Daily Multi-Functional Sun Block SPF 70, which till date, remains my HG sunscreen, I was hoping for more of the same luck this time around with their recently launched Whitening+ Active Tan Prevention Crème SPF 50.
So no wonder, when you truly desire for a product to work, it will – despite any flaw or con thereof! And this happened to me with Lotus Whitening+ tan prevention sunscreen SPF 50. I mean, just look at the white and orange tube? Isn't the packaging looks so cute and adorable? And with SPF 50 & PA +++, the sun protection is simply perfect for Indian skin and Indian summer. So stay away tan!
In terms of texture, Lotus SPF 50 whitening+ sunscreen feels thick and rich (a little goes a long way). But it blends easily without leaving any streaks and hence drying into a smooth matte finish that doesn't feel heavy or greasy on my skin. Since, it's a slightly tinted sunscreen, it rocks a build-able mild to moderate coverage that looks quite natural on my face.

So in a way it works in three ways – 1) as sunscreen with SPF 50, 2) as tan preventing crème with PA +++ and 3) as brightening or tinted crème with its light beige color. But my favorite thing about this sunscreen is the scent. It has a very mild citrusy scent that feels quite cool and refreshing to my nose.
So far, so good! Now for the catch….
Okay, while this new SPF 50 whitening + sunscreen bears all the features of my HG sunscreen, it massively fails in moisturizing department. Even during blazing summer months, when my skin is at its peak of oil production, this whitening+ tan prevention sunscreen tends to leave patches if I don't wear my regular moisture serum underneath.
Also, since the tint starts to melt with sweat or get wash down with water, I feel the sun protection too wears down with the tint. As for the whitening claims, even those are not true. Though it does help in brightening complexion temporarily, it is in no way going to actually whiten your skin or fade dark spots. So don't fall for the whitening claim of this anti tan sunscreen.
Coming to things I like about this sunscreen:
Reasonably priced and easily available
High SPF 50 and PA +++
Effective in preventing skin tan
Protects against skin ageing due to sun damage
Contains Vitamin E and carrot extract for whitening and anti aging
Matte finish
Keeps skin looking fresh and oil-free
Refreshing citrus scent
Provides mild coverage and brightens complexion
Doesn't leave a white-cast
Cute, travel-friendly tube packaging
Smooth, creamy texture
Things I didn't like about this sunscreen:
Isn't moisturizing enough
Leave skin looking too matte if you don't wear moisturizer underneath
Not suitable for dry skinned girls and girls with a tendency to sweat a lot
Not suitable for winter months
Whitening and dark spot reduction claims aren't true
R2B Rating: 3.5/5
Final Take:
Overall, I liked what Lotus Herbals Safe Sun has done with Whitening+ Active Tan Prevention Crème SPF 50 PA+++, i.e. created a highly affordable tinted sunscreen with high SPF that performs on almost all levels except for the moisturizing one.
But my loyalties still lie with the previous two Lotus sunscreens:
UV Screen Matte Gel SPF 50 for daily-wear or when my skin is at its oily-worst and Daily Multi-Functional Sun Block SPF 70 for long hours out-doors in the sun.