There are difficult working days, when you are involved in long office hours and may be too much of movement. And with women, the work hours doesn't end with office. It gets dragged to your house as well. You need to be equally swift and presentable at the house too. So, who is going to help you out in such difficult times? And what if you are going through heavy flow? Regular sanitary pads are not to be trusted this time as you require something, which is heavier yet softer to provide you protection for longer hours. I chose whisper ultra clean XL sanitary pads for the same. Let's find out if I made the correct choice or not.
Describe the brand in three words?
Hygiene, affordable, available
Price – Rs. 260
Qty. : 30 Pads
What is it?
Sanitary pads, which is supposed to withstand heavy flow. As per the product description, these sanitary pads can be worn for long hours and still you won't feel any discomfort.
They are made from soft cotton and thus there is no fear of rashes or any such skin allergies. These are known to soak pretty well and thus there will be no such infection because of wetness for long hours.
Who's it for?
Ladies who suffer a heavy flow during their period days. Also, for girls who have long working hours and they don't get time to change their pads often. This is also meant for girls, who have to perform a lot of physical activity during those days.
What it's supposed to do?
Whisper Ultra Clean sanitary pads XL are known to soak heavy flow and keep the surface area dry. This will prevent any wetness or infection issues in your private parts. Also, these pads survive longer hours. Thus, they are perfect for those ladies who have to multi task and get no time during those loo visits.
How's the packaging like?
Whisper ultra clean sanitary pads come in a very simple and clean packaging. Entire pads are placed in a green soft plastic cover. The green color is light and soothing to eyes. And the overall packaging is quite light and thus travel friendly. You can see the entire product details on the outer packaging itself.
How's the scent like?
Whisper Ultra Clean Sanitary Pads XL are unscented. The pads look fresh and thus they are perfect to be used even by sensitive noses and all skin types.
How's the feel like?
The feel of Whisper Ultra Clean XL sanitary pads is very comfortable. Being longer than regular sanitary pads, they provide better coverage and protection. Even for dry skin people, you will not suffer from any dry patches or even rashes with constant use of these pads. Even after wearing for longer hours, the pads are extremely comfortable. And the best part is that you won't feel uneasy even after the heavy flow during the starting 2-3 days.
Is it safe for the skin?
Yes, this product is 100% safe and perfect to be used by all skin types. The product has 5 times more absorption capacity and thus it soaks all the wetness and even odor. You will keep smelling fresh throughout the day. With these pads even rashes will not be seen on your skin.
What's good in it?
Whisper ultra clean sanitary pads comes with premium cotton built. They have 5 times more absorption capacity as compared to any other pads. They will keep you smelling fresh throughout the day. These pads are ideal for heavy flow days and perfect to be used for longer hours and with few changes.
What's bad in it?
Nothing for me. But may cause rashes to girls with extremely sensitive skin.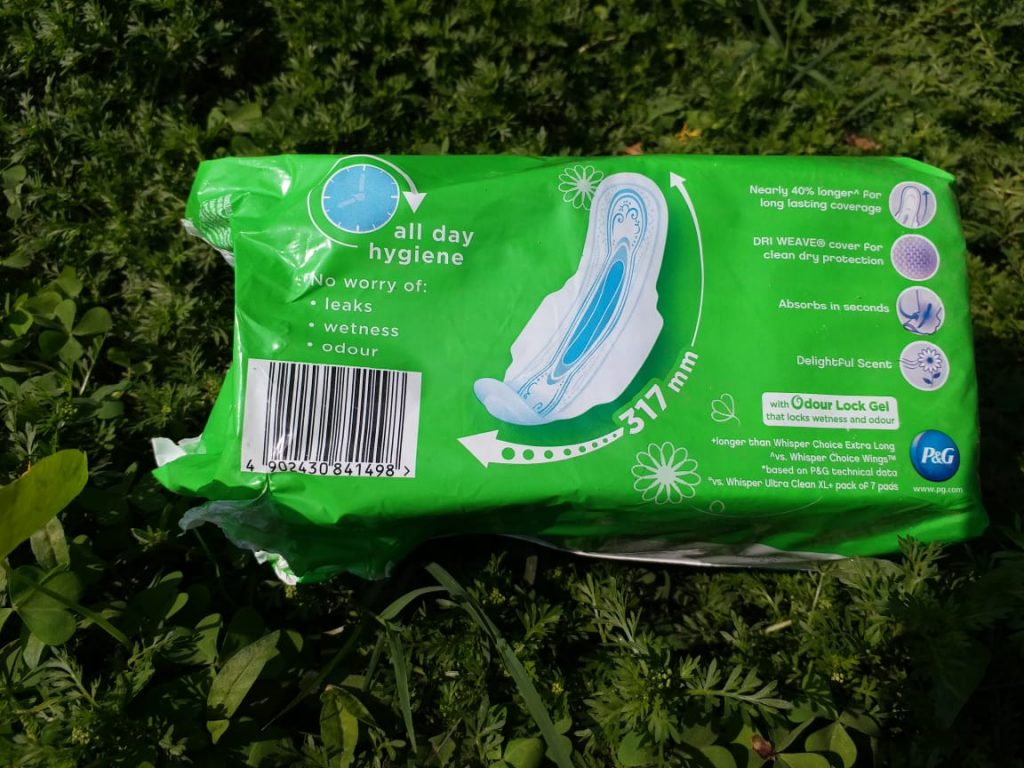 Extra Tips to use it –
Whisper Ultra Clean XL Sanitary Pads will not cause you rashes. But if you have extremely sensitive skin and you are suffering a heavy flow since past some days, then you should apply coconut or some rash cream near your private parts and then wear these sanitary pads.
This will ensure that your skin stays protected and devoid of any rashes.
R2B rating:
4.7/5
The Bottomline:
I personally use two types of sanitary pads. These are used during the initial 1-3 days. Post this, I switch on using the regular sanitary pads. I find them extremely cost effective and excellent to prevent staining and any such concerns.
This is a "MUST HAVE" product for every woman.