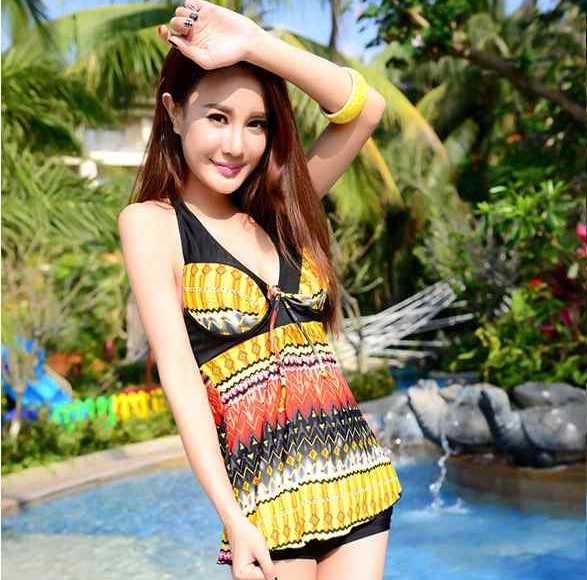 It does not matter what season it is if you want to take a swim. Even in winter you could go to closed pools and have fun. Looking as best as possible at beach and pool is important for everyone and therefore you need to find that perfect swimsuit that will flatter your figure and make you feel confident and secure with your own body.
Know your body shape
Stop looking at the magazines and fashion shows when looking for an idea for a swimsuit. It is important that nothing can influence your choice except your own body shape. Once you know what form of a swimsuit looks best on you, it will be easy to find different patterns and details that suit your personality.
Pear shape
If you have wider hips and bottom and smaller top it is important not to hide it! Many ladies with this body shape make a mistake of trying to cover their bottom with more fabric but this will only have an opposite effect on your overall look. Regular bottoms and maybe a clean-cut skirt that does not go over the half of your thigh are great choices for this kind of figure. Of course, pick something more daring and even revealing for the top to put accent on this part of your body.
Apple shape
Most women with apple shape body have problems with supporting their breasts when choosing a swimsuit. Therefore it is important to pick a bra-like top with perhaps wider back strap to feel at ease when swimming. Boy-shorts style for bottom would provide good balance with a lot of fabric on top.
Banana shape
If your figure is straight, you are blessed with thin body but sometimes it can be a bother to think how to emphasize small bust, especially with a swimsuit. This should not stop you from feeling confident and sexy because you can basically wear whatever bottom cut you want and go all out with tops, choosing triangle tops with colorful patterns or padded push-up tops to create extra cleavage.
Athletic shape
On athletic ladies, bikinis and monokinis look great because they put the focus on curves, while choosing some swimsuits with bold colors, prints, details and ruffles adds that feminine touch that is just irresistible. Remember, the smaller the swimsuit bottom is, the curvier you will look. Therefore, enjoy your athletic body to the fullest!
Belly concealing
If you do not feel comfortable with your belly but still do not want to sacrifice your fun time at the beach or pool, think about one-piece swimsuits that have special triangle patterns that create illusion of the slimmer waist. Moreover, consider trying some vintage inspired swimwear that is very modern and does a great job with hiding the belly thank to the high-waisted bottoms.
Curvy shape
If you are curvy then it would be best to stay clear of string bikinis and overly revealing swimsuits. The key to looking great in a swimsuit for curvy ladies is to highlight the curves right, so picking asymmetrical suits that focus attention on the neckline, bra-like tops and traditional or high-waisted bottoms will prove the most flattering. Moreover, you can highlight your shape by picking colorblocking pieces that would follow the figure line perfectly.
The most important things when picking a swimsuit is not only to know your body shape but to embrace it and love it. When you feel comfortable with yourself and your body, you will be able to recognize what looks good on you and what does not.