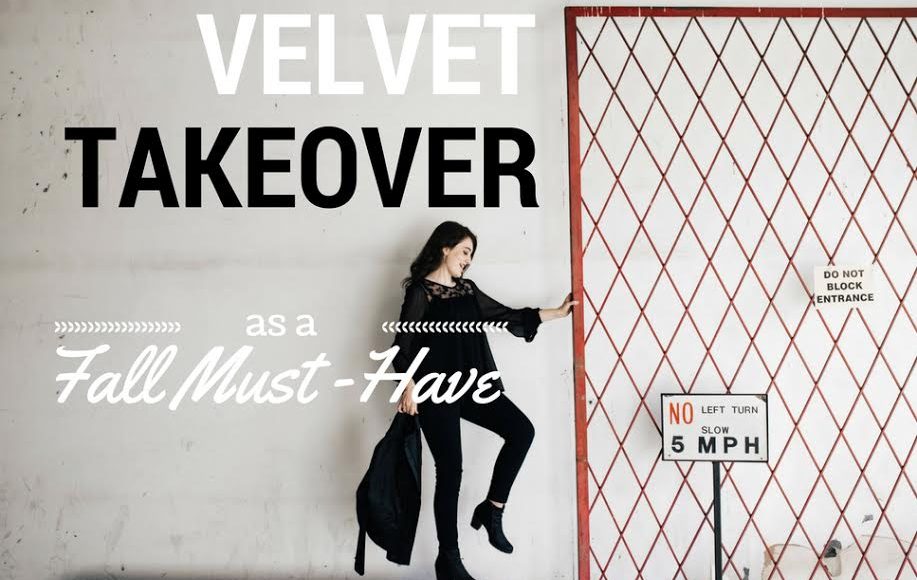 In case you haven't noticed yet, velvet is currently more popular than ever – it's very cozy and it looks fabulous at the same time, no matter which clothing piece you choose to wear. From pants and blazers, over dresses and over sized jackets, to shoes and accessories – velvet can be found literally everywhere!
Stay with us and find out why it is the hottest material this season.
Suit up from head to toe
If you are a kind of gal who loves wearing suits, you'll be thrilled to see them everywhere this season. However, these come with a little twist – velvet makes them look more stylish and glamorous than before! Even though many women consider suits tomboyish, the truth is that you can wear them even at formal events – particularly when combined with some fabulous pumps or fashionable loafers.
No matter which color you opt for – navy or burgundy, black or jade – you'll be noticed everywhere you go!
Menswear pieces on fleek
If you're not quite sure how to pull off this velvety look, the easiest way to achieve that is by throwing on an over sized jacket. It'll take the outfit to a whole new level, without having to invest too much money into several different pieces.
Menswear-inspired items have been present in women's clothing for several years now, and these really add that edgy, Rock'n'roll vibe to every combo – even the most feminine one. So, choose one of such pieces made of velvet and look like a true rock princess!
An upgraded dress
Everyone knows that a little black dress should be a staple part of every woman's wardrobe, and if you haven't got it yet, it's high time you went shopping! Think outside the box and choose a velvet one, because it'll help you pop and stand out from the crowd.
Depending on its length, you can wear it for either casual or formal occasions. Long velvet evening dresses are the perfect choice for fall weddings, since they look stunning while keeping you warm at the same time. On the other hand, if you're heading to casual drink with your gals, slip into a shorter one and look astonishing without sacrificing comfort. Just make sure that you tone down the accessories, so that this luxurious fabric is accentuated.
Velvety accessories
In case you didn't know, even the most prominent designer houses and brands have turned to this amazing fabric this season. This basically means that velvet can be seen everywhere this fall – from runway to high-street fashion. Gucci, Chanel, and Prada are just some that went completely crazy about velvet – their top-notch shoulder bags, totes, and clutches are everything!
As for the more affordable brands, Zara and Topshop are standing out by creating their own collections of fabulous velvety accessories. You can't pass them even if you want to!
Everybody loves (velvet) shoes
Last but not least – velvet shoes! Of course, this trend wouldn't be complete without luxurious heels and wedges made of this material – it has taken over the fashion industry, without a doubt! This is actually the best way to stay trendy this fall, even if you're not a huge fan of it.
Velvet ankle boots are an absolute must, no matter which color you choose. In facts, velvety shoes are perfect for achieving that trendy, seemingly effortless look. Needless to say, you won't look over the top – but classy and stylish.
As you can see, velvet is a huge hit in the fashion industry these days, and the reason is more than good – this fabulous fabric is so fashionable and versatile, that you won't need anything else! Just make sure that you incorporate it into your personal style appropriately, so that you don't look like you're trying too hard. That's the key to success!
Author BIO:
Sophia Smith is Australian based beauty and fashion and lifestyle blogger. She is very passionate about latest fashion trends, DIY projects and organic beauty products. Sophia writes mostly in beauty and fashion related topics, mainly through blogs and articles. She is regular contributor at High Style Life.