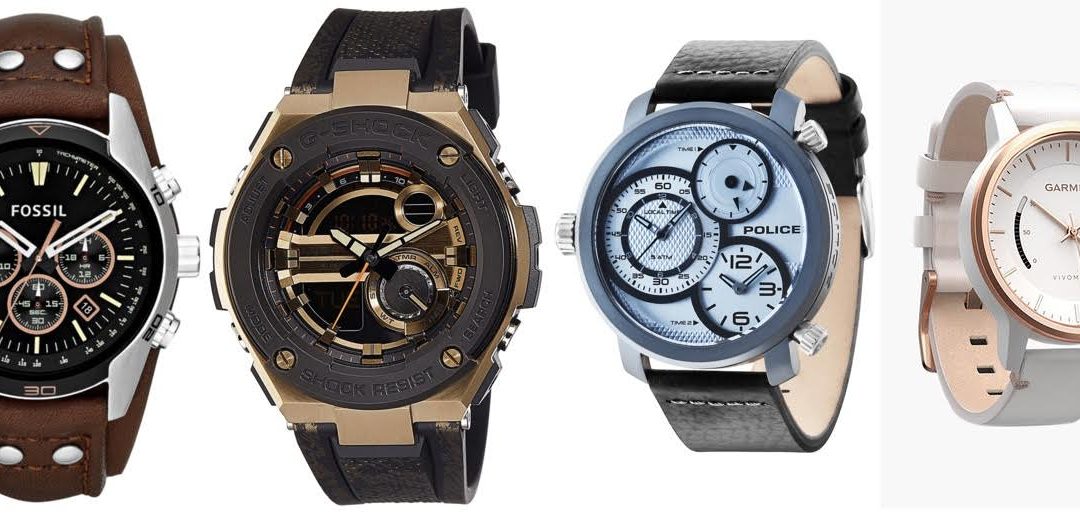 To be a truly hip individual, you must have a flair for fashion that understands your needs and connects it with your personality. A timepiece is not just a mute device on your wrist; it is also a fashion accessory that reflects your choice. Hence, when it comes to wearing trending watches, it becomes necessary that you are aware of the design and its attributes. As watches are embodiment of men's style, you must ensure that they are trendy. So here is a list of top five trending watches for men that you must consider to raise your fashion appeal.
Trending Men's Timepieces from Best Watch Brands in India
Fossil Briggs watch:
To master the art of time making comes only with experience and with the years that the brand Fossil has added to its repository, one can always be sure of the integrity of the watches by this style maven. This spectacular watch features a buckle clasp, which helps in the right adjustment on the wrist and makes it look uber-classy. It features a quartz movement, which endorses for a long lasting performance and an analogue display, which aid in its functioning and timekeeping.
Casio G shock chronometer:
When it comes to sturdy watches that vouch for their robustness and might, no timepiece can stand against the mettle of the ultimate shock resistant breed of Casio called G-Shock that is exclusively designed for athletic pursuits. With state of the art technology that has been employed to craft this beast of a chronometer, the quality of G shock watches is unbeatable. Optimum for adventurous exploits, G- shock timepieces are designed for a fuller wrist to give the muscular look.
Digital watches:
A digital watch looks really cool and is a great choice for people who love to gym and workout. Designed for men, who are constantly on the go, a digital watch features an attractive digital dial, a timer, a light lock, long lasting battery and a mineral crystal dial. If you are looking for a watch that can withstand the perilous terrain and yet make you look chic and sporty then a digital chronometer is all for you to own.
Multi-function watch:
When it comes to multi-function watches, they store a treasure house of abilities besides their fundamental job of timekeeping. With enviable data accuracy and possessing a host of outdoor functions like altimeter, barometer and compass (ABC), a depth meter, sunrise/sunset times and easier-to-view barometer and altimeter records, a multi-function watch fulfills all qualities of being considered as a super watch. With an ability to communicate in English, French, German and Spanish and features like Weather trend indicator, this amazing watch performs diverse functions at the drop of a hat.With so many suitable futures that will encapsulate all your expedition requirements in a single accessory, a multi-function watch is indispensable for any adventure activity.
Emporio Armani Luxury watch:
If you are one of those men who make it a point of looking chic, Armani as one of the best watch brands in India has an absolute delight fashioned just for you.The black sheen of the luxury watch drips of deadly dynamic class, and can be matched with almost anything you can possibly have in your wardrobe. The watch dial covering is mineral crystal which renders it scratch-resistant and makes it extremely tough. The watch incorporates quartz movement which ensures that while you show this little beauty off at your office, you don't arrive late for it.
So these are the top five trending watches for men that will soar your fashion score like no other. These brilliant timepieces are sure to add their charm to your personality and make you look more stylish. You can pair them up as per your dress and get ready to rock any style.