When you're invited to a wedding, you wish to look your best. Of course, that special day isn't special just for you, but you cannot help but feel excited and happy for your friends or family members getting married and starting a new chapter in their lives. It does not matter if you're a bridesmaid who can choose her own attire, or a dear friend of bride or groom, you would want to look elegant and sophisticated.
Strict Rules
When going to a wedding, never ever wear white! White is for the bride, she is the light of the party and it is her special day, there should be no place for a white dress, long or mini, at her wedding. Also, anything that is above your knee should be long enough for you to sit comfortably and not worry about whether your panties will show when you cross your legs.
If the invitation states black tie' feel free to wear your most elegant gown, but otherwise choose things that will look good on you and that you will feel good while wearing.
Latest Trends
Latest trends include hot monochrome dresses and intricate prints, so if you are a fan of that style can wear dress that suits you well. Even if a white dress is not welcome at a wedding, all-black is still frowned upon because it looks like you're mourning (of course, there are exceptions like Sophie Cachia who wore black wedding dress).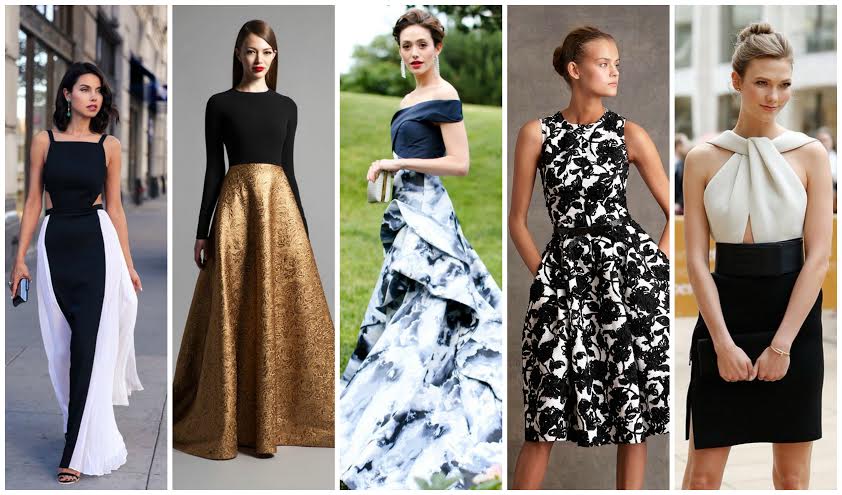 If you're thinking of wearing black, add a splash of colour as well: bright pink or mint shoes, and shawl and jewellery to match. Grey dresses look amazing with bright red lipstick, and black-and-white combination can be matched with pretty much any colour and look amazing.
Forever Romantic
Women everywhere can't wait for a chance to rock this look, because it is gentle, feminine, and flattering at the same time. Adorable bridesmaid dresses made of soft materials such as silk, lace, and satin, and intricately decorated with little flowers or pearls will make you feel like a real princess.
Unconventional
Of course, for those with more artistic aspirations there are flattering modern dresses with asymmetrical cuts that look amazing, much like the one Amanda Seyfried wore in 2015.
V-neck, wrap front burgundy dress or chiffon and lace mini dress that reveals your knees and goes all the way down to your calves will emphasize your figure and well-shaped legs. Of course you can also choose to wear ordinary pencil-dress but made of material with unusual print and colourful heels to match, and you will surely be noticed by everyone present.
Retro Glamour
There is nothing like good old school Hollywood glamour: sequins, silk, and red lips to make you look and feel like a movie star. Choose a spaghetti strapped or off the shoulders floor-length gown cinched at the waist that had plenty of sequins or glitter, pull your hair back in a bun at the base of your neck, and wear sparkly bracelet and discreet earrings – there is a good chance people will compare you to a Hollywood actresses of past century.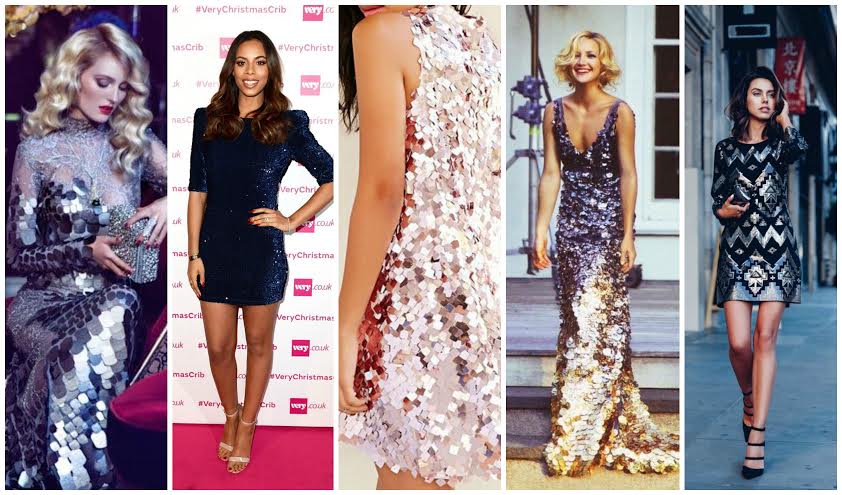 It is important to understand just what weddings are all about: celebrating a new beginning for bride and groom, and the fact that they have decided to become husband and wife. The best celebrations are those where all people are relaxed and enjoy themselves freely. With your style on point and your inner Goddess satisfied, you will have the time of your life.
Author BIO:
Sophia Smith is Australian based fashion and beauty blogger. She is very passionate about photography, wedding decoration and DIY projects. Sophia writes mostly in beauty and fashion related topics, mainly through blogs and articles. She is regular contributor at High Style Life.
Find her on: Facebook  Twitter  Google +