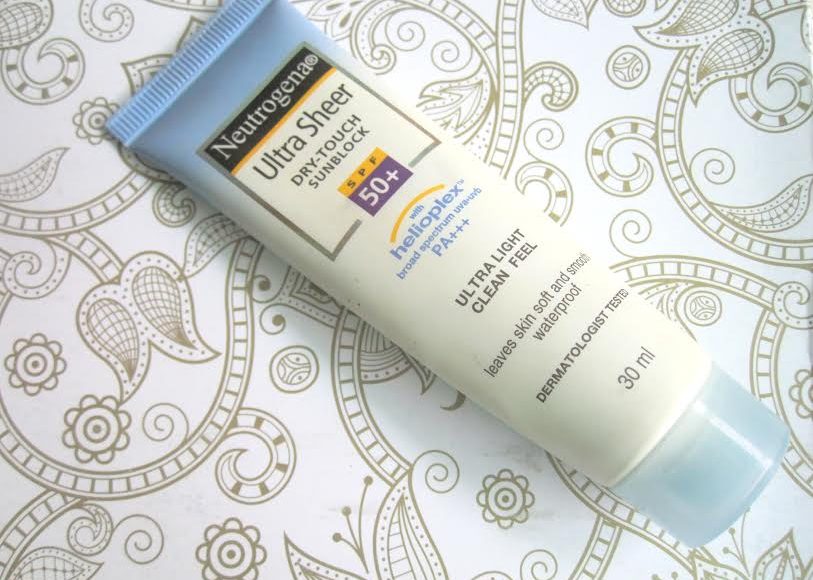 Hello my beautiful friends,
Today, I'm going to review Neutrogena Ultra Sheer Dry-Touch Sun block SPF 50+.
As we all know, summers are not that far, it's time to take out sunscreens and sunblock's. A lot of people think that one should only use sunscreens in summers, no, it is not right. Sunscreens should be used every single day, throughout the year whether its summers, winters autumn or any other season. It protects us from the harmful rays as we are always exposed to the harmful rays and we need to protect from skin from getting damaged and for that we need a sunblock or sunscreen.  
Well, I was not a sunscreen person because I always thought they leave a white cast, make skin oily but the moment I got my hands on this awesome sunscreen, my attitude towards sunblock changed and now I cannot live without it. After using Neutrogena Ultra Sheer Dry-Touch Sun block SPF 50+ on regular basis I think, I can preach people about benefits of a good sunscreen and its importance. It is one of the best sunscreen for oily skin available in Indian market at a very reasonable price and with amazing results. Let's see how it faired with me.
Product description: 
Neutrogena Ultra sheer dry touch sun block SPF 50+ (PA +++) is a breakthrough in sun protection. Stabilized with Helioplex technology, it provides superior balanced broad spectrum protection against skin aging UVA and burning UVB rays and combines it with Dry Touch Technology for an ultra light, non-shiny finish. This light-weight sun block has a light fresh scent and is gentle enough even for sensitive skin.
Directions to Use:
Apply liberally on face and body 15-30 minutes before sun exposure. For added protection, reapply after swimming, towel drying or extended sun exposure.
Price: Rs 175 for 30 ml
Shelf life: 24 months
Packaging, Texture, and Fragrance:
The product comes in a white and blue tube packaging with a twist up translucent cap in blue shade. The name of the product and other details are written in black color. The cap fixes tightly in place ensuring no spillage or leakage of the product. It is very easy to use. The packaging is quite simple and plain. The sun block can be carried easily in hand bags and it won't take much space.
The texture of the product is very soft, light, and smooth. It blends very easily, does not feel heavy on skin. It is neither too runny but nor too thick. It is very soft like cream. It glides smoothly on face like butter. The best thing about it is it does not leave any residue behind. A very small amount is needed to cover whole face and neck and you are good to go.
My Experience with 'Neutrogena Ultra Sheer Dry-Touch Sun block SPF 50+'
Okay ladies, when I first got my hands on this product, I had no idea what does this Helioplex means and so, I sat down to Google, "what does Helioplex mean?"
From there I came to know that Helioplex is a formulation of broad-spectrum ultraviolet (UVA and UVB) skin protection containing avobenzone and oxybenzone made by Neutrogena. It helps in decreasing harmful effects by suns exposure. This protects us from both UVA and UVB rays which can damage the skin.
This sunscreen has SPF 50 which works really good for Delhi summers .The higher the SPF the longer the protection. This sun block suits every skin type but I think it is best sunscreen for oily skin because it just feels so light-weight. I have added sun block in my daily life after using this. I apply it every day even when I go out for my morning walk as it is sweat-proof, so it does not come off when I start working out. It just blends in the skin so beautifully and it does make me feel like I have something on my face. It mingles perfectly with my makeup routine. It gives me a matte effect and it does not mix with my makeup or try to hamper it.
Till date, it has not caused me any skin scary things like irritation or break-outs or pore clogging. It settles very smoothly on my face. It gives a very matte effect without making my face look oily. Before using sunscreen my skin used to get tanned and my acne marks used to get darker because of the sun damage but since last summers, I have faced very less tanning and acne marks have not turned into a black patch work, which is a very good thing for me.
It does not leave any ugly white cast which is also a very good quality about this sunscreen. I have a dusky skin and formation of a white cast will make me look like a ghost. I know what white cast formed by sun blocks are very visible on my type of skin tones but this does not leave any white cast, I am very happy from this fact.
It does not make skin oily or sweaty after couple of hours. I easily apply makeup. After applying this sun block I leave it for 10 to 15 minutes and then do my makeup. And no, it does not make skin oily which can lead to spoiling my makeup. I don't feel the need to re apply this sun block because it gives protection for long hours in one application only. But if you wash your face make sure to re-apply it.
Another great thing about this products is that it is dermatologically tested, which means it is purely a skin care product.
Pros:
-It is water proof.
-It has mild floral fragrance
-.It gives matt effect.
-It does not cause any break outs or irritation.
-It helps to keep skin tan free.
-It prevents acne marks from getting dark.
-It blends in skin beautifully.
-It does not feel heavy on skin.
-It does not make skin oily.
-It is easily available and affordable.
-It get absorbed in the skin very quickly.
Cons:
-It does not mention full ingredient list.
[kkstarratings]R2B Rating: 4.5/5
Overall Take:
If you have combination skin like me that tends to get oily in summers and would like to try a sun block, which will keep your skin oil-free, gives matte look and protects you from harmful sun rays – this is the product for you. I am definitely going to buy this product again and there is not a single doubt about it.
Neutrogena Ultra Sheer Dry-Touch Sun block SPF 50+ has just worked so well for me. It has helped a lot in keeping my skin tan free and healthy. It is certainly one of the best sunscreen for oily skin, I am currently using and is worth a try.