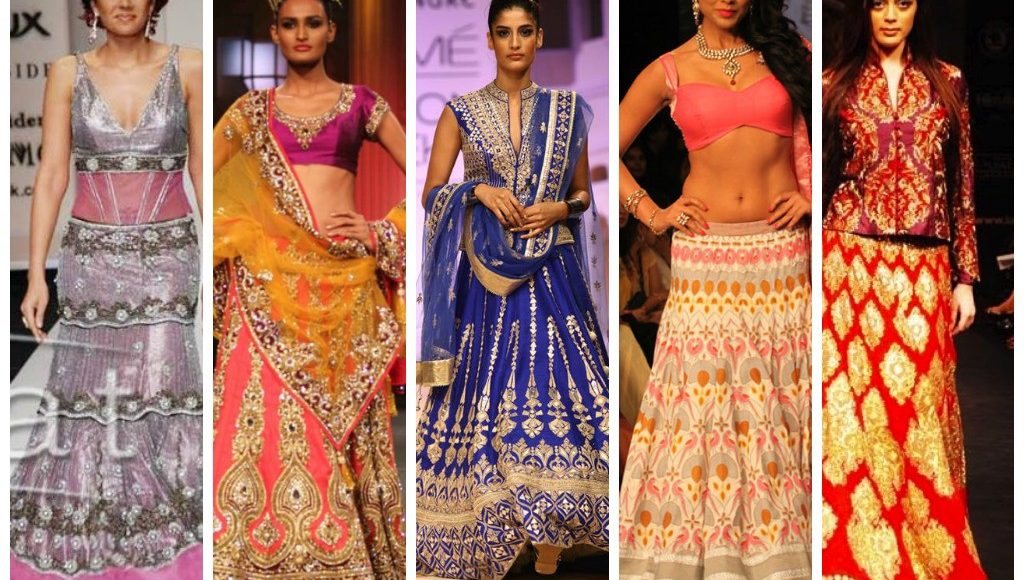 Lehenga Sarees are now suddenly the center of all attention! Lehenga sarees are in fact the best of both worlds. It amalgamates lehenga and sarees making it the most sought after garment for the weddings and parties. There are numerous lehenga style sarees donned by both the newbies and the veterans in the fashion game.
The Beauty of a Lehenga Saree-Top Styles
The beauty of a lehenga saree seldom fails to enthrall us! If you want to wear the right blend of a modern as well as a traditional garment, it is imperative that you have a lehenga saree in your wardrobe.
The Full Skirted One -The traditional lehenga saree has its own charisma. It looks like a ghagra at the bottom and a blouse, the pallu drapes around your body, giving the garment a fusion look. The heavy skirts a la the ghagra gives you that princess vibe you so love. 
The Stylish Fishtail – The modern version of the lehenga has been reinvented in all its different glories. So now the full skirted ghagra has undergone a sea change and the bottom looks like a gown more than ever. The fishtail version can be floor skimming, like a trail. Fashionable to boot! If you are flipping through any fashion magazines, you are likely to find lehenga saree designs which are modern yet they are innately traditional! Now, who wouldn't want a stylish lehenga saree like that?
The Luxe Fabrics – The fabrics of the saree designs are to die for! Since now it is time for velvet to get its due under the sun. Ornately designed velvet has a wonderful luxe feel! Georgette, silks, Lycra, net, lace all these fabrics make up the latest lehenga Style saree So, if it is the rustle of the fine silks or the flirty sheer gorgeousness of the georgettes, it makes it look glamorous and oh so beautiful! 
The Wow Colors – The colors give a whole new dimension to the lehenga sarees. Leave aside the Fuschias and reds, now it is time to get embroiled into the metallic frenzy! Gold is not at all tacky now! In fact, gold, silver, and bronze they all lend a distinctive character to the lehenga. The shine, they shimmer and dazzle and all the onlookers who happen to steal a glance at your stunning outfit are left awestruck! But it is not only the metallic shades that are sealing the deal. There is also that particular color which makes its presence felt. This year it is the dazzling yellow!  You may think yellow is only for the bold and the bohemian; you are wrong you can liven up or tone down your outfit as per your comfort level. Let your outfit take the center stage and try to mute down the accessories and makeup. You can brighten many a wedding morning, by wearing this uber cool shade. Metallics are more suited to the nights but then if you have the confidence and the panache, go ahead wear your colors and make your scintillating presence felt in a gathering!
Printed Fantasy – So you thought prints were meant for westerns? Think again, prints can jazz up your lehenga sarees like no other. If you are looking for a bit of a quirky fun, you can buy bold geometric prints like chevrons, stripes, other digital prints. You can put up a fun look together. Remember being conventional can often be branded as boring in fashion, hence, take that unconventional route and create a unique look. So, go ahead and pick one from the variety of designer lehenga sarees online. 
Blouse Bonanza – There are a host of different styles and the humble blouse has got a makeover of So crop tops are now replacing conventional blouses. It's the year of the cold shoulders, off shoulder crop tops, skimpy cholis, halter necks, blouses with ruffled sleeves, or fluted sleeves. Give your lehenga saree a winsome look with these sensuous blouses. 
Paneled Lehenga Saree – Paneled lehenga sarees are another lovely design which you can try. It has different kinds of fabrics paneled together, making it a mélange of all things beautiful and gorgeous! No wonder the celebrities are endorsing it with élan. Take a leaf from their book and flaunt your glamorous avatar. So, if you are planning to buy online lehenga sarees, this should be your choice of buy.
A-line Lehenga Saree – This kind of lehenga saree just looks like the letter A, tapered at the top and flared at the bottom. It is a rather form flattering lehenga saree, so if you are not feeling rather skinny, make sure you don this fresh off the runway style!
Lehenga Saree with a Jacket – Jacket style lehenga sarees are flying off the shelves of tony stores like no tomorrow. Ideally, a winter season favorite, the jacket worn like a blouse, gives a structured and classy look; it is sometimes heavily embroidered giving it a royal and elegant look. You should wear this solid colored lehenga if the jacket is ornate. This is a lehenga model saree, in all its resplendent glory. 
We cannot think of Indian occasions without our lehenga sarees. Be it Diwali, Bhai dooj, weddings and so on. We keep looking for that one outfit that would give us help us dress up and feel good about ourselves.
Yes, it is true the world of ethnic dressing cannot be complete without that quintessential gorgeous lehenga saree. It can be ornate, heavily embellished, or simply highlighted only with pop colors, it is surely a one-way ticket to the world of fashion and enigma. You sure make a great team, you, your outfit, your jewelry, a super gorgeous clutch and last but not the least your chutzpah! Twirl around in a beautiful dress and sprinkle that bit of stardust and aura that will leave a deep impact on everyone! The girls will be left envious and the men bedazzled!