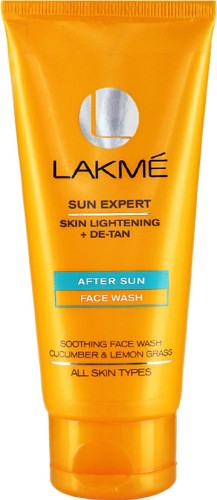 When I say Lakme Sun Expert After Sun face wash is the best face wash for Indian summers, you have to believe me. It is not a hyperbole' and I am not paid by Lakme for writing a raving review about their product. It is a genuine and honest opinion from a beauty enthusiast like you.
For any girl living in India knows how bad can summers be for the skin. Add to this spiking heat and humidity, environmental pollution and you have the recipe ready for a dull skin and sullen appearance.
After all, what does anyone crave for after spending some time in scorching heat of the sun – a refreshing and chilled drink to soothe and rejuvenate your senses. Your skin too needs the same. And Lakme After Sun face wash true to its claims does just the same. It actually wakes up your dull and tired skin with an ultra cool and soothing sensation.
Product Description for Lakme Sun Expert Skin Lightening and De-Tan face wash:
"Specially formulated with UV filters and anti-tan, skin-soothing ingredients
Cleanses and soothes sun-exposed skin
Deep-cleans each pore
Infused with cucumber and lemon grass extracts that soothe and calm skin irritated by sun exposure
Use immediately after sun exposure for maximum benefit"
My Experience:
There are really very few products that come worthy of their claims and lakme Sun Expert After Sun face wash is one of those few. I am seriously happy to give this product a try. I was actually looking for a face wash that can have a brightening effect on the skin. I have tried Ponds White Beauty, Garnier Light face wash etc. in the past but they did not prove to be extraordinary.
I avoid AHA or BHA cleansers as they are harsh on the skin. Unless, you have problem skin, they are best avoided. When I first saw this product, I decided to try it. The cleanser comes in a small tube with a flip cap. It has citrus fragrance and is transparent gel with a slight yellow tinge. There are very fine beads that provide mild exfoliation without irritating the skin.
As you massage the product in your skin, it gives a very cooling and soothing sensation to the skin. It lathers good and comes off easily. Skin feels extremely fresh and rejuvenated after wash. And viola!, the best part is the brightening effect it leaves after wash. Neither makes your skin oily and nor dry after use. And hence the reason, I made the statement, it is the perfect face wash for parched summer skin.
The only one negative I observed about this product is, it does not lighten or whiten your skin as per its claim. While, the cleanser may not be suitable for extremely oily skin beauties, it is perfect for normal to dry skin girls.
Price: 75/-
Quantity: 50 gms
Good:
Provides cooling and soothing sensation to the face
Makes skin feel refreshed and rejuvenated
Brightens skin tone, though effect does not last long
Contains cucumber and lemon grass, both are extremely good for the skin
Refreshing citrus fragrance
Travel-friendly petite packaging
Does not dry out the skin
Does not cause break-outs
Only little quantity is required, so lasts long
Bad:
Does not lighten or whiten skin as per its claim
Not an all seasons product, suitable for only Summer season
May not suit girls with extremely oily or acne prone skin.
My Final Take:
Overall, Lakme Sun Expert After Sun face wash is an extremely good product that does its job perfectly, fulfill most of its claims and is reasonably priced for the benefits it delivers. If have normal to combination skin and looking for a cooling face wash for summers, do give this product a try.
Will I Buy it Again?
Ofcourse, yes, but in next season as summers are almost over now and the little bit left in my tube will carry me through this month.
pic credit: Google.