Perfectly white smile is the best-looking smile, but sometimes it can be difficult to achieve it. Even though people may think they are doing everything right, the teeth do not look as good as they would want them to. Fortunately, there are some additional tips that can make everyone's smile pearly white.
So here are some teeth whitening tips for bright, beautiful smile:

Make-up and Other Tricks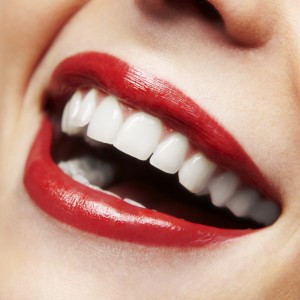 Lipsticks with yellow undertones can make your teeth look sallow; therefore try using red lipstick with blue undertone. They will make your teeth really sparkle.  Not every girl is a fan of red lipstick, so for those who prefer something less radiant, a blue-based pink lipstick is a great choice.
For achieving the fuller lips and whiter teeth effect, applying a lip liner and gloss around the lips and a light concealer around the outer border of the lips is the best solution. It will make the best contrast to the lip colour.
Cooler shades of eye makeup, including purples and greens will help deflect any yellow from the teeth, creating an optical illusion, which is just the right effect you need for your teeth to look whiter.
Face contouring has become insanely popular in the previous years, and aside from making the face look flawless, it also does wonders for the teeth. Contouring the shape of your face to enhance your smile can be perfectly achieved if you blend a matte foundation or bronzer under the cheekbone and down the bridge of the nose in a shade darker than the skin tone. Thanks to do sun-kissed glow, your teeth will look as white as snow.
Believe it or not, putting some baking soda on the toothbrush and scrubbing for a couple of minutes will brighten the teeth right up. However, it is not recommended to do this too often, as it can wear away the tooth enamel.
Rubbing the inside of banana or an orange peel on teeth will do wonders. The minerals in the fruit peel will soak into the teeth and help them have the perfect white shade. Apply the peel in a circular motion before or after brushing daily for the best results.
Diet
A healthy diet is definitely much more recommended than make-up tricks. Not only will the good nutrition help your teeth, but your entire body as well. Therefore, strawberries are the first thing you should eat more than you usually do. They contain vitamin C, which helps clear the plaque away, and this makes them the natural teeth whiteners. Furthermore, strawberries help remove stains, which makes them a natural astringent as well.
Crunchy fruits and veggies like apples and celery are also very beneficial for teeth whitening. Chicken, cheese, and nuts are definitely teeth's best friends, alongside milk and meat. Tooth enamel is best protected by these foods, because they provide the phosphorus and calcium needed for healthy teeth.
Braces
Aside from make-up tricks and proper diet, braces can also help teeth look whiter once they are straight. However not many people are open to wearing braces, because the wire on the teeth can make you look somewhat strange. Therefore, the question of invisalign vs braces has been brought up.
Namely, many orthodontists believe Insvisalign is much better solution than the braces. They explain that unlike traditional wire braces that require constant adjustments and tightening, Invisalign reduces irritation by sitting over the teeth. Furthermore, the treatment requires patient to brush and floss the teeth after every meal before putting the aligners back in. Consequently, plaque build-up and tooth decay are reduced.
A little bit of make-up, a diet filled with fruit and a regular visit to the orthodontist will really make your teeth as white as snow. Not only will this make your teeth whiter, but healthier as well. The prettiest smile comes from the healthy and white teeth.