'Layer it up' is the latest trend mantra that the whole fashion industry and designers are chanting! Be it stylish suits, ethnic dresses or kurtis, layering is finding an extensive use in the outfits coming up these days. Given below are few of the styles in which the concept of layering has been very handsomely combined with the grace of ethnic kurtis and are easily available at IndiaRush:-
Drawstring Magic

Giving your plain or printed designer kurtis a wacky appeal is extremely simple with the ready availability of cropped drawstring jackets. Accessible in bright pouty colours and jazzy designs, the rich magic of these jackets can be very beautifully combined with kurtis paired up with usual leggings. You may even choose a cropped jacket in buttoned up pattern.
Jacket Charm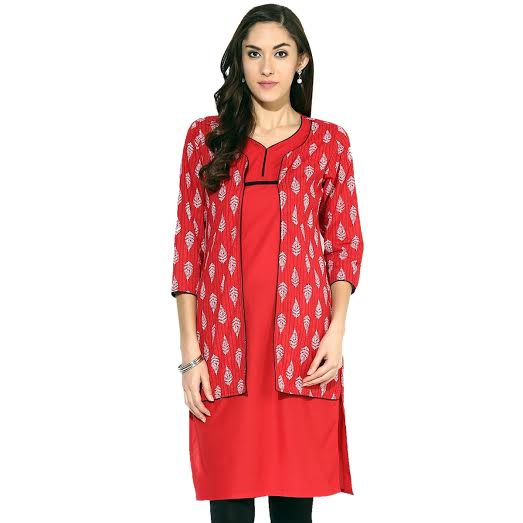 Pulling on a full length jacket layered over a kurti is also very much in trend these days. You can very comfortably carry this look to office, outings and college to look your best in this new 'drape it over' style. This style will completely change the way you have been putting on kurtis for past so many years!
Shervani Style

With the changing time, Shervani has no more remained a style that can be only worn by men! Now, even women can go on combining a shervani style jacket on top of ethnic kurtis to enhance their look even more. Rather than buttoning up the entire shervani, keep it open to show up the kurti that you are wearing inside it!
Fabric Layers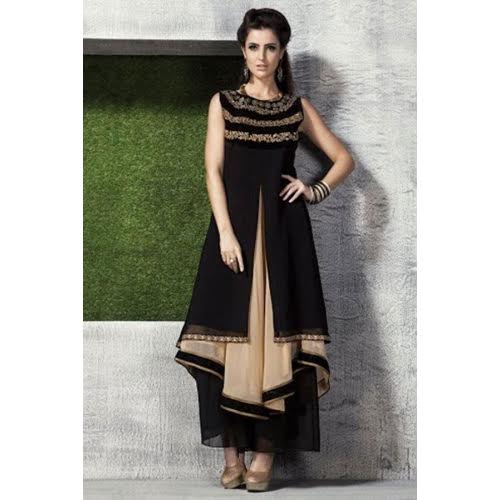 Designer online kurtis have started coming in layers and layers of fabric nowadays. Other than wearing something extra to give yourself a layered up look, stylish suits and kurtis having multiple layers are hitting the show right in giving you a ready-made layered up look! These beautiful layers embellish the charm of the outfit many folds.
Angrakha Layer

Angrakha cut is earning a lot of popularity among the women, who follow the latest trend religiously. The angrakha cut in a kurti makes the two layers of the fabric to fall on each other by giving an overlapped effect to it. One must at least once try adopting this unique style of layering up!