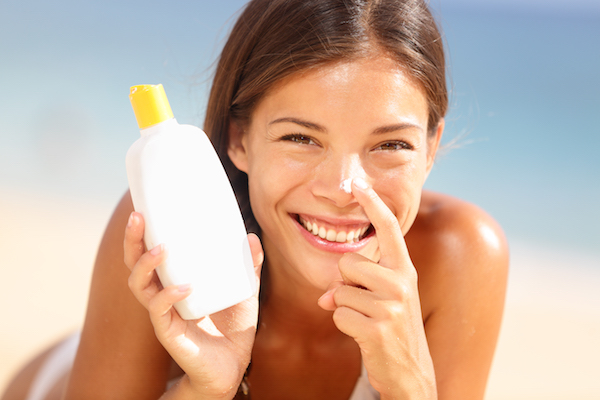 Girls, who read my blog regularly, know I'm a die-hard sun-lover (read, Sun-screen lover!) and a great fan of Kaya Skin Clinic products. Indeed their prices are steep and claims are high but they are also one of the few skincare lines in India that keep up to their promises.
So picking up Kaya Sunscreen with SPF 15 for my daily use came as a natural choice to me. Even if I'm not going outdoors, I prefer to slather myself with a light SPF 15 lotion as part of my daily morning skincare ritual.
And being a sunscreen addict, I've tried several sunscreen lotions with SPF 15 for my daily use. Some are either too matte to absorb well or some are too sticky for my oily skin. However, after using Kaya sunscreen consistently for two months, I'm happy to state that it has overcome both these issues with its quick-absorbing, light-weight formula.
Here's my full take on Kaya daily use sunscreen with SPF 15 and the reasons why I have found it to be the best sunscreen for oily skin in India:
Brand's description of the product:
"Kaya Daily Use Sunscreen with SPF 15 not only protects your skin from harmful UV-A and UV-B rays but also hydrates the skin without making it feel sticky. With Ultra Bootstar rating of 5, it offers the highest possible UV-A protection against tanning and ageing duo to sun exposure."
Price: 790/- for 50 ml
Packaging:
Kaya sunscreen comes in an opaque, tall plastic pump bottle with a transparent cap. The packaging is handy, convenient to use and travel-friendly.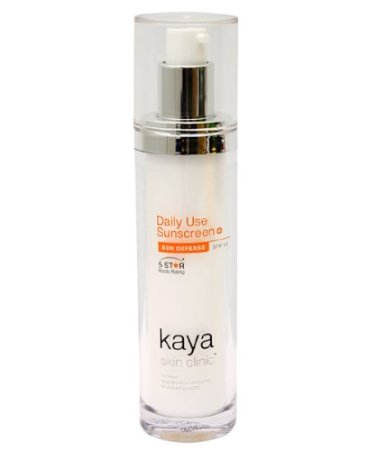 Texture:
It has a white, thicker-than-lotion texture that is non-oily and absorbs easily. Two pumps of this product are sufficient to cover your entire face and neck. So with Kaya sunscreen a little goes a long way ensuring the expensive product lasts long giving you full value for your money.
Scent:
Ah…the lovely fragrance! My favorite thing about this sunscreen is its typical Kaya floral scent that feels so refreshing and feminine to the senses.
How I use it:
The brand says to use 1-2 pumps of the product 20 minutes before going out in the sun. I however, use it as my daily moisturizer after washing my face in the morning. For going outdoors, I prefer to use a high SPF (30, 50, or 70) depending on the time I'm going to spend in the sun.
Performance:
Coming to performance, what I like the most about this sunscreen is its staying power. Once I put this stuff on my face, it stays on like forever! It neither gets cakey and nor gets washed down with sweat or water.
Another plus point of this sunscreen is that it glides and spreads easily on the skin, quickly absorbing into a fine, matte finish that appears supple and dewy. My skin feels immediately moisturized on applying this sunscreen and after a few minutes of application, it looks more even-toned and radiant.
Of course, being a non-tinted sunscreen, it does not cover my blemishes or hides my imperfections. So even though, my pores appear smaller and complexion more even toned, the spots and pigmentation marks on my skin do look intact after applying this sunscreen.
But the best part is my skin does not face any post-application-sweating, oiliness, greasiness or sticky residue even after using this sunscreen even in hot-humid weather. However, I do notice some oiliness on and around the T-zone when used in extreme weather conditions.
Yes, Rs. 790 is a lot to pay for a 50 ml bottle but given the fact only little is required for one-time application and finally it's our own skin we're dealing with, I feel the product is worth every penny. My only wish for this product is that it should have a little more SPF (at least 20 or 25)! Overlooking the low SPF thing, it's the best sunscreen for oily skin in India.
Pros:
Lightly moisturizing, non-oily formula
Non-comedogenic, does not cause pimples
Contains triple sunscreens that prevent against tanning, sun burns, and photo-ageing
Does not leave any greasy or sticky residue
Does not cause post-application-sweating
Spreads easily and gets absorbed quickly
Leaves even-toned and radiant finish on skin
Stays put for long
Pleasing floral scent
Travel-friendly, easy to use pump bottle
Best sunscreen for oily skin in India
Suitable for all skin types
Cons:
SPF could have been higher
R2B Rating: 4.5/5
Overall Take:
On the whole, Kaya skin clinic daily use sunscreen with SPF 15 is a great sunscreen for oily skin in India. Not only is the formula oil-free but it feels more hydrating, absorbs quicker, and doesn't leave any white cast or residue.
Even though, I am a Lotus Herbals safe sun sunscreen devotee for last 3-4 years, I think, I would prefer the Kaya daily use sunscreen over the former ones only if the formula contained a little more SPF. I highly recommend this sunscreen to everyone especially if your sun protection requirement isn't for long hours.