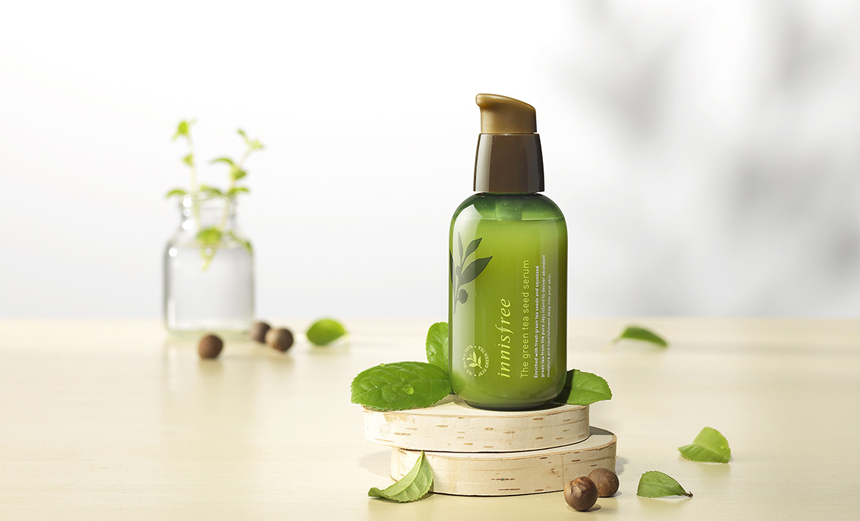 These days, I'm all about green tea. And, why not? In the beauty world, green tea is big deal, especially when it comes to skin balancing and anti-aging products. So, when Manish brought this green tea skincare gift box from one of the Korean brands – Innisfree that everyone is raving about on the beauty blogs, I got super-excited.
Now how this green tea seed skincare range faired with my oily-combination skin, read through the complete review of Innisfree green tea seed serum and skincare products.
Innisfree – the brand in three words
Eco-friendly. Natural. Korean.
Official product description
A moisturizing and nourishing serum containing eco-friendly Jeju fresh green tea and green tea seeds. The product is designed to hydrate your skin from deep within!
More moisture and freshness with 100% green tea.
Rich in amino acids and minerals, green tea from Jeju's own green tea leaves hydrates your skin.
Dual Moisture-Rising Technology™ derived from green tea and green tea seed oil
The fresh green tea deeply hydrates your skin and the green tea seed oil creates a strong moisture barrier to keep your skin moisturized longer.
The first thing to apply after a face wash!
As the first skincare product you use, it helps hold moisture in your skin and prevents moisture loss.
Who is it for?
Product suggestions for the 3 most common types of skin
– Oily skin: The green tea fresh line
– Combination skin: The green tea balancing line
– Dry skin: The green tea moisture line
What it has?
The green Tea Extract (75.9%), Propanediol, Biosaccharide Gum-1, Ethanol, Glycerin, Betaine, The green Tea Seed Oil (208mg), Prickly Pear Extract, Orchid Extract, Tangerine Peel Extract, Camellia Leaf Extract, Citrus Aurantium Bergamia Extract, Grapefruit Extract, Orange Extract, Tangerine Extract, Bis-PEG-18 Methyl Ether Dimethyl Silane, PEG-60 Hydrogenated Castor Oil, Cetearyl Olivate, Hydrogenated Lecithin, Sorbitan Olivate, Acrylates/C10-30 Alkyl Acrylate Crosspolymer, Hydroxyethyl Acrylate/Sodium Acryloyldimethyl Taurate Copolymer, Ethylhexylglycerin, Cocoa Extract, Dextrin, Potassium Hydroxide, Disodium EDTA, Fragrance.
What it doesn't have?
5-free system: parabens, synthetic colorants, mineral oil, animal-originated ingredients, imdazolidinyl urea.
Acne or allergy causing any ingredient in Innisfree green tea serum?
Possibly, alcohol.
Suitable for pregnancy?
Yes.
Tested on animals?
No.
How do you use it?
Apply either alone, directly under SPF or moisturizer (for dry skinned beauties).
Best for summer or winter?
All seasons.
How much does it costs?
INR 1950 for 80 ml.
What are the benefits of using green tea in skincare products?
There's a ton of information available online about the benefits of using green tea in skincare products, but this is what I have gathered: green tea is loaded with antioxidants, which are our most powerful weapon in fight against anti-aging.
EGCG, in particular has been found in research to reactivate dying cells. Other antioxidants in green tea help prevent free radical damage, which is the main cause of premature aging (wrinkles, dark spots and sagging skin)
Also, the tannins in green tea help to control sebum production, while acting as an astringent to shrink large pores.
My take on Innisfree green tea seed serum
If I've learned anything from my late night anti-aging skincare researches, it's that you gotta get an antioxidant up in the mix, if you want to get serious about anti-aging. While, skincare queens recommend a potent vitamin C serum, you can always get started with green tea.
Innisfree is a cruelty-free, paraben-free skincare line from Korea and all of their green tea stuff comes in the cutest green bottles. I just love how it all matches. The green tea and other natural ingredients are all listed up near the top with the percentage included, which isn't something that all brands do (and that's frustrating!).
The box comprised of five green tea superstars: cleanser, serum, balancing skin toner, moisture essence and night cream. Being at the peak of summers, I was first a little wary of all the moisture in these products. I'm always afraid of using moisturizing products in humid weather. After all, I can be sort of an oil slick!
But contrary to my fears, these all products worked quite well for my oily-combination skin. Starting with Innisfree green tea seed serum, this is the product I start with every morning after I wake up and every night before bed, applying it to a freshly washed and cleansed face.
The non-greasy blend quickly sinks into my skin leaving a total matte but supple finish. It hydrates and nourishes all the dry and dull areas of my face without disturbing the oily zones. It thus makes a wonderful precursor to SPF in the day time and retinol at night.
I'm using the products from last two months and I'm already half through the bottle. I have these slightly darker spots and some darker patches on my skin gifted from long outdoor trips in the sun. Now does this green tea seed serum help even out my skin?
Nah, but I'm still going to keep using it, because at least the green tea in the serum would help prevent any further damage to my skin in terms of dark spots and fine lines. So this serum is kind of my gentle moisturizer and anti-aging defense.
What's good about it?
The best part about this green tea antioxidant serum is that it's light, absorbs well, a little goes a long way and it lasts REALLY long. Results-wise, it's always difficult to ascertain the effects of antioxidant serums, but in general, what you are looking for is protection from pollution, prevention from sun damage, slowing down the signs of aging, evening of skin tone and enhancing the brightness of the skin. Except for evening my skin tone and enhancing brightness, it has done all those for me.
What's not so good about?
It contains alcohol, which is listed fourth in the ingredient list. If you happen to have excessive dry skin or allergic to alcohol, the serum may not suit you. Also, if you're looking to reduce signs of pigmentation, acne, wrinkles or aging, the serum isn't for you.
Innisfree Geen Tea Pure Cleansing Foam
INR 700 for 150 ml
I usually opt for gentle, creamy cleansers and Innisfree green tea pure cleansing foam fits my need quite well. My skin feels REALLY clean after I use this. However, I don't like the fact the product is too overpriced for the job it does. Why spend so much, when any cheaper cleansing product can give you the same squeaky clean effect!
Innisfree Green Tea Seed Cream
INR 1750 for 50 ml
While the green tea night cream has similar ingredients to the serum including the citrus extracts, it contains more humectant and occlusive ingredients since it's a cream that gives you a strong moisture barrier. This is meant to be used as a final step in night skincare routine.
Since, now it's summers, I have stock-piled the cream for use during the winters or colder weather, when I need to double up on the moisture before bed.
Have you tried Innisfree or any other Korean brand? If yes, what's your experience with Korean skincare products? Would love to hear from you.